Some of my happiest memories in Leipzig are from Flowerpower – and now some of my saddest, as well.
For my first birthday in Leipzig, in 2013, more than 30 of us showed up at the popular club off Karl Liebknecht Straße, and sang all evening at their Monday karaoke. Almost all of us were non-Germans. No one had a problem getting in, and everyone had a great time.
Countless times after that, I've stumbled into Flowerpower past 2 in the morning. It was always the club I recommended going to after the other clubs, and once even after a fellow PhD student's thesis defense. I'd also sung the club's praises in a Uni Leipzig newsletter for international students.
When friends would tell me they didn't like the club, I'd defend it with a fond smile. Again, I never had a problem trying to get in; I remember there being security, but they were always happy to let me and my company enter.
Walking into the dark belly of Flowerpower was like entering another dimension, I used to say. I'd enjoy watching its toy cow fly over the bar, and talking to all sorts of folks who'd approach our table. Sometimes these random chats were stimulating, other times just strange. But I'd leave at daybreak, and never felt disrespected or unwelcome as a foreigner there.
That is, until the wee hours of last Sunday, 11 February.
I attended a sort of house party and, as usual, was among the last to leave. The party took place in the city center, and I suggested going to Flowerpower to finish out the night. Some of my friends were against it, but we ended up compromising on having one drink there, which was to be our last before heading home.
That never happened. A male friend and I, both people of color, led the pack. One of the bouncers at the entrance asked us for our passports. I guess he instantly assumed we weren't German. Would they have required that a German patron bring a passport? We didn't have it on us, because why would we, out clubbing in the city we live? Not even the US Consulate in Leipzig is this strict – it lets me in with a photo ID.
We tried to show the bouncer alternative identification, and my friend had a German residence card with a photo. I waved my temporary visa from the immigration authority – they haven't yet issued my new ID card – but he dismissed it. I had a few photo IDs in my wallet, like my student and health insurance cards, but he wasn't even interested in looking at them. Rejected.
A second bouncer called us over to the side, and I lost my cool. I asked them why they were giving us trouble. They threatened to call the police. We told them to go ahead.
Meanwhile, I pointed out other people just frolicking in without being asked for IDs. The bouncer replied with, "When we know them, it's ok."
After a brief altercation with the bouncers in front of Flowerpower, we gave up and walked up to Hexenkessel. Despite hosting a strange game where patrons and the bartender would hammer nails into a tree stump, that dive bar right next door had no bouncers, and we went in and sat at a table.
My friend was convinced he was the reason for our not getting into Flowerpower, and I insisted that it was me, rather… maybe because I didn't have the right ID? Maybe that's just what it was, after all?
I tried to rationalize it, but each minute that passed, I only got more upset about the situation.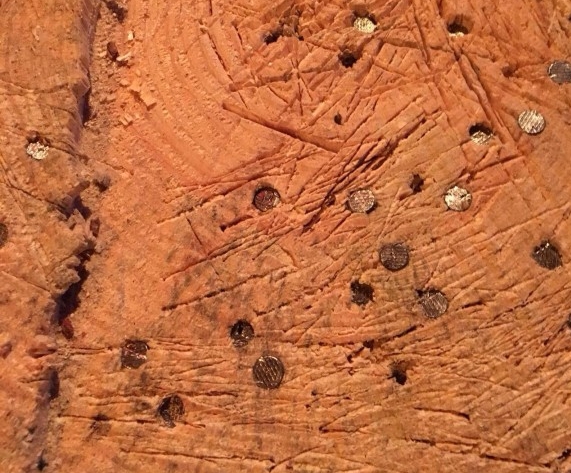 I'd heard talk of discrimination in Saxony, of course, but had never counted myself among the victims. Leipzig is supposed to be more inclusive than other cities and towns in East Germany.
I was almost about to drop the subject, though, because my friends and I wanted to have a good rest of the evening. Until a guy from Libya who we happened to meet at Hexenkessel shared his Flowepower story from earlier that same night.
The Libyan student said that the bouncers had let him into Flowerpower without asking for ID, but that when he went to the bar and ordered a beer, "some people, I think the security people, came and told me to go outside." He added that a security person asked him what his birthday was and if he was German, and then also for his Ausweis (ID card), at which point he showed his 6-month asylum-seeker card.
"I asked them why I had to go outside. They told me, 'It's not for you, it's not for Auslander people. This bar is for original Germans'… They said a lot of things. So I said, 'Thank you so much, Danke schön, have a nice day,' and I came here."
Like our group, the 20-year-old met no issues next door. A relatively fresh arrival from Tripoli, he told us he'd experienced racism from others in Leipzig before but been treated well at local clubs such as Distillery and So & So.
He said he'd been trying hard to make new friends, study engineering and become integrated into German culture. I gave him a hug. I would later call him to get more details about what happened.
By the time I got home after the incident and long talks, it was already morning and I was quite tired. But before I went to bed, I dashed off an e-mail in German to Flowerpower telling them my version of events and relaying the gist of what the Libyan guy told me. I gave them 48 hours to respond before I published this. I ended up giving them 72 hours, rather.
Flowerpower e-mailed me a response within a couple hours (translated into English):
"I will talk to boss Daniel and get in touch about yesterday's happenings & problems. Of course, every good, responsible club / music bar needs security…! I founded Flowerpower in 1996 & for 20 years it's not any different. If you're a regular guest, you know we're very tolerant and everyone comes into our multi-cultural place who is nice and doesn't mean anything bad. We always do identity checks. So please don't be sad about yesterday and sleep in peace. We will stay in contact & I will assist you. Flowerpower greetings from your dream team."
The second response from the "dream team" came on Tuesday afternoon:
"Greetings from the ski holiday! I talked to boss Daniel and he confirmed to me that we have had to check ID cards for some time… The police work closely with our security guards and there have repeatedly been important reasons for this… ;/ I hope that next time, you give us a chance again, and please have you and your friends always take a valid ID card / passport, because the current security situation requires this urgently! (As recommended by police.) ;( See you soon, your dream team from the Riemannstraße."
And then a third (contradictory) response once I said I would still publish an article:
"Thanks for the information! Since 1996, nothing has changed in the Flowerpower in the company policy, and everything for the benefit of all guests – no matter which skin color and religion! Unfortunately, it is a pity that a single incident could lead to your reporting that no foreigners feel comfortable in the locations you do not appreciate – that is very one-sided and extremely racist of you!! In my view. You should keep that in mind, and I wish to continue celebrating a fabulous 20 years in the Flowerpower – Peace and Love, Andre Streng, founder, Flowerpower, 1996 (now assistant to the management)."
The message continued in a different tone:
"Unfortunately, I did not receive any information about the incident you reported and you can call me anytime. If you have felt bad and unfairly treated on that day, I would like to apologize to you, of course, within the framework of all employees and the management of Flowerpower Leipzig, and we can arrange an appointment in one or two weeks. We have had very, very few complaints at the door so far, and it is important to us to learn all the information and misconduct of employees, because also a lot of new staff has been hired in recent weeks."
The sender, Mr. Streng, did not elaborate on what those "important reasons" and "urgent" security situation might be, or say whether it includes screening Germans as well. Neither did he at all address the case of the Libyan student.
Either way, Flowerpower bouncers had never once asked me for ID until this past Sunday. And I've been going there for five years off and on. Interestingly, at least one of the bouncers was a foreigner himself. And as I mentioned, I did have several other valid forms of ID. I wonder what their criteria are now for deciding what is "valid" and who gets in, and how it has changed. Because it has changed, Mr. Streng.
I also wonder if they would have apologized had there not been the possibility of getting bad press. We won't let them off the hook so easily, especially in light of what the young Libyan told us.
I want to give Flowerpower management the benefit of the doubt, but I cannot simply stay silent. None of us should if we feel discriminated against.
---
Similar instances of discrimination at Leipzig clubs have been reported in the past, even leading to court cases. The Anti-Discrimination Office Saxony encourages everyone to report discrimination, no matter where it happens, and as soon as possible after the incident, promising help in different languages: "We are here to support you in speaking up against discrimination and claiming your rights. We offer a space for you to talk about your experiences and to help you decide how you would like to proceed." There is also a Leipzig-based organization dealing with those matters, and a Facebook group created by local residents. Remember: you don't have to go through this alone.