Leipzig Glocal Job Fair 2: May 2019
For visitors
When?
13:00-19:00 o'clock (1-7 PM), Friday, 24 MAY 2019
Where?
LVZ Dome, Peterssteinweg 19, 04107 Leipzig
What makes it special?
The Leipzig Glocal listened to your feedback, and for our second job fair, we are doing our best to match job-seekers with potential employers and set one-on-one chats. What's more: You get the chance to participate in Startup SAFARI Leipzig, our exciting partner event that gives you unique access to the entrepreneur ecosystem across town.
How do I sign up as job-seeker?
Entry will be FREE for job-seekers, but you will need to register through Startup SAFARI, which also gives you the opportunity to attend the other events under that umbrella (https://bit.ly/2WrUbgg). The survey to be matched with employers is closed, but you can still come and meet them during their open slots throughout the afternoon.
Who are the confirmed exhibitors so far?
Rollary (looking for co-founder)
Future Beauty Store
For companies
What kind of job-seekers can we expect?
More than 100 job-seekers have filled out the candidate survey above and here are the highlights:
Candidates are looking for positions in:
Administration or management (45% of candidates)
IT or software development (25% of candidates)
Engineering (16% of candidates)
Technical or academic research (35% of candidates)
Healthcare (8% of candidates)
Communications or languages (29% of candidates)
Sales (17% of candidates)
NGOs (34% of candidates)
Candidates have skills in:
Coding (21% of candidates)
Management and customer service (47% of candidates)
Digital natives (58% of candidates)
Knowledge of design programs like InDesign or Photoshop (25% of candidates)
Intercultural communications (53% of candidates)
Sales (21% of candidates)
Teaching experience (40% of candidates)
Marketing (30% of candidates)
Other important highlights from candidates are:
80% of candidates have at least three years of relevant work experience
93% of them possess a university degree
47% of them are fluent in German and all of them are fluent in English. Many of the candidates are also fluent in Spanish, Russian, Arabic and French
Most candidates are young professionals in their 20s and 30s
How do I sign up as an employer?
Email us at contact@leipglo.com. First come, first-served. Prices range from 250-550 EUR (to exhibit 2-6 hours). PLUS: You can get a 100 EUR discount to participate in Startup Safari Leipzig 2019 if you sign up with us.
DISCOUNT FOR LOCAL SMALL BUSINESSES: Due to generous support from Techniker Krankenkasse, startups and other local small businesses and associations can have a stand at the fair for 25-50 EUR (to exhibit 2-6 hours).
A big thanks for the support of Basislager Coworking Leipzig, organizers of Startup SAFARI Leipzig; and to LVZ Leipziger Volkszeitung for hosting us in their beautiful dome by the city center.
---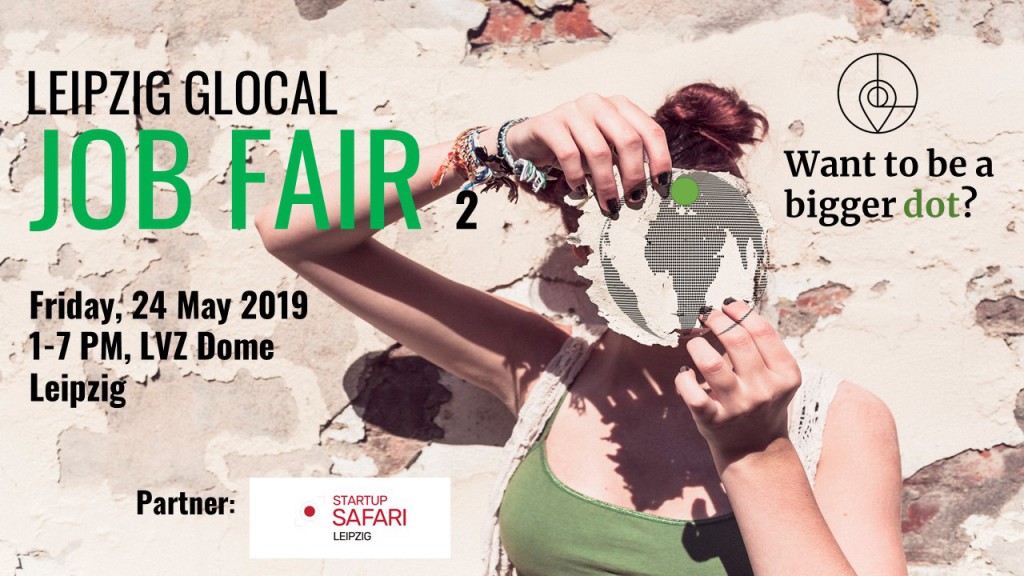 ---
Why organize a job fair?
We often hear about how fast Leipzig and region are growing. But even with quite a few job search engines and job fairs serving the area, companies and staff that would be a perfect match still have trouble finding each other. As a result, many become disenchanted and leave our area for "greener pastures" (*cough* Berlin).
We lose many bright, promising job-seekers of diverse backgrounds and talents – and job-givers as well, in a vicious cycle.
As the only local-based international web magazine, The Leipzig Glocal is in touch with this reality. We have launched a campaign to connect great companies with qualified employees among the broad, diverse audience we have been building up – from Germany and over 160 countries.
Our popular jobs page, which reaches thousands of people per month, is part of these efforts. The other is to go offline with our Leipzig Glocal Job Fair events, through partnerships with key players in the local business community.
Our webzine currently gets 20,000-30,000 views per month and has more than 8,000 followers combined on social media. We will use these channels and our networks to make sure we reach as many job-seekers as possible.
---
---
Our previous job fair