If you ever walk into the office of the US Consul in Leipzig, you may notice the pictures of John F. Kennedy and Hillary Clinton hanging on the wall. Timothy Eydelnant, who assumed the consulate post in eastern Germany in July 2017 – six months after Republican Donald Trump was sworn in – explains why.
"Two people that I actually personally admire," he told LeipGlo in an interview at the US Consulate, which covers the states of Saxony, Saxony-Anhalt and Thuringia. "Sort of in an idealistic way, Kennedy exemplifies what we, as a country, stand for, and I think I'm not the only person in government or outside of the government who admires him for the person that he was. [For instance, a Kennedy exhibit was held at Leipzig University late last year.] This particular picture of Hillary is from the time that I worked in Moscow, and worked on her visit to Russia. So this is a thank you letter [from the White House] from when she was actually First Lady. You can see she's quite a bit younger than recently. That's from quite a long time ago."
When he was a young chap, Eydelnant migrated to the US from Belarus, and has represented his adoptive homeland in places as varied as Austria, Iraq and Brazil. He moved to Leipzig with his husband to head the consulate at a time when US-Germany relations have reportedly become rocky over Trump's "America first" stance. It's also a time of seismic rifts and distrust between ideological camps in the country that had welcomed him as a refugee.
But he's no stranger to big changes in administration, having worked under Clinton, Bush, Obama, and now Trump. Eydelnant maintained an optimistic tone on relations with Germans last autumn, as he fielded questions from a select audience at Club International. During his more recent interview with LeipGlo, he again affirmed that the friendship with Germany, despite disagreements, is still mighty fine, and encouraged people to look beyond media reports to get to know the US.
---
Timothy Eydelnant interview – Part I: US-Germany relations
Ana Ribeiro: What does the US Consulate in Leipzig do, exactly, and why is it located here?
Timothy Eydelnant: We cover three states here, as you know. Myself and my colleagues are trying to be on the road as much as possible, to meet as many people as we can, attend a variety of events.
The consulate in Leipzig is one of our oldest diplomatic representations, actually, in the world. We've been here since 1826 as a consulate [with rotating diplomatic missions in Mitteldeutschland over time]. So it has a long history.
With the exception of the GDR time and World War II, there has been US diplomatic representation to this part of Germany; we view it as a very important diplomatic engagement for us.
We need to remember that initially American diplomatic representations, especially consulates, [focused] on business relations with countries. And Leipzig, like no other city in the east of Germany, is known for its commercial links. I think that's what preempted the US government to open a consulate in Leipzig in the first half of the 19th century to start with, and then we just stayed here.
This part of Germany has changed a lot in the last 30 years since the fall of the Wall, and I think people here have a lot of interest – I see it personally – in the United States, politically, economically, culturally. And our job here is to strengthen this relationship, transatlantic relationship between our countries. But also in general, between the people, on sort of a sub-national level [between the communities here and those in the United States, and sister cities]. That makes the job interesting and busy for myself and my deputy. We're very small here, but we're very, very busy, and that's a good thing.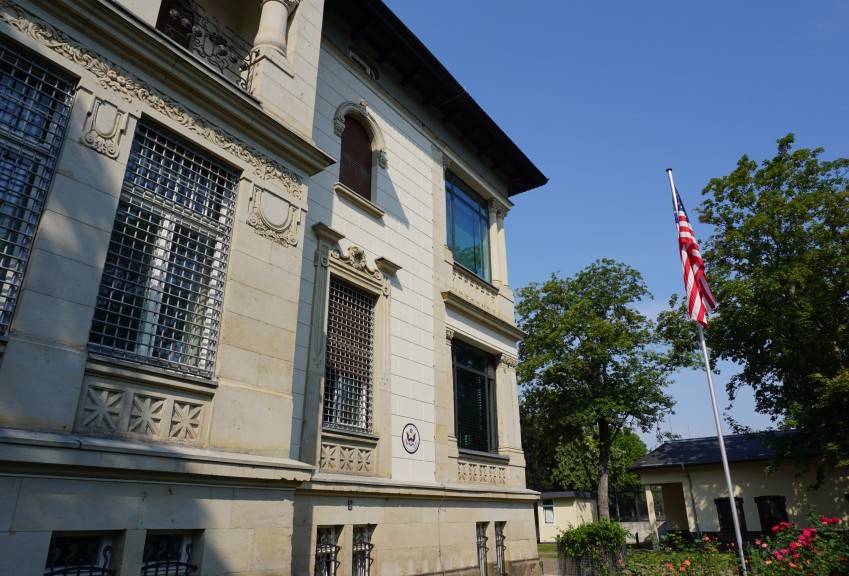 AR: I've heard rumors that there have been talks of the consulate closing. Are those unfounded?
TE: There are always rumors. Especially these days, there are all these rumors and I don't know which ones to chase. But to me, there's no knowledge of the consulate closing.
As you know, there are ideas of restructuring the Department of State a little bit under this administration, and it primarily involves a hard look at which positions, mostly in Washington, should continue to be the same way they are. And that's a normal cycle of sort of government restructuring that happens under various administrations.
Our job here [and at the US Embassy in Berlin] is to exemplify the relationship that exists between the two countries, and to show how important it is for the United States to maintain representation to this part of Germany. Since my arrival in July, everything that I've heard from my German colleagues… in the three states that we're responsible for… shows the real support that we have here from our German counterparts for this consulate.
And in general, the goodwill of the people… is enormous. I think it's very much noticed by my colleagues in Berlin. The chargé d'affaires has been here multiple times, officials from Washington have been here since my arrival, so I think it's an indication that this consulate is viewed as an important location.
AR: How do changes in federal administration in the US affect your job?
TE: As diplomats, I think we are used to functioning under various administrations. Since I joined the foreign service, to make it a bit more personal, I have worked under the Bush administration in Finland, and then under the Obama administration… it's different. So you go through different cycles, different administrations have different priorities, and identify different priorities.
But what remains, I think, as a constant for us professional diplomats, is that we represent not only our government, we represent our country, the people of the United States and our values.
So that remains the same no matter which government is in the White House. And actually the point that I take with me as I go around Mitteldeutschland, this region, and I talk to people, is that these days a lot of attention is being paid by media to the administration, and that's correct, that's normal. There's a lot of criticism in the press regarding the Trump administration, that's also quite normal. But at the same time, I encourage professional journalists also to pay attention to the things that unite us and are common to us.
The values of freedom, the values of democracy, market capitalism – those things remain the same. And I think it's important from time to time to keep that in mind. And for us, as diplomats, certainly something that we are very much aware of is that the foundation of the relationship between the two countries is still very much the same.
AR: Do you have a certain level of autonomy from the administration?
TE: Again, we represent the administration. But we have, I would say, especially here in Leipzig, some leverage, some autonomy, as to the projects that we engage in. We work closely with the embassy and, of course, the funding for the projects comes from Washington and from Berlin, as far as the structure of the State Department is concerned. But we have a lot of say into which projects we support, who do we work with.
[For example on a cultural level] with DOK Leipzig, we supported an American filmmaker coming here, showing some of the documentaries. There is a lot of leverage as to which projects we choose to support. The various initiatives we've been working on for a long time, we continue to support.
The German audience is surprised that we bring in and continue to bring in speakers who might be critical of this administration. I think the idea is, there is a certain person in the White House, then the consulate or the embassy would be supportive of all the positions of the president. But in a pluralistic democratic society, I think one of our responsibilities is to present multiple different points of view. And that's what we continue to do, and we continue to support as a government, as a State Department, as a consulate, we continue to support speakers who might come here and present a different point of view to the German audience than the White House presents.
That's what we stand for as a country, and we continue to do so.
AR: How would you say the Trump presidency is affecting the image of US relations with Germany?
TE: Germans, and especially German politicians, understand the value of their long-standing relationship with the United States. There is a lot of history between our countries, and the foundation is there. Criticism is normal, and at the same time, friends can have different opinions.
I think there is probably no greater friend in Europe than Germany for the United States.
As long as there's a continuous dialogue of different opinions, as long as a continuous conversation is maintained – and I know that the president and the chancellor, for example, talk to each other very often – it's fine to have different opinions, it's fine to disagree. As long as we continue this conversation, I think the image of the United States remains that of a country that has been a friend of Germany for a very long time. And I think most Germans understand that, especially the Germans who travel to the United States.
That's usually my message to younger Germans when I go to schools and universities and I talk to them: Don't just listen to the media, don't just read the newspapers. If you can't travel to the United States, talk to ordinary Americans. [If you can,] go to different places in the United States, see it for yourself.
And then you will be able to build your own opinion about what the United States is and stands for.
---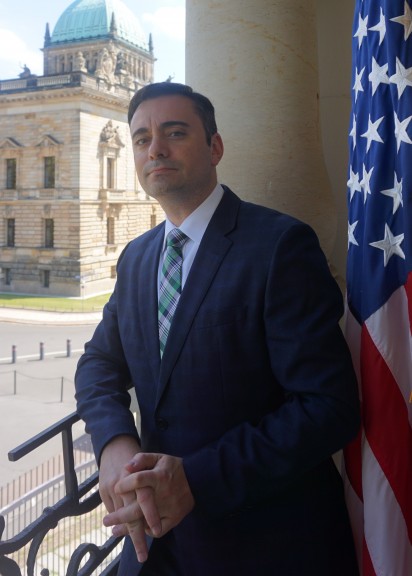 Watch this space for Part II of our interview with the Leipzig-based US Consul, where he goes more deeply into aspects of his duties, career and interactions abroad.
---
Cover shot: US CG Timothy Eydelnant and Berlin-based Chargé D'Affaires Kent Logsdon. (Photo courtesy of US State Department)