I am not one of those who would say one forgets the pain of childbirth, and that's the reason why we do it again only a few years later. No, I have not forgotten, and I have tried to share my story with sincerity in order to give some necessary energy to other women who are about to experience childbirth. I've asked several mothers if they would agree to be interviewed about their birth in Leipzig.
They have different origins and had different births, either C-Section or vaginal delivery. Some of them gave birth twelve years ago, for others, only a few months have passed since the experience. Each of these women trusted me and shared stories about one of the most important moments of their lives with me, for which I am incredibly thankful.
---
Mariam: "I was incredibly grateful for my midwife and the way she supported me during birth and the pregnancy"
Mariam was born in Lebanon and has been living in Germany for over 10 years. She gave birth to her second son Nicolas at the St. Elisabeth Hospital, in 2020.
How would you describe your birth?
For me, giving birth was about making decisions. My first child was a breech birth. My midwife suggested we try a vaginal delivery, but it didn't work out, so we opted for a caesarean. The second time, the birth started naturally, but quickly complications developed for the child. Once again, my husband and I opted for a C-Section, but not as an emergency, so that I could attend the birth fully consciously. I was able to decide right up to the end, and I managed to stay calm because my midwife told me: "You are responsible for yourself, the child is our responsibility. So, if he is in pain we will do an emergency caesarean, for the rest, and as long as everything goes well, it is up to you". These words had a big impact on me because they gave me confidence and at the same time, I felt great freedom of choice.
How was it different from giving birth in Lebanon?
I would without hesitation prefer giving birth here in Germany! You just have to be well informed, and if needed, insist on getting information. Once you have done your research, you can have the birth in the way you want. What I liked the most here was my midwife's support. For my first child, she was about 50 years old, and she was very maternal. She became like a second mother to me. Instead of giving me outdated advice, like the one my mother would give me, she was very professional, absolutely supportive and reassuring. And her presence after the birth was all I longed for.
In Lebanon, the doctor is the person who is at the forefront of a birth. But here it's the midwife, and I think that's much better. She supports you during the pregnancy, she assists you during the delivery, then she comes to visit you every day for the first two weeks. Even with a caesarean section and a slower milk flow, the midwife didn't put any pressure on me because of my baby's weight loss. On the contrary, she helped and reassured me.
---
Margaux: "Although I had a beautiful natural birth, I sometimes felt uninformed and confused"
Margaux is French and has lived in Belgium and Germany. She gave birth in Leipzig in 2015, when she was 26 years old. She had previously given birth to a baby boy in Brussels as well.
What did you like about giving birth here?
First of all, the birth room was very well designed. Secondly, I would say that the examination procedures during the birth are not at all invasive. At one point during the birth, the nurses weren't able to place the EFM (electronic fetal monitoring) to hear the baby's heartbeat, yet everything continued calmly, without rushing or stressing me. They respected the birthing position I preferred, which was on all fours. Then when my baby girl arrived, they gave me and my baby some privacy, they were discreet and left me with her for a long time before carrying on with the overall check.
On the other hand, were you surprised by certain practices that you didn't like?
Even though I had gotten support outside the hospital during the pregnancy, I really had the impression that I was in unknown territory at the time of the birth. The other thing is that the morning after, having not slept all night with my newborn, I had to get up for the physiotherapist checkup, and I wasn't ready for it at all. The big negative for me was that I didn't understand how the preparation with a midwife actually worked. In general, though, I think it was a beautiful natural birth.
---
Rocio: "I had the impression the hospital staff didn't take good care of me"
My Chilean friend Rocio gave birth in Leipzig at St. Elizabeth's in 2009. She was 21 years old at the time.
Rocio, what can you tell me about your delivery?
Well, it was very, very hard… I had a complicated pregnancy. I was moving from Chile to Germany and lost my baby's twin a few months into the pregnancy. I went to the hospital when it was time, my delivery lasted 24 hours. My son's dad is practically a Viking, he is very tall! And I'm not so big… My baby was very big and just couldn't come out. I had the impression, the hospital staff didn't take good care of me.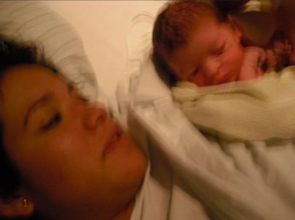 They didn't propose an epidural to me when I was fainting with every contraction! After many hours the midwife who had accompanied me to the hospital came back for her next shift and said: "She's still here? You can see she's not going to make it!" So she took me in, and I had a caesarean.
What a difficult story!… And how did It go right after the birth?
The baby's father took care of Emilio as I was being taken care of, and 15 minutes later, I finally had the chance to hold my baby. I was very happy to finally have him but felt totally exhausted. During the week I was in the hospital, the staff would take a lot of care of my son, but not so much of me. For example, they gave me support stockings to go out because I was retaining water, but nobody explained what to do with them.
I also had no consultation in the following weeks, even though my legs were in a really bad state. On top of that, the C-section left me with a massive scar. This has not been done for decades in Chile! There, the doctors make very small cuts, more on the lower part of your body. Now I have a huge scar on my stomach for the rest of my life.
---
Valentina: "I recommend bringing personal objects that will make you feel good during delivery. And don't forget earplugs."
Valentina is Chilean too and has been living in Germany for almost 10 years. She is a mom of two. She had her daughter in 2017 and her son was born in 2020 at St. Georg when she was 34 years old.
Valentina, your two children were born here in Germany, but you also know how it is normally done in Chile. What are the major differences?
In Chile, you are in charge of finding a gynecologist, who comes in on the day of your birth. This means that deliveries are often scheduled, ending frequently with a caesarean, as natural births cannot be scheduled. Another very important thing is that childbirth in Chile is very expensive (it varies between the equivalent of 1000 and 3000 Euros, depending on the hospital and your insurance system).
How was your experience?
I was one of the first women to inaugurate the natural childbirth room at the St. Georg hospital, where the staff took good care of me. The midwives' support was perfect, thanks to the massages, the positions she proposed and her overall knowledge.
You should know that, in Germany, you can bring personal objects that help you feel good to the delivery room. This could be your music, a pillow, etc. Don't forget to bring earplugs. Otherwise, you could be disturbed by other women in the middle of labor!
---
Ling: "In my culture, pregnant women are taken care of better"
Ling is from China and gave birth to her boy Markus in 2017 at St. Elizabeth.
I am happy I get to talk to you, Ling, because I think that coming from China, you must have been surprised and confused many times during your pregnancy and birth!
I don't have relatives who could tell me what it's like back home, but I know that the place of the pregnant woman and a young mother is quite different than here. First of all, the pregnant woman is very much surrounded by her community. In China, I would have given birth at home and my parents would have come to live with me for at least a month after the birth to look after everything.
In our country, it is very important that the woman who has just given birth eats well. Just imagine my face with all of that hospital food! I couldn't swallow anything, first I ordered food from the hospital, then I started to cook as soon as I got home. In particular a "rib soup with carrots" which is breastfeeding-friendly!
How was your delivery?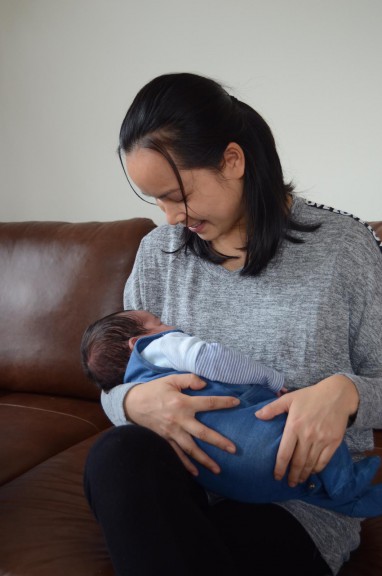 The delivery at the hospital lasted more than 12 hours. As soon as I got there I asked for pain relievers, as the pain was unbearable for me. Throughout the labor, the midwives told me they would take care of my pain, but never did. They did take care of me but in a different way. First, they offered me a bath with my husband. After 6 hours, I was so tired that one of the midwives had to make sure I wouldn't fall asleep. I was given special medication to help me regain my strength. I was then given a massage. But what I wanted was more concrete help! I just couldn't stand the pain! When Markus was born, 3 or 4 midwives were around me, one was pressing on my belly to get the baby out, the other one picked him up.
Luckily for me, my partner took a leave of absence. He was taking care of everything at home as well as our son. The midwife who came to see me said that she had never seen a man take such good care of the baby after birth! The biggest difference I see here regarding my culture is the way the woman is taken care of, and I suffered for it. Fortunately, my husband took good care of me!