Much as we all love our city—and especially our district or Kiez—there is a special thrill when it's mentioned in a song. Hearing namechecks for the Südvorstadt, Clara-Zetkin-Park and even favourite bars such as Noch Besser Leben makes "Guide Me Home" a memorable song for every Leipziger. It has a catchy tune, too. Singer-songwriter Sammy H. Stephens adds a simple accompaniment on acoustic guitar for a nostalgic, folksy feel that evokes every night on the town we have ever enjoyed, with all the poets and artists who come here to create.
The Plagwitz Diaries is not available on Spotify but instead listed on Bandcamp, with two other tracks from the new digital album by Sammy, released under his band name Key & Cave. Interviewed for The Leipzig Glocal, he explains why:
Currently Key & Cave music is only available at www.keyandcave.bandcamp.com.
I am trying my best not to use streaming sites such as Spotify anymore as what lesser known, independent musicians like myself earn using them is pitiful. I find Bandcamp to be more direct and therefore supports artists in a better way.
You can find all the lyrics there too and buy the track for as little as 1 euro—although that is of course quite pitiful and followers are encouraged to pay more.
The name of Sammy's band, Key & Cave, references his other great project—his paintings and drawings, available to buy from Saatchi with prices ranging from 200 to 3,000 euros. Richly coloured abstracts portray natural themes and the drawings, each composed from a single line, are especially striking.
And here is another musical-artistic link. The band onelinedrawing, also known as singer-songwriter Jonah Matranga, toured Australia with Sammy and they went on to do a UK tour together.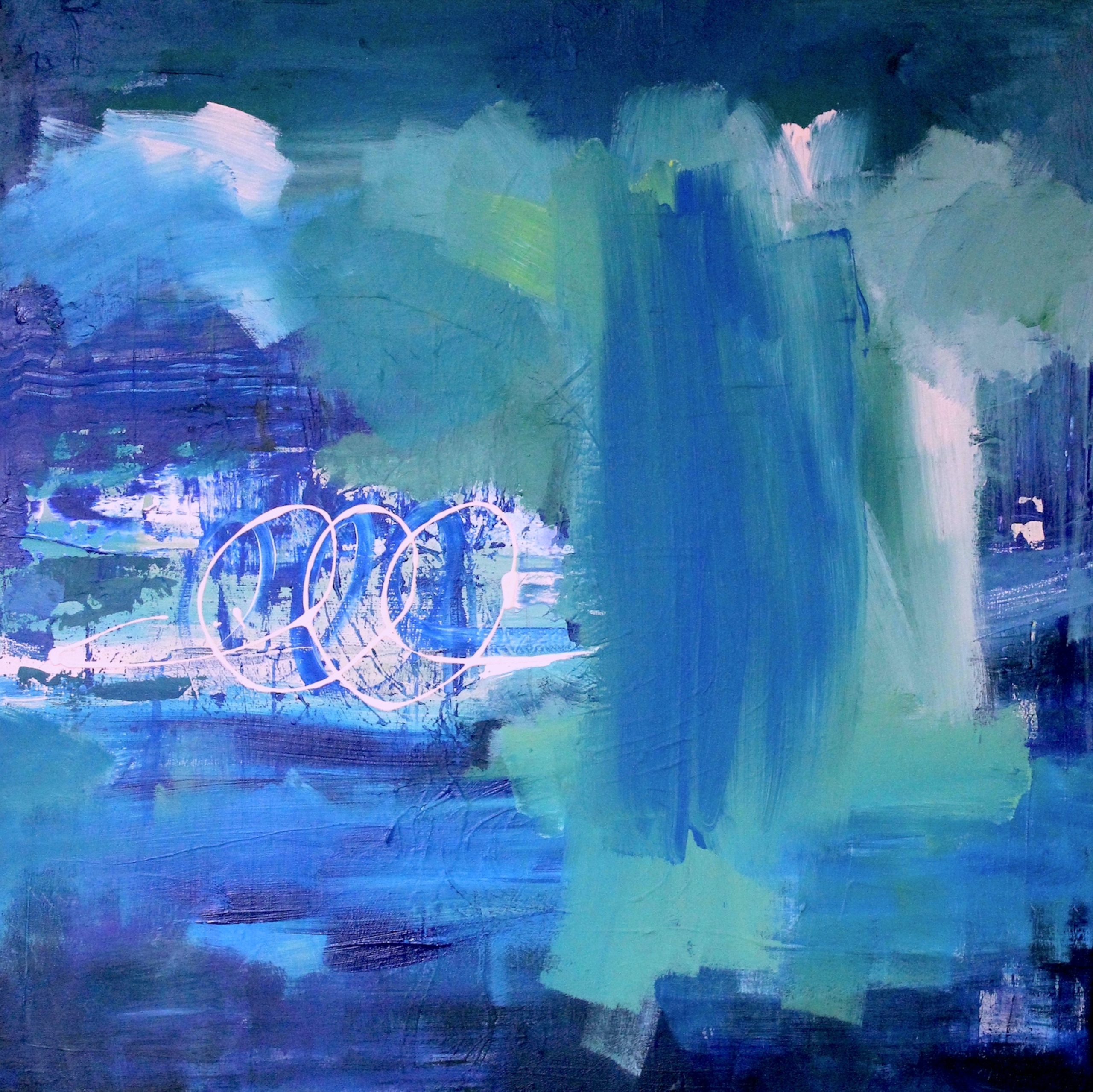 Somehow, Sammy says, the painting and the songwriting seem to bounce off each other:
As well as playing music, I also paint. Two paintings from a series I have been working on recently were hanging up in front of me at the time I was looking for a name. Part of one of the paintings looked like a key, and part of another looked like a cave.
I thought both words together were easy to remember and also had an element of adventure to them, which I liked.
It was adventure that took the young artist from his Design and Art Direction studies at Manchester Uni to Australia—adventure with a capital A, cycling the 200,000 kilometers overland. He says he was always full of energy, even as a child, and playing music was a great way for him to let off steam. Growing up in Northwich, between Manchester and Liverpool, Sammy had a wealth of musical influences from those world-famous musical cities as well as these he lists:
Green Day, Bright Eyes, Kimya Dawson, the Beatsteaks, Corinne Bailey Rae, Bon Iver and Joe McMahon, who I also toured with at some point.
McMahon, formerly with Smoke or Fire, is also now based in Germany, releasing music through Gunner Records. But it was not music that brought Sammy to Leipzig. It was love.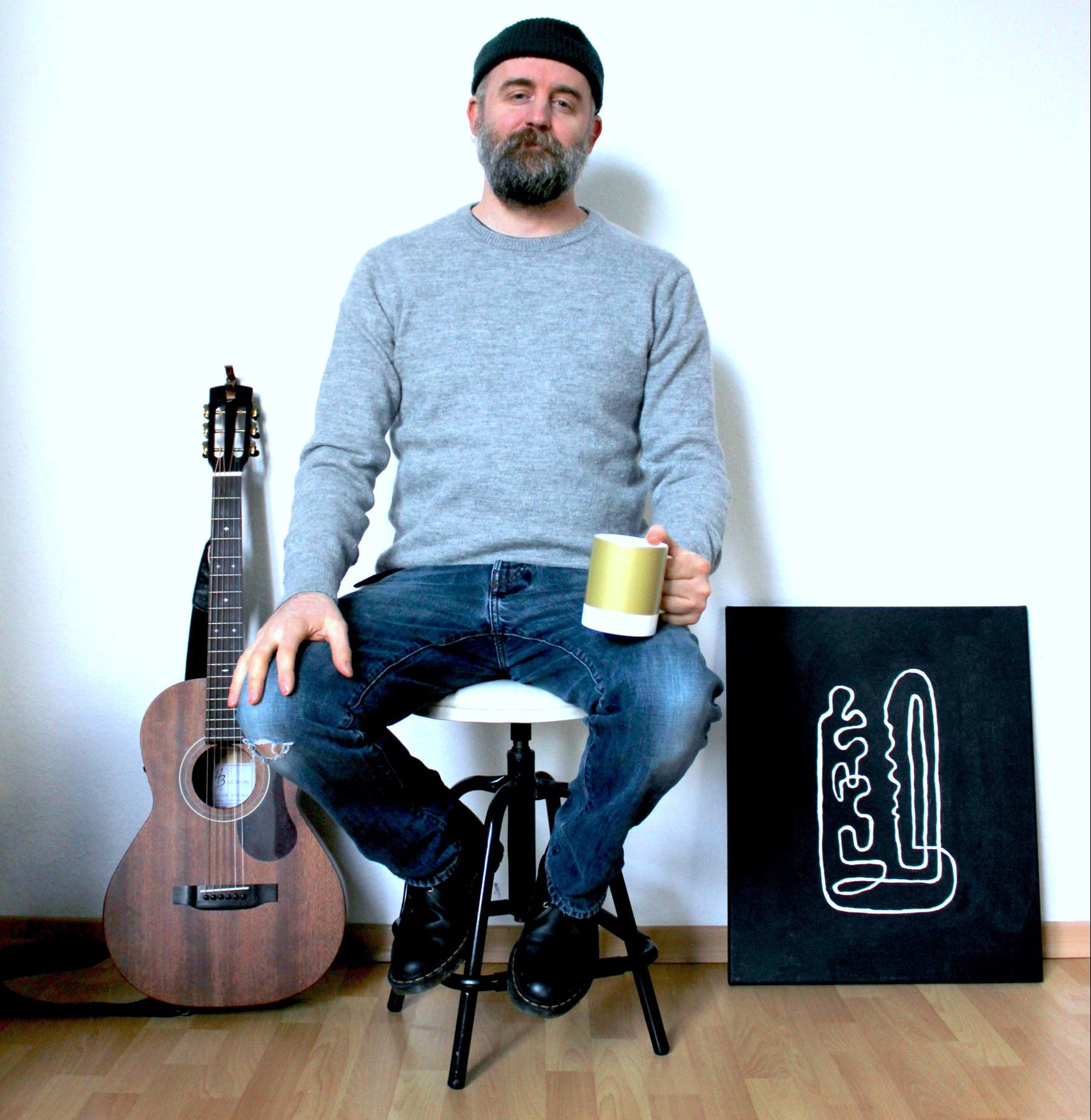 Established here for eight years already, the artist suggests the city and the love have inspired both his music and painting and he has no plans to move back to England:
There is so much creativity here that I would find it hard to leave. I am so, so lucky (and I often forget it) to have everything I ever wanted on my doorstep. From cool, little music venues/bars like Zum Wilden Heinz or Plaque to art galleries and Boesner where I buy all my paints from.
Travelling overland by bike and touring continents with his favourite musicians, Sammy H. Stephens has crisscrossed the globe. He has experienced cultures as varied as Morocco, Kazakhstan and Nepal, yet chose to stay in one place only when he discovered Leipzig. As for so many of us glocal Leipzigers, the lights of home are not thousands of miles away where we came from.
They are shining brightly, right here.
---
You can keep up with Key & Cave on Instagram.