I rarely come across artists that captivate and enchant me from the very beginning. To be quite honest, I rarely come across new artists that interest me at all. Sounds jaded, I know, but it somehow feels like today's musical landscape is mainly composed of reiterations of the same timeworn beats that ought to be put to rest by now, instead of being remixed or sampled every summer. Given this merry-go-round of repetitive unoriginal creations, discovering the musical universe of Hermanos Gutiérrez came as a breath of fresh air for my musical palette, something new and exciting to add to my daily playlist rotation while also sounding very comforting and familiar.
The brotherly duo and their suave sound got me instantly hooked and quickly joined the ranks of Rosalia, Leon Bridges and Gorillaz as part of my most-played artists. In a surprisingly short time, their peaceful melodies became part of my daily routine, providing me with rhythmic company and sheltering me from the stillness of the world. I was so trapped in their music that I nearly missed the news that Hermanos Gutiérrez would be playing my home turf of Leipzig. But as luck and destiny would have it, I ended up with the chance of seeing them live and sharing my experience with you.
UT Connewitz hosts Hermanos Gutiérrez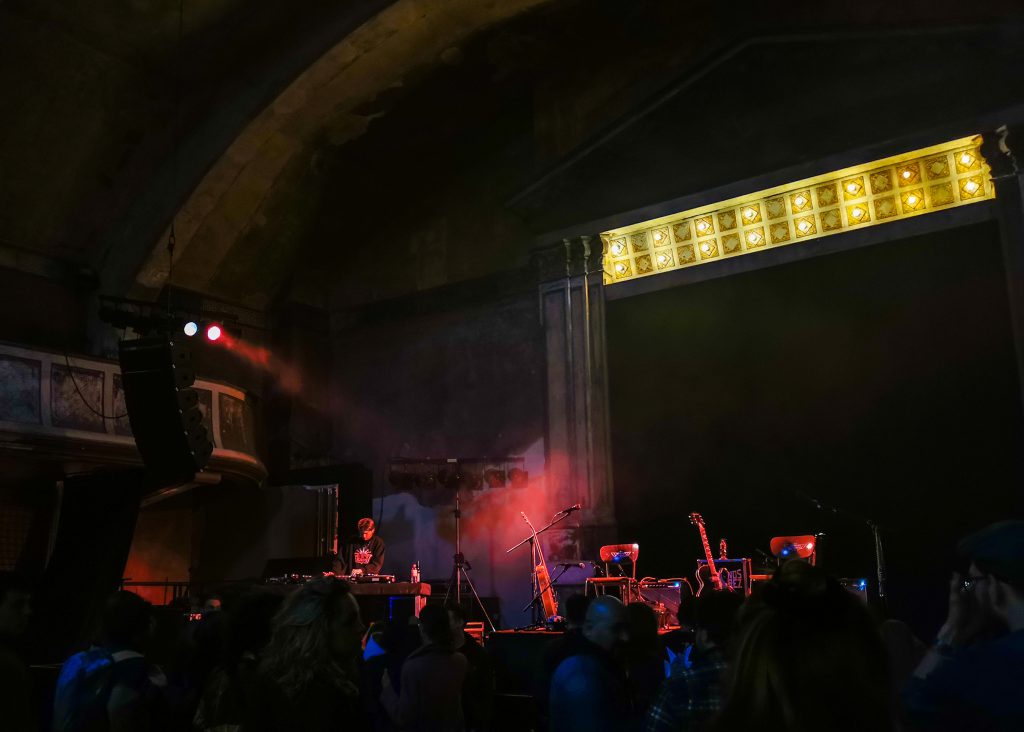 Expecting a hefty crowd, we got to the venue quite early. This was my first time crossing the doorstep of UT Connewitz (shame on me as a self-proclaimed Leipzig connoisseur). Upon entering, I was pleasantly surprised to discover a space that perfectly embodies my aesthetic: a mystery-infused, time-worn cultural space with a subtle, unique charm. Standing tall for over 100 years, the building of UT Connewitz houses the oldest surviving cinema in Leipzig, which hosted its first movie screening in 1912. Throughout its rich history, the venue changed its name, capacity and purpose numerous times, providing a space for youth events and concerts, as well as a gathering hub for the GDR punk scene. Its current iteration is as a cultural site, and UT Connewitz now hosts daily artistic events such as cinema screenings, book readings, concerts, theater and more.
The venue perfectly encapsulated the creative essence of Hermanos Gutiérrez's music: raw, unassuming and original, with a mystical touch. The tall Corinthian pillars framing the stage were reminiscent of a pagan temple, infusing the space with ancestral energy. The spacious hall afforded spectacular acoustics and dancing possibilities in an intimate, dimly-lit atmosphere. Equipped with a drink in our hands, my friend and I set up camp at the edge of the stage and patiently waited. As the brothers descended from the circular staircase, they were met with a wave of applause and cheers, marking the beginning of an unforgettable show.

An action-packed Western soundtrack
For the following two hours, Hermanos Gutiérrez took us along on a musical journey through Mexico's landscapes, sounds and indigenous traditions. Although not originally from Mexico, Estevan and Alejandro's musical repertoire is deeply rooted in their experiences traveling through and discovering Mexico and the US's Southern border. Being born and raised in a Swiss-Ecuadorian family, the act of finding inspiration across different cultures comes to the brothers as second nature. Perhaps it's this duality of their roots that also gives the unique character to their music and encapsulates their effortless blend between personal nostalgic songs and musical pieces worthy of an action-packed Western soundtrack.
The creative identity of Hermanos Gutiérrez can best be described through coherence, originality and genuineness. Starting from their manner of dressing to the smallest details, such as the miniature Lady of Guadalupe statue serving as stage decor, everything was in perfect alignment. Their album visuals, cowboy looks and soft melancholic sounds all serve a purpose—that of telling the story behind their music. From the heel of his cowboy boots to the brim of his grandiose hat, Estevan is adorned in worn leather and handmade turquoise jewels. Their unmistakable stage looks prove that their Western and Latin influences not only serve as inspiration for their band's sound but also for their personal style.
What you see is what you get
Hermanos Gutiérrez's concert experience can be described as a musical anomaly, in the best sense possible. What you see is what you get. There's no smoke and mirrors involved: no flashy costumes, no off-key backing vocals or ostentatious background visuals—nothing that could distract you from the artistic moment that you're about to experience. Instead, what we found was a captivating and intimate show, through its simplicity and honesty. Suppressing the industry's expectation of accompanying lyrics, the brothers let their guitars do all the talking, proving that less truly can be more. As the dust rose off the stage, captured by the vibrant stage lights, I couldn't help but notice the harmony that radiated from the musical duo.
Estevan and Alejandro's connection is palpable, a connection that transcends blood relations. They're able to understand each other without words and flawlessly complement each other rhythmically and tonally. The brother's humble and calming stage persona created a comfortable setting for absorbing the music and dancing freely, the room trembling with the vibration of each note.
Each song was accompanied by a personal story related to its inspiration and creation, giving the audience context for what we were hearing. The songs' titles, motifs and origins enticed us toward self-discovery and reflection. As the title of "El camino de mi alma" suggests, the music of Hermanos Gutiérrez challenges us to embark on our own spiritual journey, at the end of which we can discover our true, unequivocal selves. Thus, the artistic moment we're experiencing becomes a moment of learning, of contemplation and of appreciation of life, love, travels, traditions and nature. Therein lies the magic of music.

So, tell me:
Were you there? Are you already a fan? Are you going to give them a listen? Feel free to boost my ego by telling me that I convinced you to give something new a try today.
If you're interested in the cultural offerings of UT Connewitz, you can check out their upcoming events here. You can see the rest of Hermanos Gutiérrez's 2023 tour schedule here.