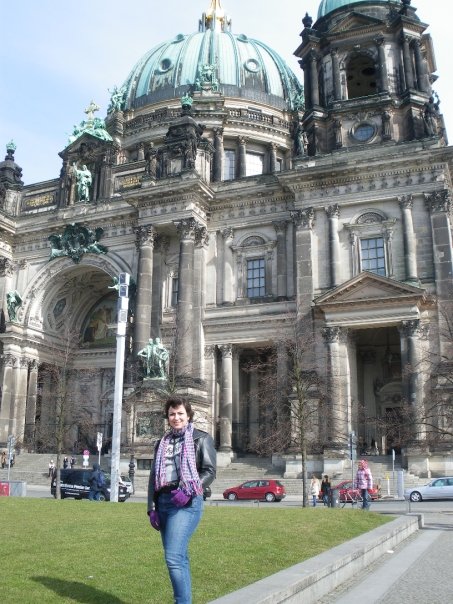 I traveled to Germany as tourist for the first time in March 2009, from the United States, spontaneously and without much preparation. I did buy a guidebook, but barely read it; mostly just made a line on the map with a highlighter linking the cities I'd like to fit into a whirlwind 6 days. I basically double-checked if I had some days off from my job, found a cheap plane ticket from North Carolina to Frankfurt, asked if a friend wanted to meet up with me somewhere along the way, and off I went. When I returned, I wrote about it for the newspaper I worked for at the time, the StarNews in Wilmington, N.C. It's interesting to dig up this article after so long and read it once again. To look back at myself as a first-time tourist in Berlin. And to consider that now I've been living in Germany for almost 3 years, but couldn't have known it at the time. Also, Leipzig, my dearly beloved current home, wasn't on my list of cities to visit; I didn't know anything about it. I decided to focus on Cologne, Berlin and Munich then. It would take another two years for me to make it to Leipzig for the first time, taken by a German friend after I'd already moved to my first country in Europe, Denmark. But that's a story for another time.
As for the article I wrote, you can click HERE if you care to read it.
Because I'd been somewhat poorly prepared on my 2009 Deutsch Abenteuer, or "adventure" (which can work out just fine if you're a seasoned traveler but in my case I wasn't, really, at that point), I didn't know how expensive train tickets would be in Germany: I ended up spending 100 euros a pop, which is quite a lot if you're a reporter low on the food chain. Also, I had no idea about the coolness of the different neighborhoods in Berlin, for instance, and mostly ended up doing very touristy things.
Somehow I really liked German food then and highly recommended it in the article I wrote. I was fascinated by the little white sausages being boiled in front of me at some Bavarian restaurant.
I was horrified by having to pay for public toilets.
My favorite part was spotting the Alps. Though the free walking tour in Berlin was also a highlight, as was visiting the old Dachau concentration camp.
I knew no German whatsoever and felt disoriented at Frankfurt airport, to the point where it seemed easier to buy a (100-euro) train ticket and go all the way to Cologne than find my way out of the airport and hang out in Frankfurt for a while. So that's precisely what I did, and then didn't even spend a night in Cologne; walked around, ate, napped at the hostel and then bought a train ticket online and rode off to Berlin in the middle of the night. Not sure why.
My travel buddy was even more confused and somehow thought she could fit a visit to Vienna and Prague into one day, on her way to meeting me in Berlin from another location (I don't quite remember if she flew into Frankfurt as well). At the end of that day, after having made it to neither of the enchanting central European capitals, she finally found her way to Berlin and our hostel, panting and afraid of the strange things she had seen around the German capital, having gotten lost past midnight. Her stay was even shorter than mine: four days. But she managed to also see Cologne and come with me to Munich. Exhausted, she managed to miss her flight back to the U.S.
I'm afraid I've no wild stories to report from the trip. Although if I did, perhaps I wouldn't share; I think some travel tales are better left untold, as snicker-inducing memories to cushion us on particularly dull days.
So no going to weird Berlin techno clubs. No heavy drinking, just an oversized Bavarian beer mug here and there. No flings. No crazy hikes or camping or jumping off things. And perhaps it was so nice for us because of that, and despite our little mishaps – traveling for the sake of traveling, for simply seeing something, anything new, which was what we needed at the time. A small spontaneous break as the daily grind closed in on both of us, young reporters, in a depressed economy, with a growing wanderlust…