The animals show no prejudice, no fear, but accept humans for what they are, just another species attempting to live in this inhospitable outpost. Experiencing this equanimity with nature is so moving that it has the power to alter the course of human lives, to transform the way we think about our place in the world and the way we behave towards its other inhabitants, human and non-human alike. —Henry Nicholls, The Galápagos: A Natural History
We make our way to the door of the aircraft, the stairs waiting for us to descend to the tarmac. It's already sweltering with humidity and a high UV index, the sun is as bright as the day. Following the other passengers along the painted line, we make our way into a sustainable airport in the Galápagos. We excitedly take in everything we see. An iguana greets us on our path, sitting relaxed—perfect for the first photo opportunity. Quick, a little lizard just ran across the pavement!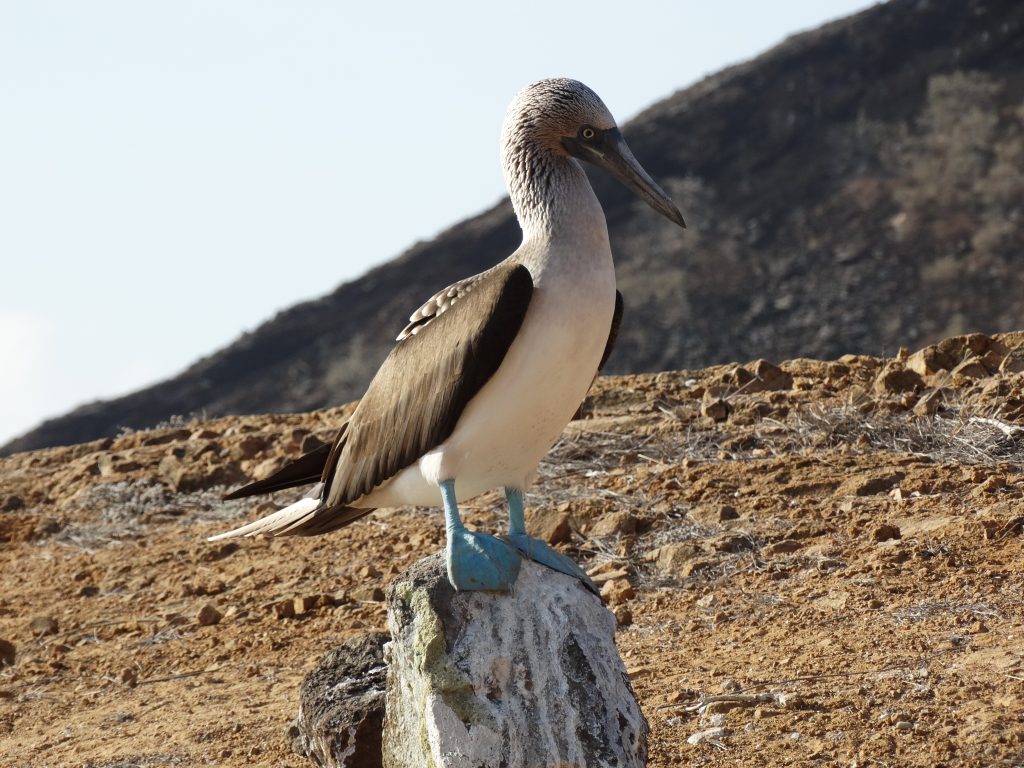 The airport employees politely greet us as we show our Canadian passports and the park entrance document. We timidly say, "oh we're staying longer than what's written on the document." The customs agent smiles at us "that's not a problem. Is it your first time here?" "Yes, we're so excited!" we respond. Another smile and we're on our way to baggage claim. The Galápagos Ecological Airport is situated on Baltra Island. The archipelago is part of Ecuador in the Pacific Ocean. The baggage collection is done by hand with rollers, no electronic belts or machines.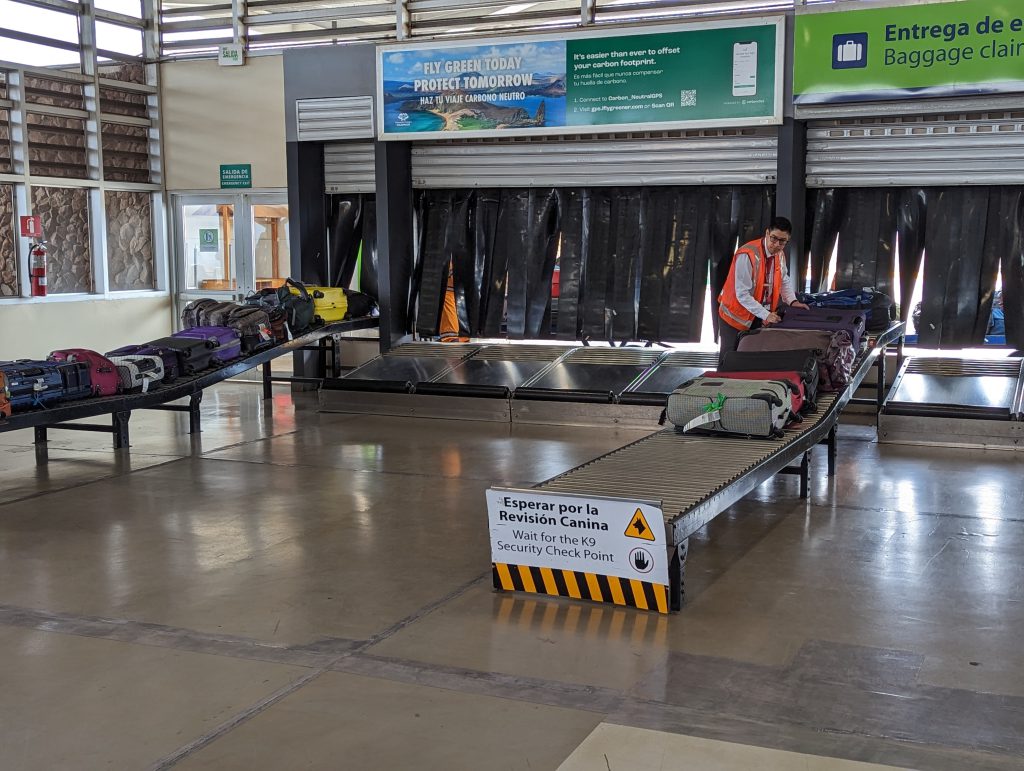 So it begins
We collect our luggage and head to the tiny entrance hall where we meet our nature guide, Camilo. He will be with us on the yacht-style catamaran for the week we've booked (more on this later). Another couple from the US, who we met while waiting for the flight, are on the same boat. We meet an older Italian couple who will also be our neighbours and community for one week. Onward to the bus while Camilo collects the other guests. Another boat group shares the bus with us.
Everyone talking curiously, looking out the windows in the heat, sweating, enchanted.
It truly is fascinating when you experience such strong emotions of joy and fulfillment, where your face couldn't even try to trick anyone as the corners of your mouth peel up towards your ears. We'd already had the trip booked for some months. Between the time of booking and the actual adventure, I went through extreme emotions with the loss of an immediate family member and the grief that accompanies that. I learned that I was naïve, avoidant and ignorant all while feeling sadness, distance and unknownness of my emotions. These are strange to feel all within a couple months. I can say that the waves of grief calmed while away, instead replaced with 20-years-in-the-making of intrigue and delight. Let's get back to the joyous story.
The panga (inflatable, motorized boat) drivers meet us at the dock. This is also our first sighting of the infamous sea lions—playfully absurd creatures. The smiles continue, they're ongoing. Camilo instructs everyone to put on a life jacket and to leave carry-on and other bulkier luggage at the dock. These items will meet us on the catamaran. Everyone gleefully abides. Check out my little tidbits with specifics about the Galápagos.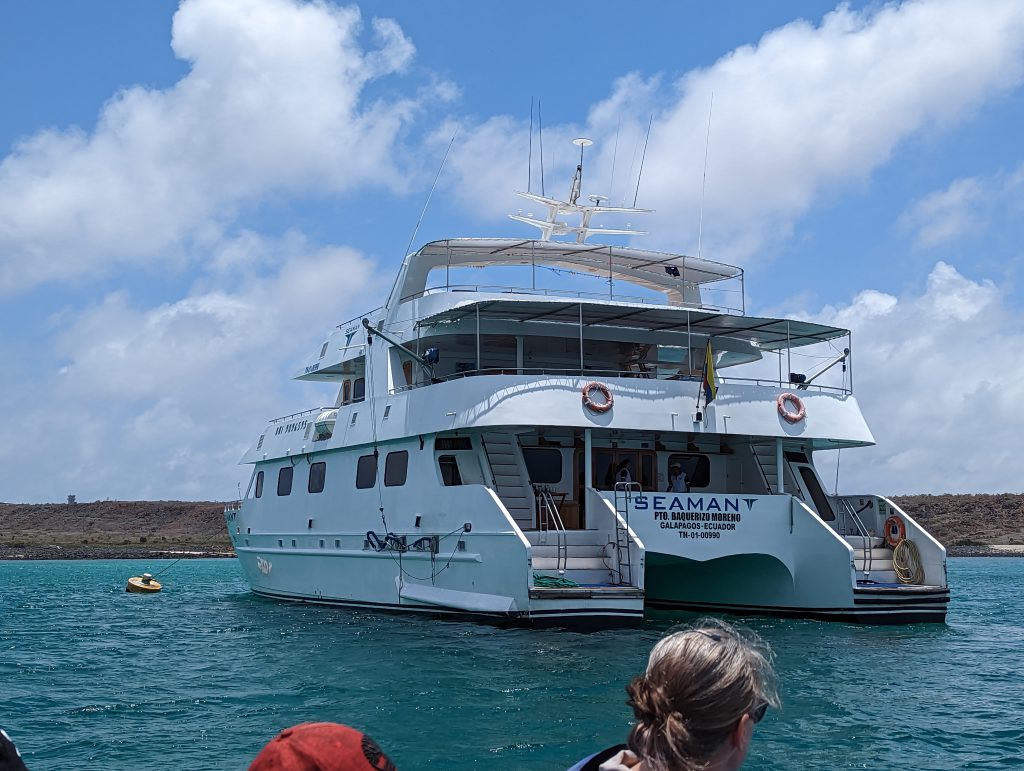 Wonders in the Galápagos
After our first lunch onboard the Seaman Journey—our home for the next week —we race to shellac our bodies in sunscreen for the first excursion: snorkeling off North Seymour island. Just about everything I'd imagined I'd been waiting for the last two decades came true. We saw swaths of yellowtail surgeonfish, sergeant major fish, bumphead parrotfish (which I thought for the first couple of days were bum-head), king angelfish, wrasses and more! It was one of my first times snorkeling and it truly did not disappoint.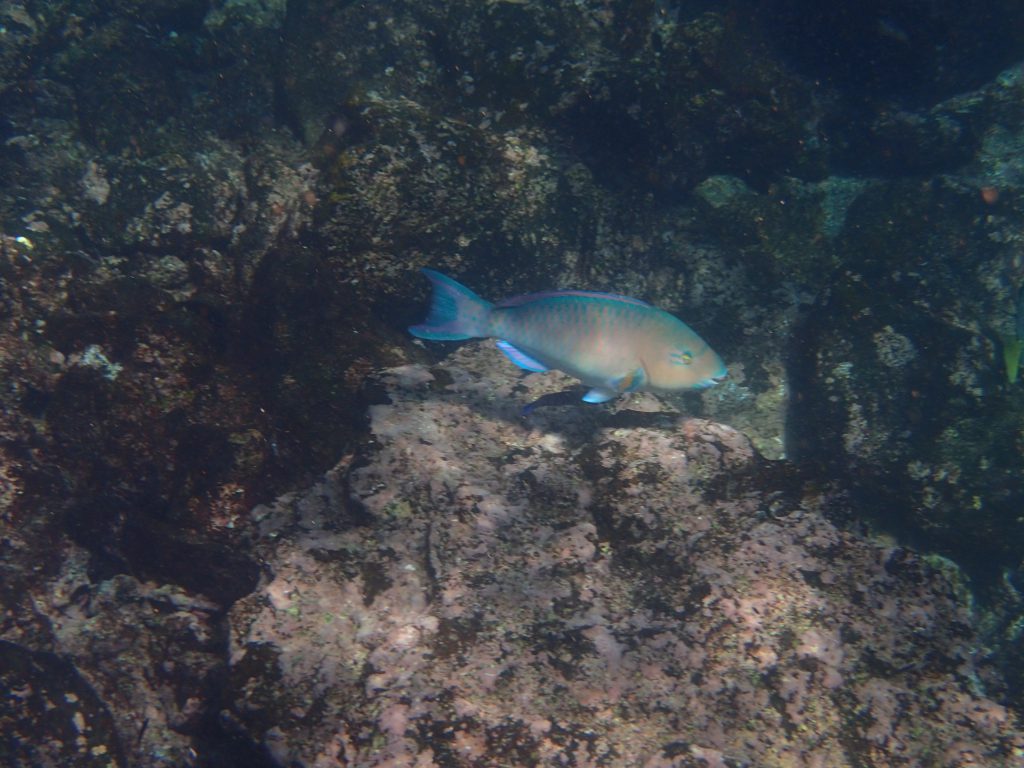 About one-hour in, we re-boarded the pangas, headed to the Seaman, changed, reapplied sunscreen, and got back on the pangas for our first land excursion. North Seymour island is known for frigate birds, blue-footed boobies, palo santo trees, land iguanas and more. Before our faithful panga drivers took us to the dry landing site, we first got to cruise around the water with some bottlenose dolphins!
Let's have a Captain Cook
I had some moist eyes appearing at this early point in the trip. Dolphins! So close, you could touch them. But you do not touch any animal in the Galápagos and do your best to stay a few meters away from the curious creatures.
Instantly, I was whisked away to the glistening waters with dolphins welcoming us to their home, their sanctuary. I couldn't believe that only a couple hours in and we had already seen SUCH diverse and rich marine life. It was truly beautiful. I'm using a lot of adjectives and adverbs here, but I can't not to even begin to try to describe it all.
I'd seen dolphins once before, a bit in the distance. Having the opportunity to see them really up-close, while we were 30-50cm sitting above the water and the dolphins were literally just below and around us. Magic I tell you.
Tidbits of Galápagos history
The Galápagos islands are an archipelago consisting of some 21 islands, not all of which can folks visit. Some are only for research, some can only be reached by a live-aboard boat, four have human inhabitants, and some more can you get to via day-trips from Santa Cruz. They have been formed by lava from volcanic eruptions because of the proximity to the Nasca tectonic plate. Almost all the islands were formed by individual volcanoes, except for the largest—Isabela— which has six volcanoes. There are three different currents that impact the archipelago, creating the different water climates and most of the islands are located in the southern hemisphere just below the equator, save a few (Genovesa, Marchena, Pinta, Wolf and Darwin).
These mischievous islands were first discovered way back in 1535 by the Bishop to Panama, Fray Tomas de Berlanga, when his ship blew off course. The visit was written about as though the islands were inhospitable and lacking in fresh water. The groundwater is polluted, so they use purified water resources for drinking. I felt a shred of this when we walked about four kilometers in each direction to Tortuga Bay on Santa Cruz. The return mission was in the direct heat of the equatorial sun and afternoon cloudless path surrounded by lava rocks. Nearing heat exhaustion, over-heating was certainly experienced and my face was as red as a balloon.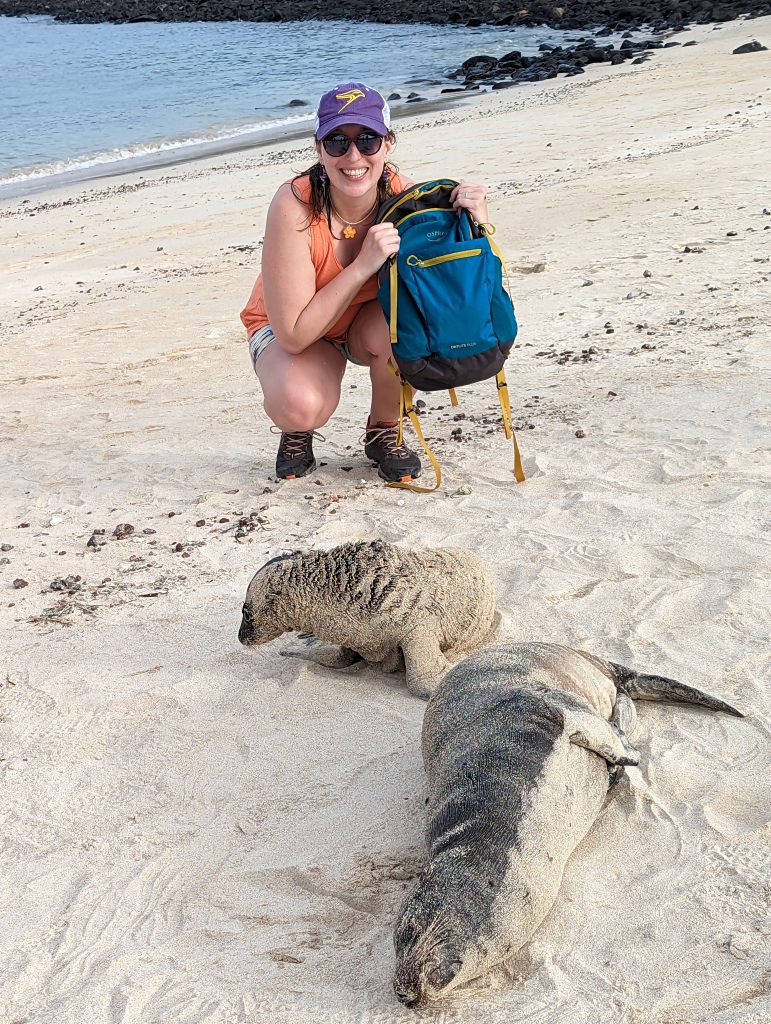 Early risers for the win
The common theme for the week onboard, plus several days after that we stayed on Santa Cruz, was excessive heat. Camilo had the daily plans that we would start off with breakfast at 6 am and jump right into our first excursion of the day—a wet or dry landing at whatever island with a walk. We'd be back on board around 10 am, and everyone was drenched from the heat. You want to question a 6 am breakfast, but after about a minute in the outdoor air, you graciously close your eyes and say thanks. I was thrilled to go for land walks during the least hot times of the day: shortly after sunrise and shortly before sunset.
Visiting these islands was my dream come true. I first learned of the Galápagos in high school geography class in Canada—thanks Mrs. Gauer at Banting Secondary School (I'm sure who's retired now some years, at least). A few years later while volunteering across Canada, a project leader, Greg, gave me Kurt Vonnegut's Galápagos to continue my pursuit. A couple years after that when discussing a possible holiday trip with my sister, I suggested the Galápagos. I thought, maybe if we basically lived on rice that we could afford it. She wasn't so interested.
Fast forward to 2023
To have accomplished a massive goal at 35 years young is pretty impressive. Or so I had thought. On the second half of our boat journey, when at least half of the passengers changed, we met some retired folks. One person who lives in Florida said how she's been wanting to visit the Galápagos for 30 years. Another retired friend from England said it's been 60 years—they almost made it on the adventure of a lifetime in March 2020 to only be sent home from Peru (thanks to the global pandemic). Awe-struck that I was sharing this space with some awesome folks who have also been wishing to accomplish a visit.
It's also interesting when you ask someone, or hear someone talk, about their dreams. When I was a teenager, one such dream was to become a famous rockstar. I think that ship has sailed and I'm OK without achieving that one. A friend's dream was to become a homeowner with the goals to have an open and welcoming space for them, their family and their friends. Canadian Chris Hadfield's dream since he was 9 was to become an astronaut, he achieved that astronaut dream and even live-streamed playing guitar and singing David Bowie from space.
Life can be pretty peculiar.
Like the whistles and honks the boobies sing to each other as they flow through their mating dance. Emotions are something to cherish, however, whenever we feel them. I had a moment when visiting Lonesome George at the Giant Tortoise Breeding Centre on Santa Cruz Island. A wave of grief came over me as we prepared to see his remains. I took a few moments to try to collect myself, I thought, I've got sunglasses on. Those bad boys are eye protection, not just against the sun, but a shield from others seeing within. Something about seeing George's remains in the glass display case hit me. He wasn't there anymore, it was simply a shell of his physical existence. The last Pinta Island tortoise to walk this earth who ended his journey in 2012.
How incredible to visit tortoise breeding centres on the three islands we visited near the towns on the particular island. It was always informative and educational. Fun fact: Steven Spielberg was inspired for E.T. the Extra-Terrestrial by the neck of the tortoises on San Cristobal island.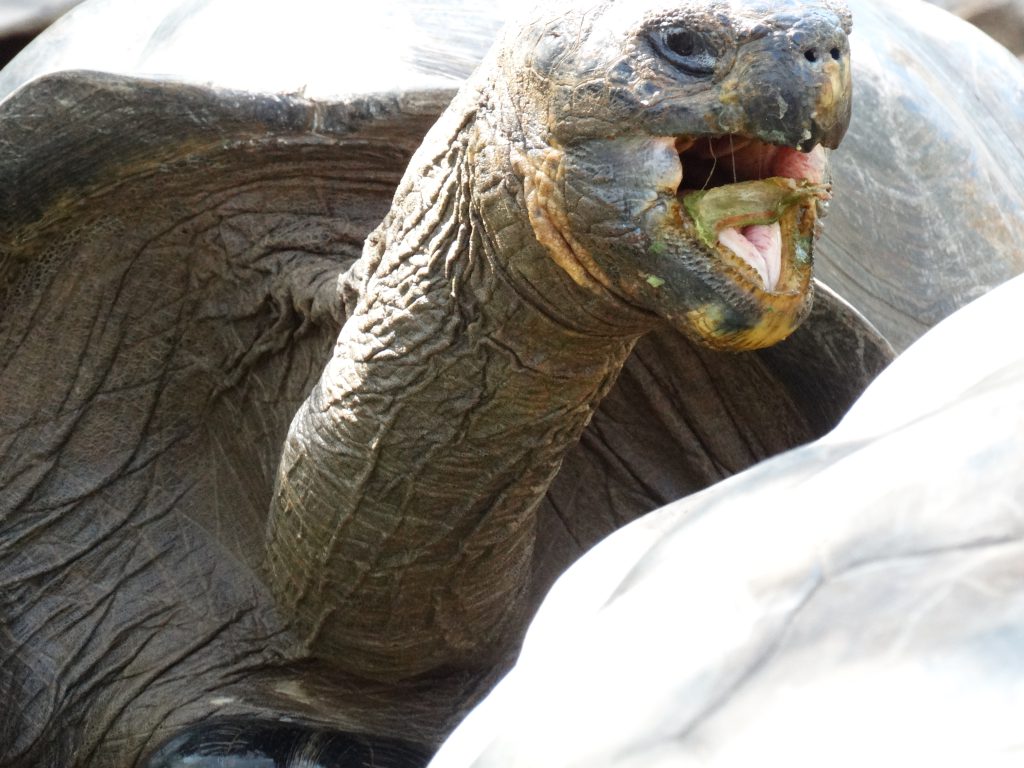 Worlds collide in the Galápagos
Each day was unique unto itself. Not only did the two chefs onboard the Seaman Journey make a variety of food each day to satiate everyone's palates, they made snacks for the guests when we'd come back from certain excursions. You'd think it would be counterproductive to drink hot chocolate when it feels like it's 30 degrees outside. Something about it though, the sweet, comforting heat chasing away the salt that fills the lips after an hour of snorkeling in an ocean.
What an honour to have the opportunity to visit this great archipelago. There were brief moments that staying away from an animal or not picking up and taking a piece of coral were a challenge. But the moment fluttered away just as quickly as it appeared.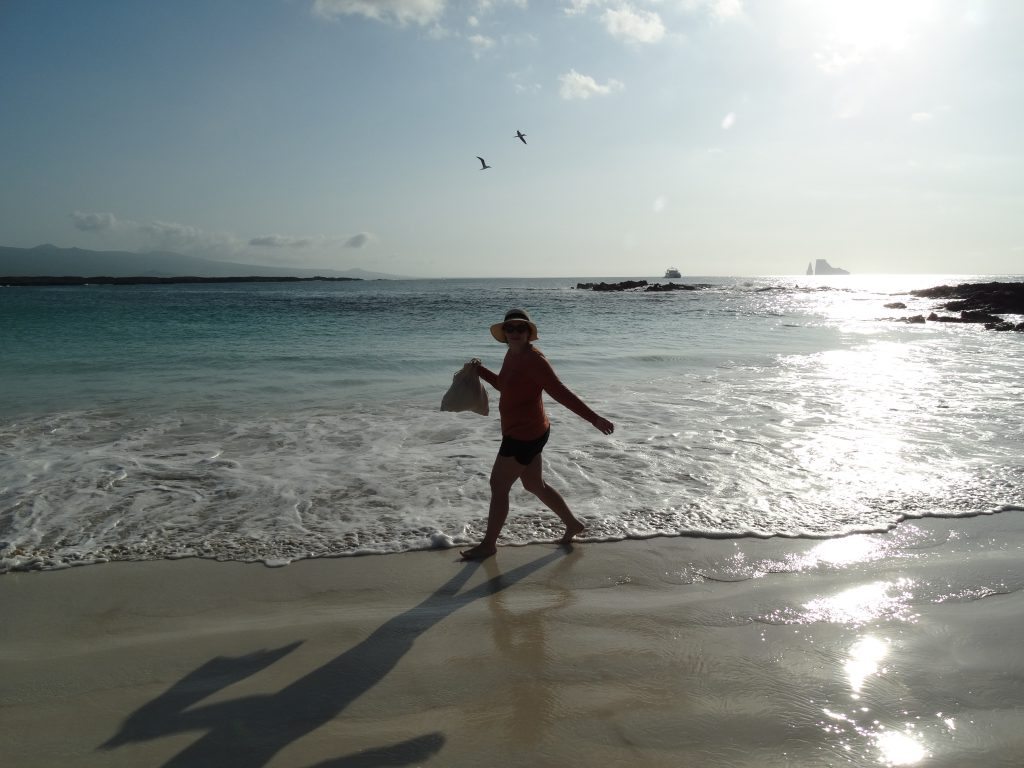 Respect the natural environment was the mantra. Well, that and let's go!
Whether it be dry or wet landings. Everyone had a blast and a half. I can say without a doubt that I wouldn't trade this trip for anything. I came out of it with physical bruises—cough: when you look like a sea lion mounting a panga in a wave. Hysterical, but adventurous when you're not so fit and you quickly jump going against the flow of the water. Took multiple anti-nausea pills to keep the delicious food I had eaten down. Faced my fear of swimming near sharks. Walking up the tuff cone incline for a stunning view out to sea with wildlife all around us. Wow, simply wow.
Watching teen sea lions energetically play with each other in shallow water. Everytime you step foot on an island you see sea lions of varying ages. Hilariously listening to their barks and sounds. Or sitting on a panga as it slowly moves through the water to close in on a group of flamingos. The delicate blue-footed boobie mating dance. Nazca boobies gently rotating above their eggs. Even the sharks behind the catamaran in the evening, eyes glued to their movements from the stern.
"It is so remote, so relatively untouched, that the act of wading ashore to one of its islands can feel like you are the first to do so," Nicholls writes in The Galápagos: A Natural History. "In an increasingly disturbed world, it will be of increasing value that we still have places like the Galápagos that offer this kind of experience. There just aren't many of these left."