Leipzig's Wave-Gotik-Treffen has started, and runs over the weekend.
You've probably spotted people dressed in variations of "gothic" attire. They're everywhere in Leipzig. Tram and bus stops. The parks. And especially the city center, where most of them congregate. Their looks range from Victorian to punk to comics-inspired. There's a lot of black, but there's also a lot of color. And they're quite busy, those costumed people. There are all kinds of events for the gothic fest, all over town. It might be hard to keep track if you want to see what's up, or participate in them. But not to worry…
Leipzig Tourismus and Susi, the German blogger behind Black Dots White Spots, got together to come up with a neat guide in English for Wave-Gotik-Treffen.
People of all ages and professional backgrounds come from elsewhere in Germany and other countries to take part in the gothic fest in Leipzig. About 20,000 of them! I'm sure you can find some like-minded, or at least interesting, folks to mingle with.
Here are some of the highlights the guide mentions:
Music: "This year, over 200 bands and artists have been announced and will be taking the stage at different locations all over the city. Apart from the main festival area in the south of Leipzig (the old "agra" trade fair area), there are live concerts on a variety of stages (mostly indoor venues), in clubs and even in churches and at the opera. Musical styles range from dark wave & gothic, post punk, batcave to classical music, from medieval and folk to metal and electro/EBM/industrial." Plenty of dance & mingle parties as well…
Medieval market "Heidnisches Dorf": "The medieval markets at Moritzbastei and Torhaus Dölitz are definitely among the highlights of WGT each year. Soak in the atmosphere at Torhaus Dölitz, where lots of stalls sell clothing, accessories, hearty food and drink among shady trees or demonstrate traditional arts and crafts." Nice opportunity to just chill and take in the sights and atmosphere.
Victorian Picnic and Victorian Village: "The 'Victorian Picnic' on Friday afternoon in the park is an iconic event during WGT, especially for those who like to dress up in Victorian, steampunk, baroque or all kinds of neo/dark romantic styles. Hundreds of elegantly costumed people meet up in style for a dazzling picnic or stroll in the park! A new and similar event with probably less photographers and spectators takes place at the same time: Viona's Victorian Village, a Victorian market with dance lessons, a tea party and costume competition as well as live music." Both events are free to get in.
#BlackLeipzig photo competition: "Share your most stunning, most funny or most quirky shots of black Leipzig during WGT with us [Leipzig Tourismus] on Instagram using the hashtag #BlackLeipzig or send them to Leipzig Travel on Facebook (or post them to our wall), and win great WGT & Leipzig prices!"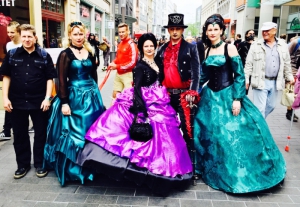 Check out the full guide for the lowdown on each of these highlights and a lot more! You wouldn't wanna miss at least catching a good glimpse of the world's biggest gothic festival!
P.S. There's also a "WGT-Guide" app! Maeshelle has been using it and says it's been working great so far…