Saturday night. So there I was, striding down Eisenbahnstraße around midnight.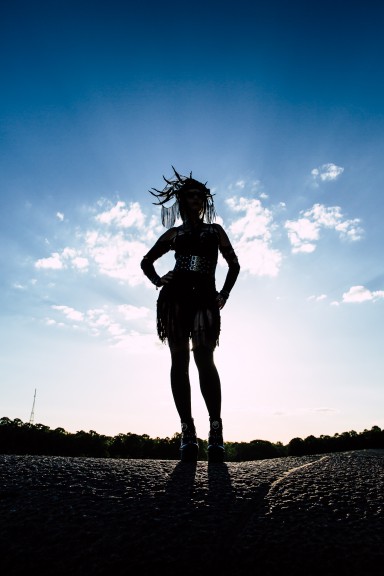 Besides the one random, non-WGT guy who halfheartedly tried stepping in my path to make conversation, it was almost disappointingly uneventful. Maybe the floor-length black cape and Wehrmacht boots had something to do with remaining unmolested. Or maybe Eisenbahnstraße doesn't quite live up to its reputation.
I don't know, I'm from South Africa. We don't scare easily. Neither do the WGT people.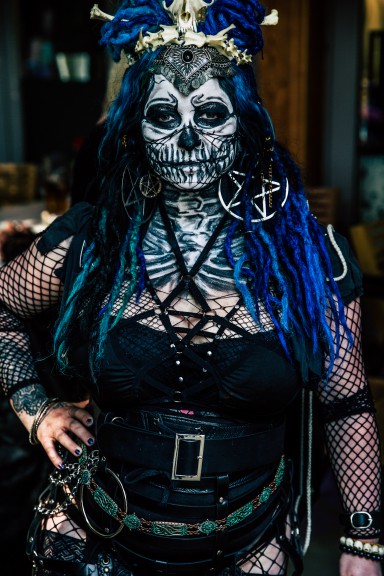 To be honest, our Saturday hadn't gone quite to plan thus far.
Light Asylum at the Stadtbad was a good show, but the venue, albeit beautiful, is hot like hell. From what I've been told.
From there we headed all the way across town to the Volkspalast for the Saturday fetish party. I had grown bold, confidently striding past the long Schlange of PVC and leather-clad fetish fans to the front.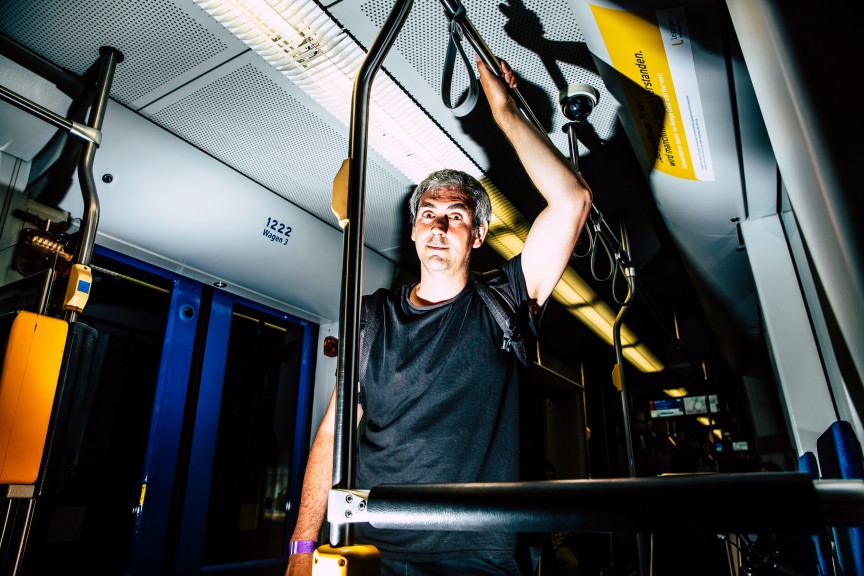 The doorman DGAF about our press passes.
"We have our own people inside," he informed me, a little belligerently, probably expecting trouble. "And no photos or videos," he added, gesturing to my two colleagues.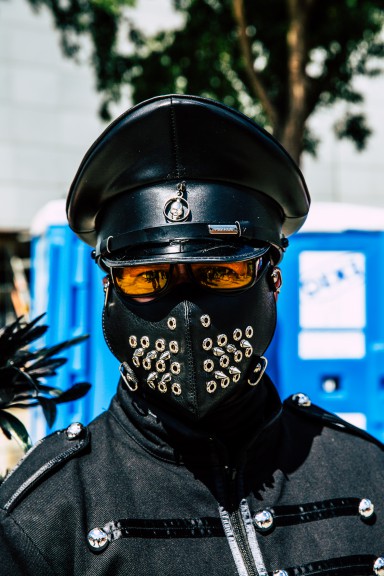 Well, fuck.
So we about-faced and quickly came up with another plan: Mjut, on Lagerhofstraße. The guys were on their bikes, so I took the tram by myself, which is how I ended up walking Eisenbahnstraße after missing my stop.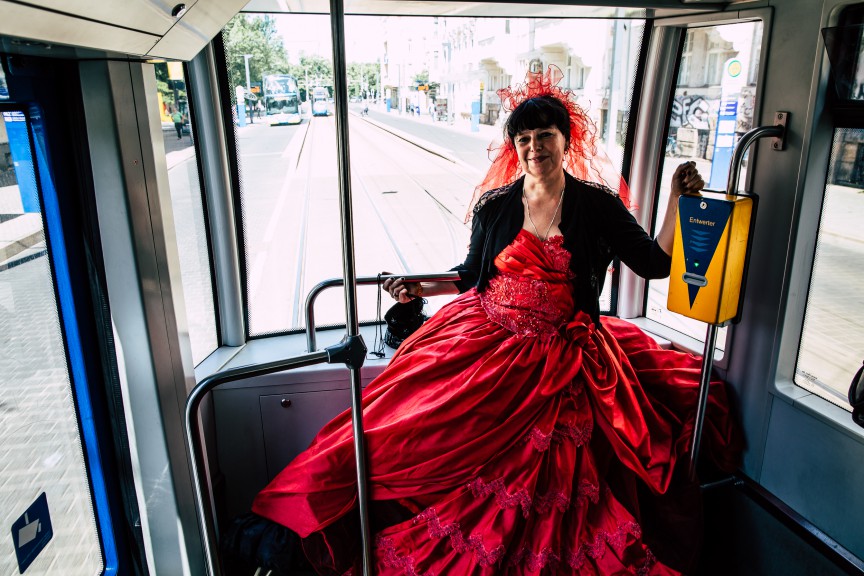 I very nearly headed home right then, but with Mjut only 4 minutes away at that point, I decided to push on, if only to use the restroom and fill up my water bottle for the long ride back to Grünau.
Mjut itself was not that easy to find, either. I joined forces with two couples in trying to find the place, which we eventually did with helpful text instructions from my team.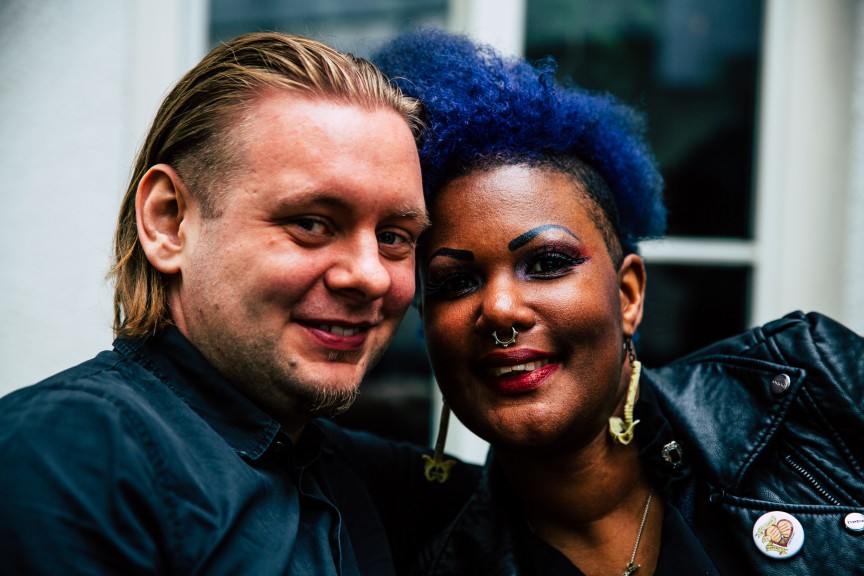 "But this is the address," the German woman with me asserted, "it MUST be here!" It wasn't. Maybe the organizers were not German.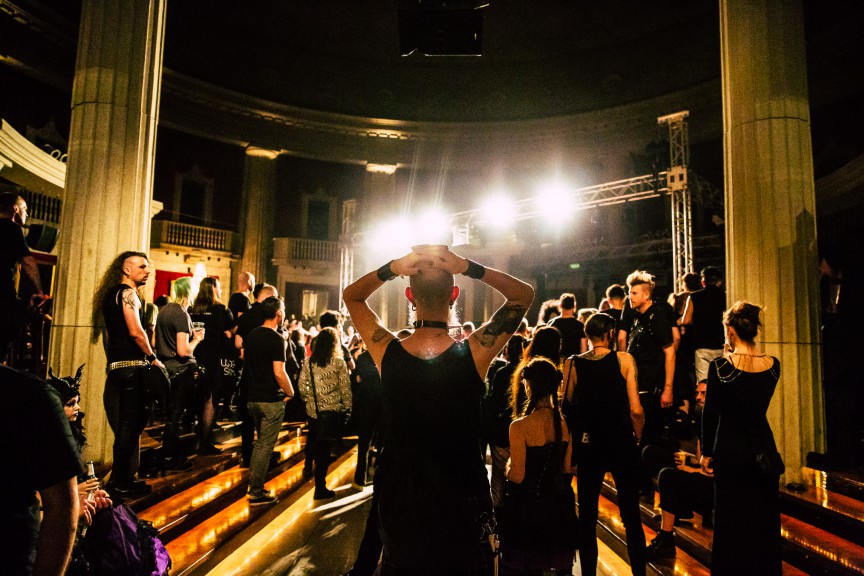 The party, at 1 am, was a bit underwhelming.
I had 30 mins until the night bus, so I did a walk-through to pass the time. The music downstairs wasn't very interesting, a lot of 80s dark wave and people swaying semi-rhythmically. Upstairs promised a black room but it must've kicked off later because it was just a smoke-filled dance floor at the time. Better music, though, and a guy with the tallest Mohawk I've ever seen. For which you'll have to take my word as no pictures were allowed.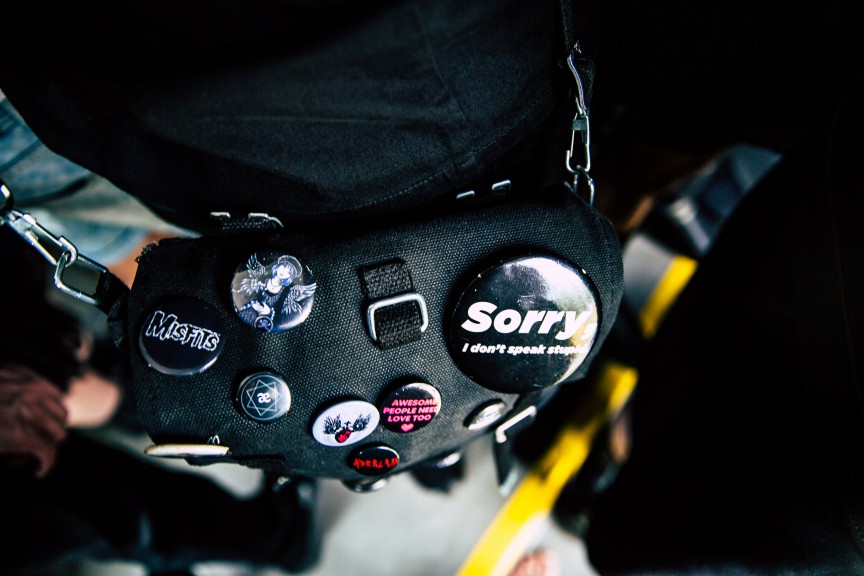 While waiting for the photographers to retrieve their camera bags, I spotted Ray, a lovely Bremen boy who now lives in Berlin. He was dressed to the nines in impressive boots, white & black striped spandex pants and professional-level make-up.
As I called his name, he half-turned, half-waved. A few seconds passed. Suddenly making the connection, he swiveled and ran up to hug me. We had met at Jen's house party on Thursday night and chatted up a storm. He was heading home to pizza and bed, and gallantly waited with me for my night bus.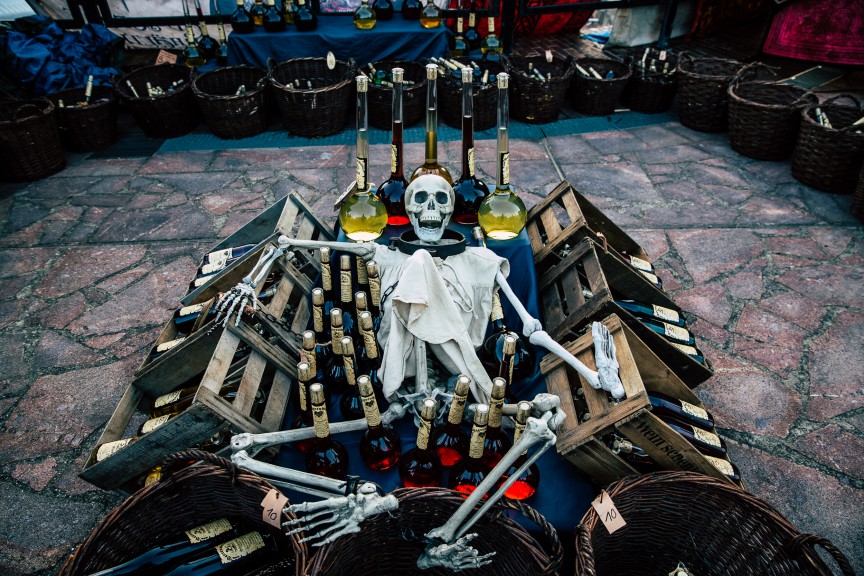 What's with Leipzigers telling me, in awe-struck tones, that Eisenbahnstraße is The Most Dangerous Street in Germany, I asked him. "Oh, I think every city in Germany has a street they think is the worst," he retorted.
I guess it depends on your definition of danger. Does it include opportunistic crimes, like getting your phone or wallet stolen? Are drug deals included, or only drug-related killings?
What do you think?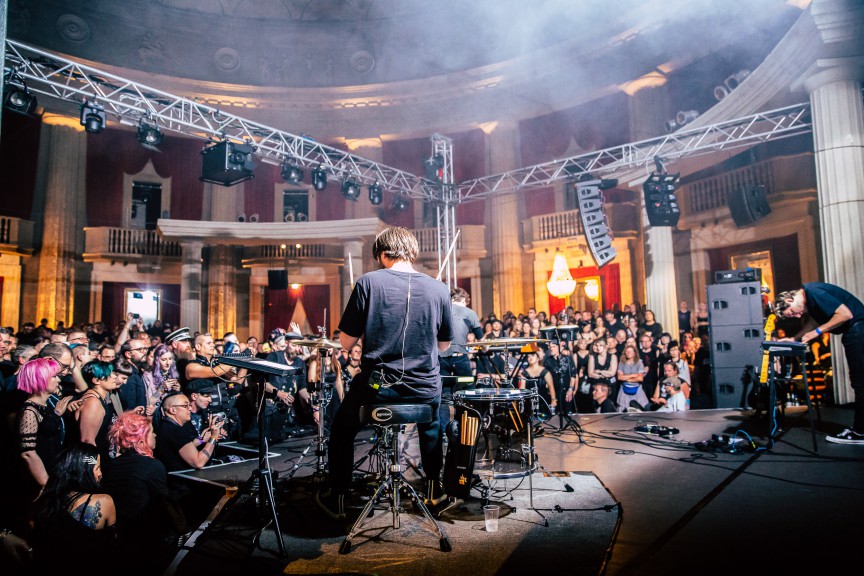 All in all, of course, it was not a Saturday night wasted.
I sweated my way through a powerful one-woman performance and saw even more beautiful and carefully put-together outfits. I met a statuesque couple just oozing Berlin-cool. He in full-length mat leather coat, she in a bustier top and shiny PVC pants and jacket. They let me take their picture but asked for it not to be published online.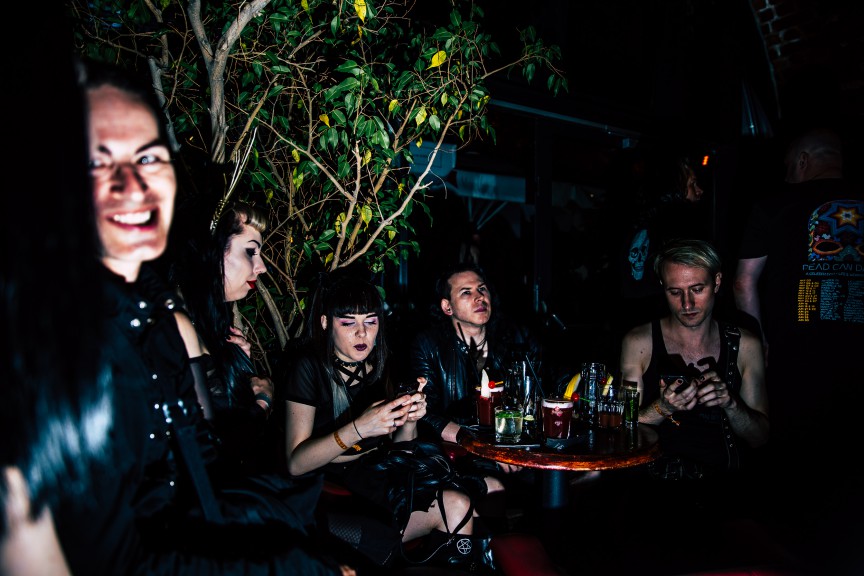 I went home tired, but still absolutely thrilled at the experience. I'm already planning to catch venues and events next year that I didn't get to this time around.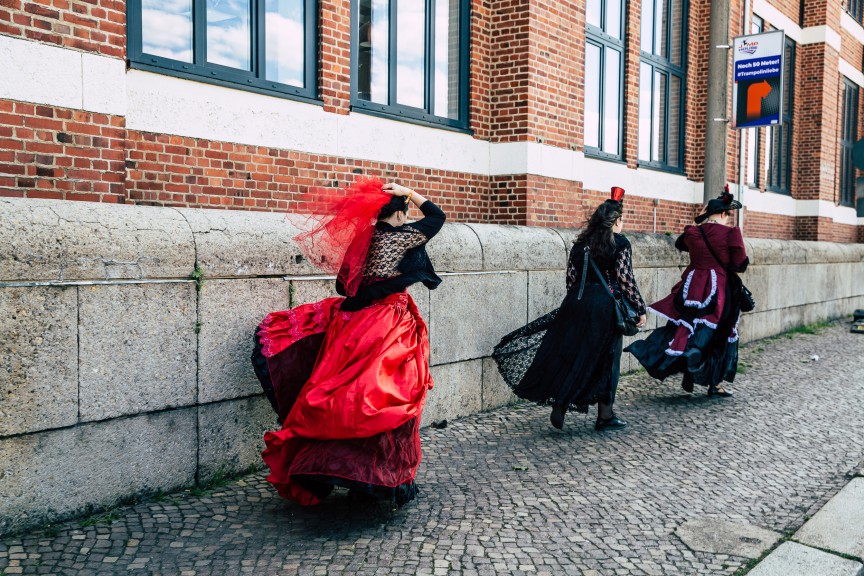 I am starting to see why people are willing to travel from far and wide to attend every year. It's more than a spectacle, more than just the music. It is a celebration of all things darkly romantic and counter-culture, and it builds on a long local history of anti-establishment and peaceful dissidence. Something to do with a wall back in '89.