Have you heard of Lindenthal (not to be confused with LindeNAU)? It's a quarter in the northwest of Leipzig. A couple years ago, it had about 6300 residents, in an area of less than 13 km². It's been around since at least the year 1350. It's got a real windmill – Lindenthaler Windmühle – dating back to 1892.
Maybe you've spotted it (and the small community) from Bus 90?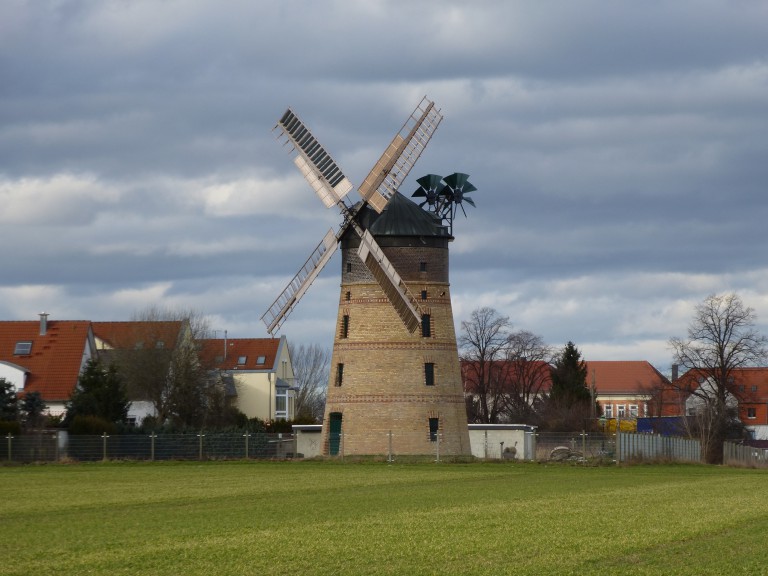 Lindenthal also has at least one kebab shop and one ice cream parlor. But the best thing about the semi-bucolic quarter for non-residents is probably its public pond.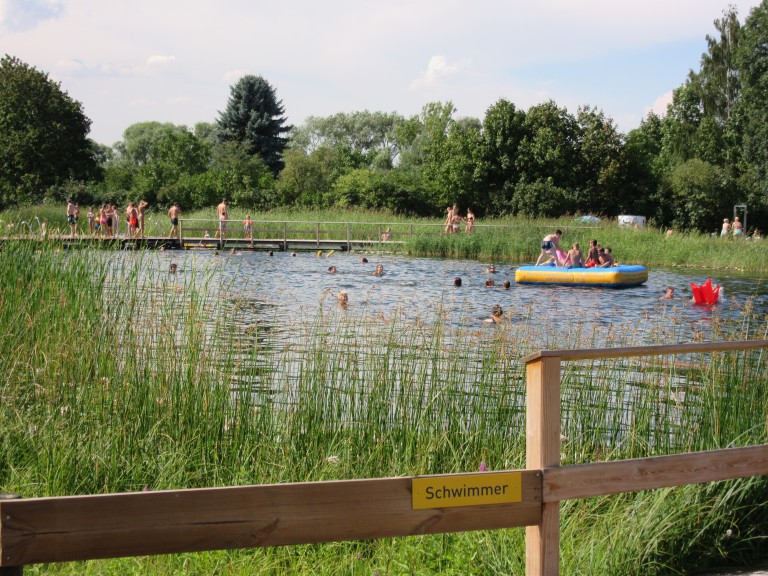 Stadt Leipzig's Ökobad Lindenthal has a water surface of 5160 m², and the option of bathing in shallow areas or swimming in deeper parts. It recently went through renovations and reopened on 1 June, 2016. I just visited it for the first time Sunday.
I felt free and refreshed like a happy duckling in the pond.
I shared the space with a real duck, besides the many families who had the same idea for a little getaway. Nature ponds bring ducks to mind, and ducks can't touch the bottom of the pond while swimming. I couldn't either, and was sort of moving like one.
Ökobad Lindenthal is a "nature" or "ecological" pond because it doesn't contain chlorine or other chemicals, being cleaned via plants and microorganisms. Also, it's got some wild-looking brush around and a gravel bottom (go in carefully, or you may hurt your foot).
There were a lot of people there, but still room for swimming comfortably. There's a big float in the middle of the pond, which children constantly occupied. The grassy area is used for playing – it has a mini-playground – as well as lounging.
Some people set up small tents. The shaded areas were all taken, and the sun was quite strong. The water was a pleasantly refreshing 25°C, though.
Ökobad Lindenthal is a decent alternative to the lakes around Leipzig if you just want to go for a dip without much of a hassle.
You just have to walk a few meters from bus stop Lindenthal Gemeindeamt (Bus 90). If you're hungry, Greek restaurant Poseidon, located on the premises, sells small meals to customers outside, or you can go in for full, sit-down meals. They offer good diversity and flavor (and the traditional free Ouzo shots), though the service was just ok. You can still sit out in the balcony, overlooking the pond.
Bathing time ended a half hour early this past Sunday: An attendant asked everyone to leave the water, as a thunderstorm was approaching. Usually Ökobad Lindenthal is open 10 a.m. to 7 p.m. everyday, from  June to September. So this means you can even stop by one evening after work, for a refreshing break in lieu of happy hour.
But hurry, as summer seems to be just flying by!
Ökobad Lindenthal
Am Freibad 3, 04158 Leipzig-Lindenthal
Entrance: 3-4 euros
More info