"Art is changing the world" – Pussy Riot
I spoke to Olga Borisova, key performer of Pussy Riot's four-woman "Riot Days" anti-war tour. Along with fellow group members Taso Pletner, Masha Aljochina, and Diana Burkot, she will be aiming to change the world through art. They are performing at the Leipziger Täubchenthal on Friday, 9 September.
Pussy Riot has been speaking out against Putin since they formed in Moscow in 2011.
They came to international notoriety after appearing unannounced at Moscow's most significant church, the Cathedral of Christ the Saviour, in February 2012. Between profanities and from behind brightly colored balaclavas, they prayed to Mary to remove Putin from office. An offense that landed group founders, Maria Aljochina and Nadja Tolokonnikova, in separate prison camps for two years each.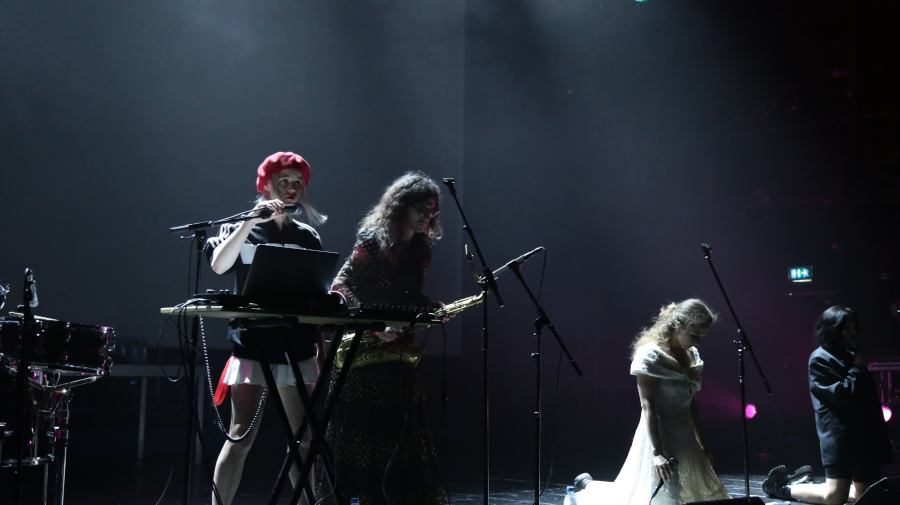 This Friday, audiences in Leipzig can expect to see "a political performance, documentary theatre with punk songs and video art," Olga told me. The performance is based on Maria Aljochina's book, "Riot Days", which Olga edited. It tells the whole story, from Maria's first action with Pussy Riot to her last day in prison. The project has received prestigious international awards, including the Herald Angel Award and the Total Theatre Award at Edinburgh Festival.
"This show was unthinkable for many years, but Putin started to invade Ukraine.
So we created an anti-war song, and we are performing this song in the show as well," Olga told me. The cell reception dropped in and out as she traveled on the road between Switzerland and Germany. When I asked Olga if she feels free to express her political opinions here in western Europe, she answered, "It is pretty safe to talk about the war outside of Russia. But also, I can't see my family and I can't go back, so I don't feel any safer in a way. But I am glad about what I am doing, there are many different nuances to it." Her polite and well-spoken English gave me a very different, or perhaps more realistic, image of the otherwise aggressive punk artist.
Riot Days is not to be confused with Pussy Riot's latest album release, "Matriarchy Now". A catchy, feminist, lolly-pop mixed tape. It barely touches on the topics of war and Putin and was produced by original band member, Nadja Tolokonnikova. Nadja has now been based in America for several years.
"There are basically two groups working under the collective name of Pussy Riot," Olga clarified for me. She explained that the anti-war tour in Europe has little to do with Pussy Riot's work coming out of the States.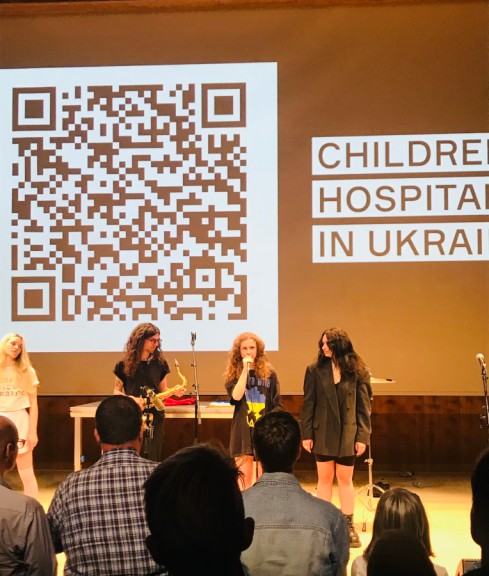 A pressing concern for the European-based members of Pussy Riot is supporting Ukraine.
"We would like to inspire people to push their politicians to a complete embargo of Russian gas and oil because it is sponsorship of the war. And to just stop being indifferent. People in Europe can protest, it's legal and they can influence their politics. They have elections, but we don't have elections. It is illegal to protest in Russia… So, since you can, do it!"
This tour is their appeal against the war, not only on a political level but also practically. During the first half of the tour, they raised around 30,000 Euros for the Okhmatdy Hospital, a children's hospital in Kyiv. "Here children who suffer very serious injuries from Russian bombs are treated," Olga explained. The band contributes a portion of the profit from its merchandise sales. They also provide a QR code at the merchandise table, enabling audiences to donate directly to the hospital.
Olga left Moscow at the beginning of the war and now lives in Tbilisi, Georgia. "I spend more time touring than living in Georgia, we are all moving about." When asked if she finds life on the road exhausting, she concurred. "Yeah, it is exhausting in terms of schedule. But we like what we do, and we are very dedicated to our mission. And this gives us energy."
---
Catch Pussy Riot live at the Leipziger Täubchenthal on Friday, 9 September. Tickets are available through Eventim.de. Be sure to come back to read our review of the show next week!