No matter where you were in the city of Leipzig last month, Wave-Gotik-Treffen was nearly impossible to miss. WGT has been bringing an international audience to Leipzig since the early nineties, and has grown to be one of the world's largest festivals for goth, industrial and dark-wave music.
As a goth living in Leipzig, the week before WGT is always a bit of a mad dash for me. I have house guests every year and my husband and I host a private party on the eve of WGT. I made my final run to DM to stock up on 50 SPF sunscreen, blister bandages, earplugs and travel-sized hand sanitizer. We made a delivery order to see us through the weekend: beer, wine, and most importantly, energy drinks and water. My personal treffen started on Wednesday when our first two guests arrived. We spent a quiet dinner together and then cleaned up my terrace for the next evening.
WGT 2023: Thursday, "Welcome Home to Leipzig" party
On Thursday afternoon you may have seen long queues of dark-clad people across from the train station. It's here that attendees trade their tickets for a wristband that gives them access to WGT concerts, parties, exhibitions and cultural events. If you commute to a job outside of the city, you might have gotten stuck in a traffic jam of nearly exclusively black cars on the B2 at the Markleeburg and Dolitz exits where people camping at the agra fairgrounds were pouring in.
The theme of our Thursday party is "Welcome Home to Leipzig!" Arriving in Leipzig is a sort of homecoming for many WGT attendees; others call it a family reunion. I have friends from all over the world that I only see once a year for WGT.
Most of our guests, both local and foreign, show up to our house either before or after getting their WGT wristbands, but some arrive with no intention to go to the official Wave-Gotik-Treffen but rather to the multitude of events surrounding the treffen such as the Gothic Pogo Festival or Wissenschalft Trifft Freundschaft.
This year we had live music at our party. One singer with a guitar or a synthesizer? No, we had the pleasure of hosting Dtorn, a Leipzig band that consists of a singer, full-sized e-piano, contrabass and a harp. Our small yard filled up quickly and overflowed beyond our space into our neighbor's terrace (Thanks Patrick!)
There was a mini-reunion of goths from Boston.
The seven of us met back in the nineties; only two of us still live there, and WGT brings us back together. At the high point, we estimate that there were around 70 people present. To the relief of our quite tolerant neighbors, by 11 pm most people left to attend official pre-parties for WGT and Gothic Pogo.
WGT is not a typical festival with one or two large stages but is instead spread out across Leipzig at over 30 venues. Planning this massive event requires very sensitive predictions about how many spectators can be expected for each of the more than 200 artists. Ideally, no band should play in front of an empty house, but guests should not have to turn away disappointed in front of overcrowded halls, but there are inevitably some acts who prove to be far more popular than predicted.
WGT 2023: Friday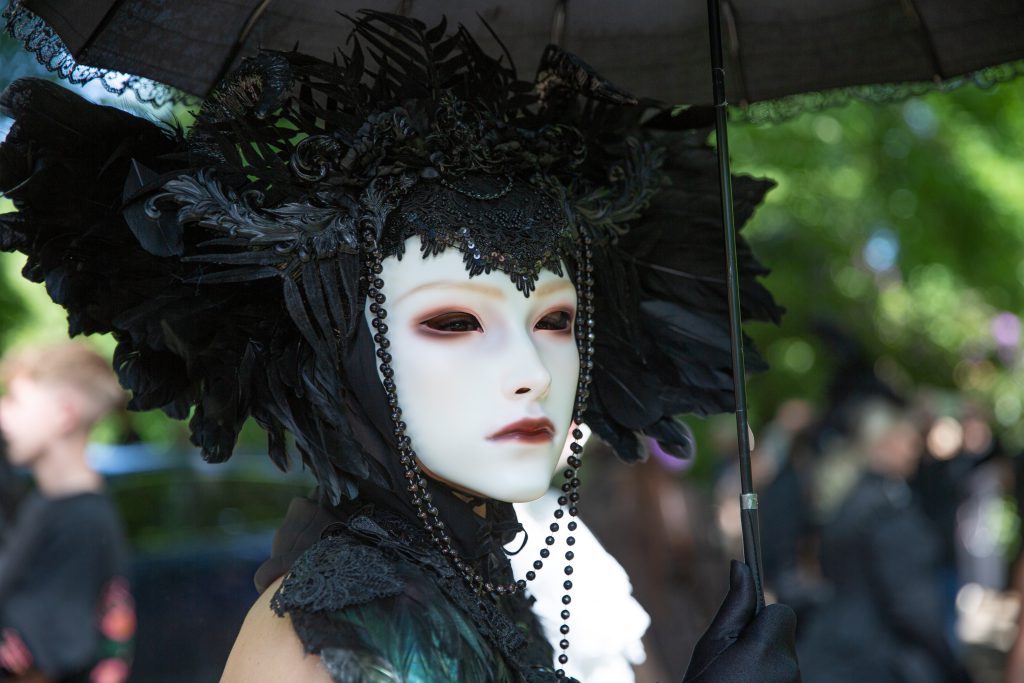 One of the most well-attended events of the weekend needs no planning because it happens organically: the Victorian Picnic at Clara-Zetkin-Park on Friday afternoon. Even in the pandemic years of 2020 and 2021 when there was no official WGT, people still gathered here. The pastoral lawn between the music pavilion and the duck pond fills with thousands of people, some wearing historical or fantasy costumes, some just regular Leipzig residents there to observe and photograph this unique gathering.
The picnic has long since outgrown its name, becoming something that encompasses far more than a simple gathering of fans of dark music and historical attire. The massive attendance actually makes it difficult to meet up with friends and enjoy some refreshments and time together, but if you have a fantastic outfit or a fanciful costume and you enjoy being admired and photographed, this is the place to be.
I skipped the picnic for Stadtbad on Friday where General Dynamics (USA/UK), Milliken Chamber (USA), Minuit Machine (F), Kaelan Mikla (IS) and Buzz Kull (AUS) took the stage. I clearly made a popular choice because a 300-meter queue quickly formed. Friends who made it in to see the last two bands told me that they waited for an hour and a half to get in. Quick dash home, a costume change, then back to Stadtbad for Dark Romantic Night. This is where the ball gowns and full-length cloaks come out on the dance floor to form a swirl of velvet, lace and tulle. Bands like Dead Can Dance and Qntal provided an appropriately dreamy soundscape.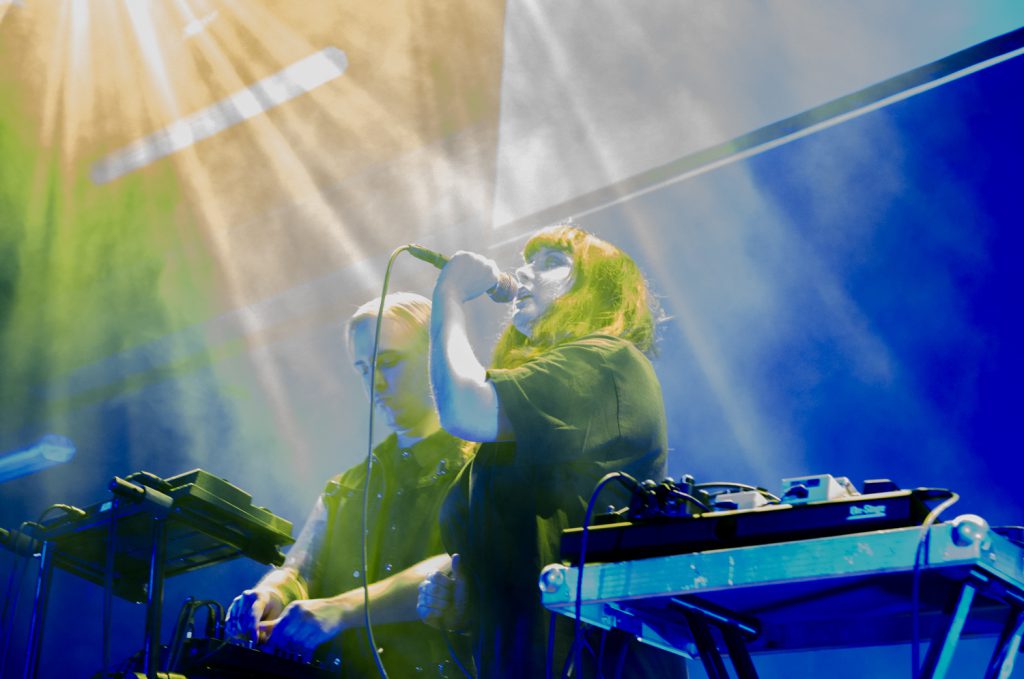 Around 2:30 am I made the trek south to Connewitzer Kreuz for Gothic Pogo. Pogo takes over Werk 2 for the four-day weekend and focuses on goth-rock and post-punk music. Pogo nights start a bit later than WGT with bands finishing their sets around 1 am and the party lasting until well after dawn. After a few more hours of dancing, I managed to catch the first tram headed back into the city around 4:30 am, and crawled into bed just after 5.
WGT 2023: Saturday
I woke up and decided so many concerts was a bit much and today was for dancing. I started the day late, meeting up with friends at an outdoor event with a live synthesizer jam in front of Werk 2. Although there are picnic blankets and goths involved, this event is the opposite of Friday's Victorian Picnic. No media, no big crowds, just music and friends and cupcakes. After a brief disco nap, I headed back out to check out some of Gothic Pogo's live acts, but Werk 2 was at capacity. This isn't really a problem during Whitsun weekend because there was another party two blocks away at Ilses Erika: an amazing retro goth dance party hosted by Arne and Sandro who helped organize the very first WGT back in 1992.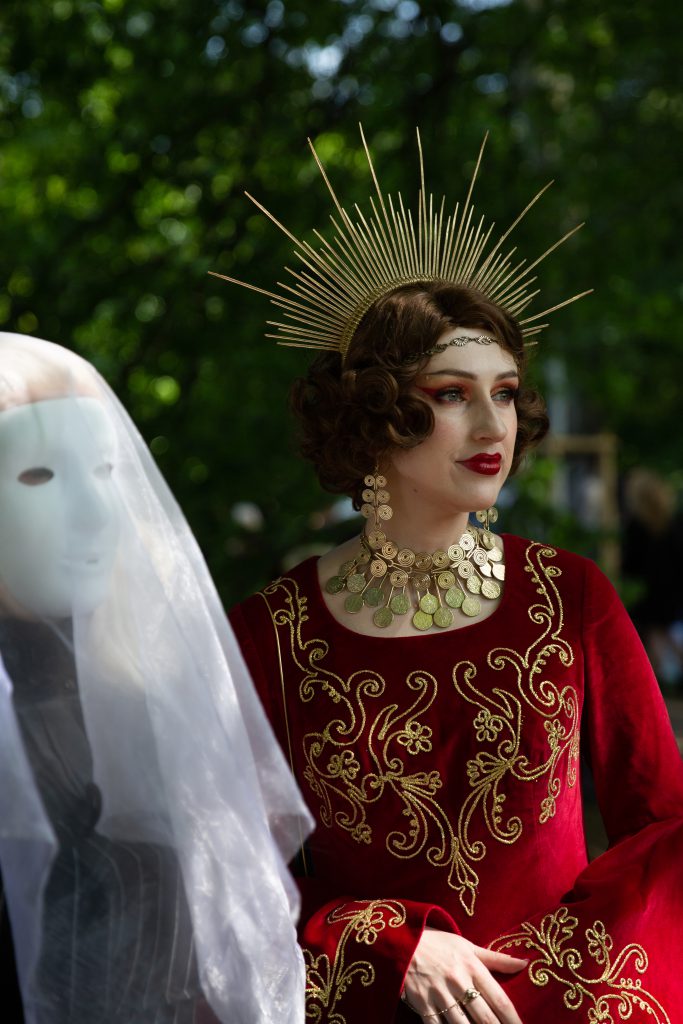 WGT 2023: Sunday in Schwarz
Sunday was a big day for me: the official presentation of the book that I edited. Leipzig in Schwarz was originally published by the City History Museum of Leipzig in 2016 for the 25th WGT anniversary, but we updated it and reprinted it this year. The presentation took place in the city center at Alte Börse, which seats 200. The hall filled up as soon as the doors opened and my colleagues at the sales stand were inundated with customers. This was all very overwhelming as I'm quite shy about speaking in public and doubly so when speaking German. After the reading and the panel discussion, someone from the museum staff let me know that the English talks and readings for WGT in the Altes Rathaus were also at capacity. 
Unfortunately, the timing of the book presentation means that I missed Jordan and Matt's wedding. But luckily, Leipzig Glocal art director David Simon was able to attend. The wedding took place in the west chapel of the Südfriedhof, with an intimate gathering of friends and like-minded individuals. It was a truly remarkable and one-of-a-kind occasion.
The atmosphere in the chapel was charged with emotion as Jordan and Matt exchanged their vows. Their choice of vows from the film Corpse Bride added a unique touch, further highlighting their commitment and love for each other. David told me "What unfolded before my eyes was not merely the union of two souls, but a powerful testament to the strength of love and the freedom to express it in their own extraordinary way. They utterly embraced their individuality and celebrated their connection."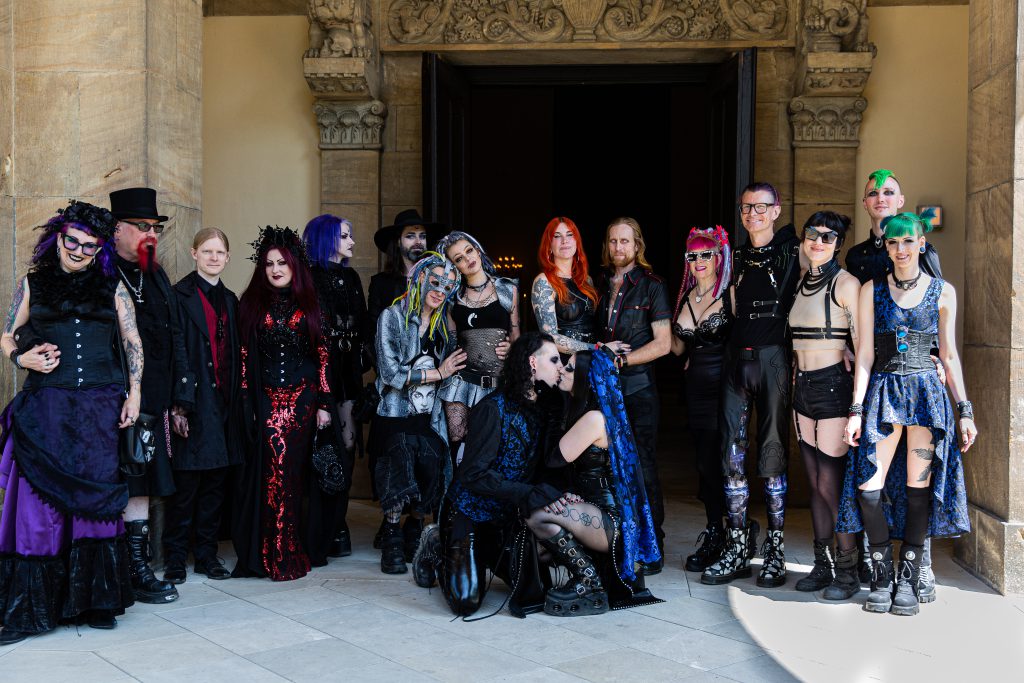 If there is a center of WGT, it's agra Messepark Leipzig. 
Here you find the WGT organizational offices, a large cafeteria to feed staff and artists, campgrounds for roughly 10,000 people, the largest concert hall used by WGT, a large array of food stands and a market hall.
In years past the long road between the agra halls and the fields was known as the "catwalk" or perhaps more appropriately the "batwalk", because it was here that the most extravagantly dressed WGT attendees would stroll and be photographed. That trend seems to be on the decline though, perhaps due to the popularity of the Victorian Picnic. Another major change at the agra is the reduced size of the market hall. In past years, one of the large halls was filled with four or five aisles packed with stands of vendors selling gothic clothing, shoes, records and CDs, home goods and more. It was much more sedate this year with just three aisles.
Some vendors who used to come to WGT every year seem to have migrated to the separately run event Dark Affair, which took place at Wilhelm-Leuschner-Platz. Since Dark Affair was not affiliated with WGT it was open to everyone, not just those with official wristbands.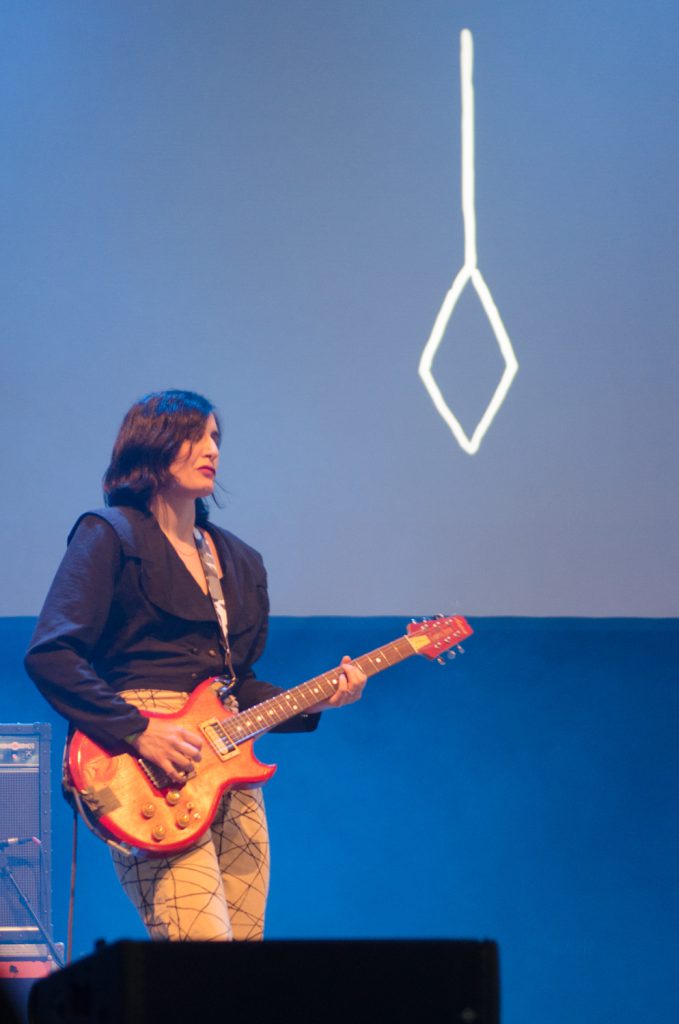 I made my way down to the agra on Sunday evening to see Lebanon Hanover.
It was a great show and the sound was pretty good considering that the venue is basically a warehouse with metal walls. But we decide not to stay for the next two bands, Diary of Dreams and Deine Lakeien, because even this massive venue was filling up quickly. I dashed back home because I made a poor choice in shoes and needed to change before heading out dancing again at Dark Romantic Night.
Tonight's DJs focus less on ethereal goth bands and more on epic film scores such as Clint Marsell's legendary "Lux Aeterna" from the 2000 drama Requiem for a Dream, which is always a floor filler.
WGT 2023: Monday
On Monday mid-day, I headed back downtown to another literary presentation: Gothic Identity, a series of readings, lectures and roundtable discussions in English. Approximately a third of WGT attendees come from outside of Germany and don't speak much German (if any), but the bulk of the cultural and literary offerings during WGT  are only in German, so I started this event with friends in 2019 to fill that gap.
Sunday's focus was on the punk and goth subculture behind the iron curtain. On Monday there were lectures called "Abject Horror and the Political Power of Industrial Music" and the "Exploration of the Dark Feminine in Contemporary Visual Arts." In addition to the lectures, I translated two chapters of Leipzig in Schwarz into English to share the early history of WGT with non-German speakers. There were more than 100 people in line waiting for 40 available seats when we arrived. The event is clearly a success even though we have to disappoint quite a few people because we simply don't have the space to accommodate everyone.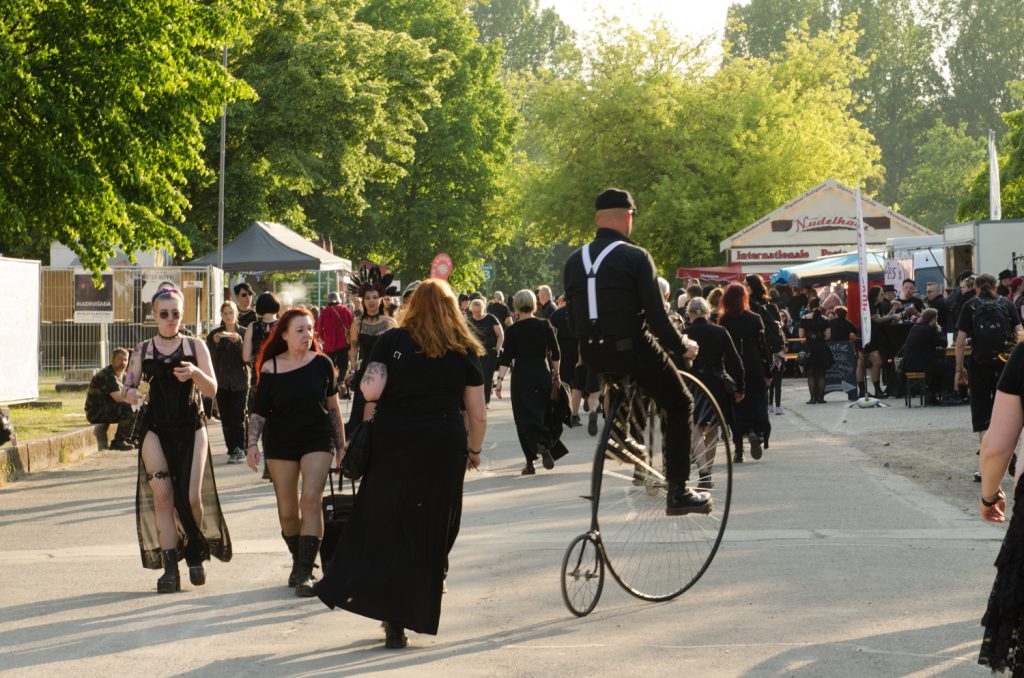 After the readings and lectures, I met up with a group of German goths who all follow the popular online blog and news portal Spontis.
We discussed music, fashion and social themes online with each other all year and we get to meet in person once a year during WGT. It's great to put a face to the names. This is a wonderfully creative and energetic group and this meeting is a great time to find potential collaborators for future endeavors. A handful of us peeled off to go to Haus Leipzig to hear the relatively new post-punk bands Ploho (RUS) and Harsh Symmetry (USA). On the tram ride over, we continued discussing how WGT changed over three decades and where the scene is headed. But once we arrived, the focus was back on the music. We were not disappointed.
After two bands, though, everyone seemed to be headed toward the agra to see goth rock legends The Mission at the closing concert. Changing trams at the main station, I saw plenty of people with suitcases and backpacks headed back to their ordinary lives. As this year's treffen came to a close, planning for next year has already started. Who's definitely coming, who will stay with us, who's getting a hotel and who will sadly not be able to attend next year due to the rising travel costs.
For goths around the world Leipzig is a gathering point, for everyone else, once a year on Whitsun weekend, it's a window into a unique style of music and the subculture surrounding it.