In the depths of Wikipedia, you can find lots of useless but fascinating knowledge. One of my favorites is the entry on the Candy Desk in the U.S. Senate.
Believe it or not, but in the venerable Senate's chamber in the Washington Capitol, there is a desk whose drawer traditionally contains candy for all senators who want some.
The senator who occupies the desk, currently the Republican Pat Toomey of Pennsylvania, keeps the drawer supplied. Right now it has got "candy made in Pennsylvania, including Milky Way bars, Mars bars, and Jelly Belly jellybeans."
Wikipedia offers further details, including a list of all the senators lucky (or unlucky?) enough to have been assigned the Candy Desk since its creation in 1968. At the moment, the candy may help Democratic senators survive the first weeks of the Trump presidency.
Also, I'm amazed by Wikipedia's List of last survivors of historical events. These are people who, as far as one knows, were the last living participants or eye witnesses of notable events, especially wars and disasters.
For example, the last surviving veteran of World War I (1914–1918) from any country was the Englishwoman Florence Green, who had served in the Royal Air Force and died in 2012 at age 110. Or, would you have imagined that Samuel J. Seymour, the last man who had witnessed U.S. President Abraham Lincoln's assassination in 1865, lived long enough to appear on the TV show I've Got a Secret in February 1956?
https://www.youtube.com/watch?v=I_iq5yzJ-Dk
(There, candidates had to guess what event he had seen.) He died two months later at age 96.
What's so remarkable about this Wikipedia entry is that it puts into perspective how very long a period a human life can span.
Today, we tend to forget this as we regularly deal with people who get to celebrate their 80th, 90th, or even 100th birthdays. We are ourselves related to them, or we see them in the media, as in the case of Hollywood legend Kirk Douglas, who turned 100 last December. Good thing we have got Wikipedia to remind us.
The reign of Britain's Queen Elizabeth II has so far lasted "only" two thirds of a century: On February 6, 2017, she had sat on the throne for exactly 65 years (even though the anniversary may have drowned in the flood of other news these days).
True, when she acceded to it in 1952, Douglas, aged 35, was well into his prime. Today you feel how old he is when he talks about his movies in interviews. He doesn't call them "movies," he calls them "pictures," reminding us of the time when people still were aware that an (analogous) movie is nothing but a series of static photographs glued to one another.
Yet despite Douglas's age, the Queen's 65 years as head of a major country – packed with public activity every day – may in some regards be more impressive than 100 years of "just" biological life.
The latter includes rather "passive" phases such as childhood and, sooner or later, old age retirement. Moreover, probably no celebrity worldwide has been observed as constantly by the public, and spent time with as many eminent contemporaries, as the Queen executing her office.
That's why for such a reign, 65 years is an incredibly long time. To actually grasp how long, consider the following facts:
(1) When Elizabeth acceded to the throne, Britain's prime minister was Winston Churchill, who was born in 1874 and whom we today know from history books only – or as the bust set up in the Oval Office since Donald Trump moved into the White House.
(2) An equally historical figure is Joseph Stalin, the leader of the Soviet Union, who died more than one year after Elizabeth's accession (1953).
(3) After Churchill, the Queen has seen 13 other British prime ministers, two of who – including the incumbent Theresa May – were not even born when her reign began.
(4) Likewise, Elizabeth will have shaken hands with 13 U.S. presidents as soon as Trump visits her. If Britain keeps him from doing so, the count will remain at 12, which already is a number nobody else would possibly be able to reach. In 1957, Elizabeth even met Herbert Hoover, who had been President from 1929 to 1933, making up for the fact that from among the presidents holding office since her accession, she never met Lyndon Johnson (1963–1969).
(5) Not even Queen Elizabeth has served long enough to have made the acquaintance of U.S. President Lincoln. However, she could totally have met the aforementioned last witness of his 1865 assassination, Samuel Seymour, who lived through the first four years of her reign.
(6) When Elizabeth was proclaimed Queen, nobody knew the Beatles, because they formed only in 1960. Eight years earlier, John Lennon was only 11 years old and still as many as three years away from his swimming certificate, which I recently saw in a Cleveland museum (below).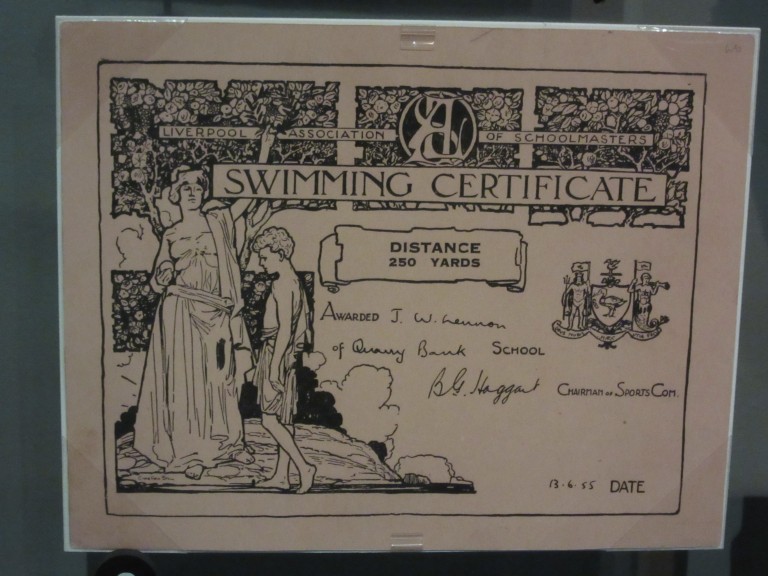 (7) Elizabeth became Queen ten years before the first James Bond film was made in 1962, and one year before Ian Fleming even invented that character in 1953. This means that so far, the secret agent has served no other "majesty" than Elizabeth II.
(8) All Britons under the age of 65 – meaning basically all non-retired Britons – have never seen a monarch other than Elizabeth.
(9) Apart from the United Kingdom, Elizabeth is the head of currently 15 other states around the world, and there were more, which since have become independent. In addition, she has visited, as part of her duties, a great many foreign countries. As a result, wherever you go in the world, the Queen has probably been there way before you, and left her traces there, such as those I've come across on display. Like her visit to St. Peter's Church in the town of St. George's, Bermuda, in 1953; to Hong Kong's Happy Valley Racecourse in 1975; and to the Old Spanish Mission in Santa Barbara, California, in 1983.
(10) If Elizabeth started a 65-year reign during this year, 2017, she would still be reigning in 2082. What sci-fi world would that be?
To sum up, whatever you think of the legitimacy of monarchs and monarchies, you must admit that by remaining on her throne for 65 years, Elizabeth II has accomplished something admirable. And yes, the depths of Wikipedia help you keep track also of the daily growing length of her reign, comparing it to those of other English monarchs (which were all shorter, of course).
Long may the Queen still reign, and long live useless knowledge!
---
Cover photo: The Queen's portrait in the backstage area of Moritzbastei, Leipzig. Photo: Maximilian Georg