On several recent occasions I've noticed the moon being in the sky long before the sun sets. It's kind of like people who usually come out only at night being out during the day, or WGT falling on the same weekend as Stadtfest.
WGT is always during Whitsun and the Stadfest is always the first weekend in June. This year they corresponded. Like the moon and the sun, they did not collide.
The vibe was contagiously positive.
On Sunday I took a little stroll through Leipzig city centre. I had been reading posts complaining in advance that both events shouldn't be held at the same time. Some were saying it would be too crowded.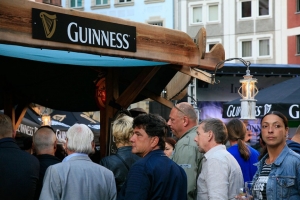 It was busy, but people were in a good mood and no one seemed to be in a hurry. They were just all happy being and doing what they enjoyed. It kind of reminded me of Leipzig during the 2006 World Cup. Anyone who was here could feel the energy and openness of the city. I even have a Nigerian friend who moved here because of it.
Perhaps they were taken away by the sights and smells.
Along with street performers, food and drink stalls were pleasantly spaced throughout city centre. To my delight, there was even a Mexican one. I was very pleased with my veggie burrito, complete with Mexican cheese, hot salsa and jalapeños.
And I even had a chocolate dipped cone. I used to have those at Dairy Queen. Oh how I miss DQ!
One thing that fascinates me about WGT is the blending of time periods. If you look at my photo series from last year, you see there is quite a range.
No Stadfest or WGT would be complete without street musicians.
During my walkabout, I came across Johannna Isselstein, who was playing a very special instrument called a Nyckelharpa (keyed violin/fiddle). The Nyckleharpa is a Swedish folk instrument. The early depiction can be found on one of the gates of the Källunge Church in Gotland. It dates back to 1350 and shows an angel playing the instrument. The earliest sighting (1590) in Germany is in Hidesheim.
The instrument was almost lost to time, but was revived in the 60s with the popularity of folk music. One of the composers who was part of its rebirth in Italy and Germany was Marco Ambrosini. He continues to explore a variety of folk, classical and modern compositions.
To be honest, as I looked at the Nyckleharpa, I was blown away at the complexity of it. What came to my mind first was where one would learn to play it. Since the 1990s, it has been one of the instruments available at the Royal College of Music in Stockholm. However, like the majority of musicians who play it, Johanna is self-taught. And even more mind boggling than that is she actually builds them right here in Leipzig.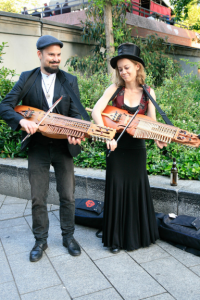 This is the Leipzig I enjoy being part of. It is welcoming and non-judgemental. I added a few photos of the city. The sun was creating such a lovely light on the buildings. I hope you don't mind.