Matej Eber's story may sound familiar to you. He came to Leipzig for his studies and decided he wanted to stay; the Erasmus period just wasn't enough. But he felt something was missing: a tour that appealed to him, and which a large array of other foreigners could understand.
A tour in English. A Free Walking Tour.
Matej had traveled across Europe, asking about Free Walking Tours at every hostel he stayed. He'd taken many. He'd looked at his own city, Ljubljana, and found it well-served by tours. The Slovenian had compared that tourism scene to Leipzig and felt a little bit sad.
"Leipzig has many more people, much more history," Matej said. "It deserves more tour options."
He says he went to Dresden and reached out to the girl who does the Free Walking Tour there, and she taught him the ropes. He tells me a guy named Dirk used to do these tours in English in Leipzig, but recently moved to Berlin. So Matej decided to pick up his niche.
So what's a Free Walking Tour? It's one based on donations. You don't pay anything up front, but show your appreciation by tipping the guide at the end.
It's not an easy way to make a living – you literally have to build it up coin by coin. But as a 26-year-old economics student, Matej already became jaded with the financial world. He tried working in banking and already found it soulless. He wanted to do his own thing.
So he registered his small business,, and started giving tours a few weeks ago. He's the guy with the umbrella in the city center, in front of the fountain at Gewandhaus. Punctually at 11 am on weekends.
He was happy one time when 20 people showed up.
Which means word must be getting around. In fact, one of the tourists said his hostel told him about it.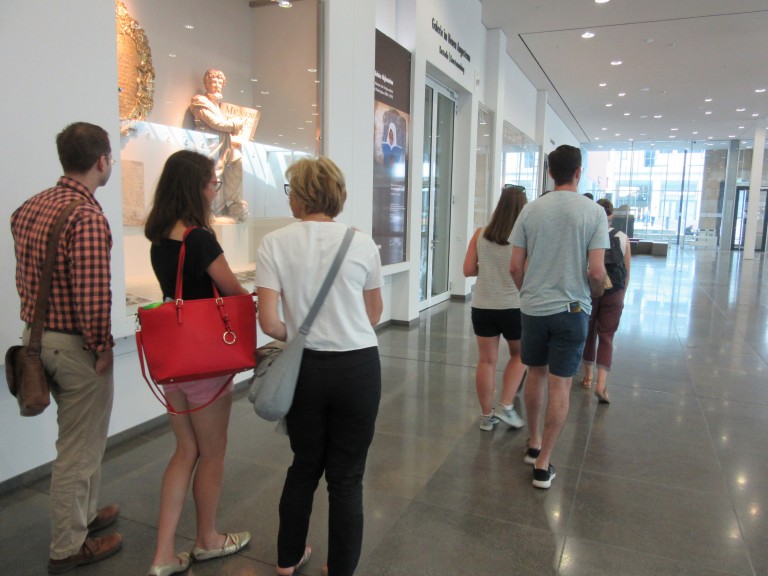 Matej's biggest fan still seems to be his mom, though. Recently, she came from Ljubljana to visit, and smiled from ear to ear as she watched her son give a history lesson to his small but captive audience of tourists (plus me).
He's learned a lot about Leipzig during the year he's spent here so far, and is visibly happy to share what he knows. I've been here five years and didn't know many of the stories he told about the statues and buildings around the city center. The tour took two hours, and we didn't even walk that far.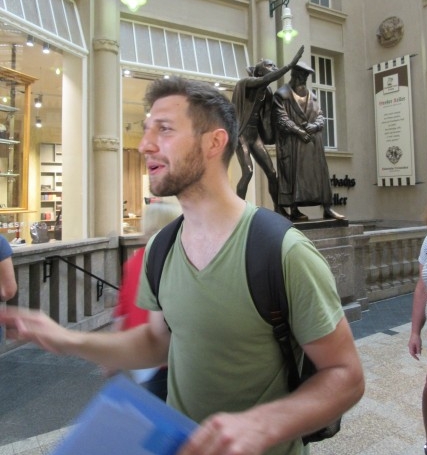 A honeymooning couple from Canada told me they became impressed at how much history Leipzig has. And how walkable it is. So Matej can already be proud.
"I could do three or four hours, but people's attention would begin to trail off," he told me. Also, he's starting slowly and not yet venturing out into other Leipzig neighborhoods with the groups. He has no crew but himself at the moment.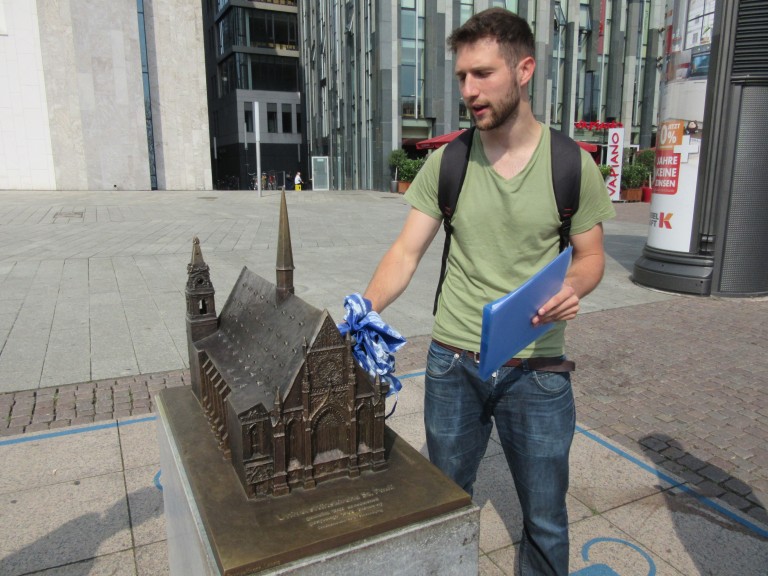 I was glad to finally be a tourist at home; perhaps you can give Matej's tour a try too, and tell us what you think, as a resident. And if you're visiting Leipzig, why not spend a couple pleasant hours walking around our tiny metropolis and hearing endearing historical anecdotes?
As a frequent traveler like Matej, I always find a Free Walking Tour to be the best way to start getting to know – and perhaps falling in love with – a new city. And even (re)discovering your own.
---
Free Walking Tour Leipzig
Every Friday, Saturday & Sunday @ 11 am
Walking time: Approx. 2h:15m
Meeting point: Mende Fountain, Augustusplatz (located in front of Gewandhaus)
---
Cover shot: Free Walking Tour stops across from Neues Rathaus, Leipzig, for a pic. (Photo: Ana Ribeiro)