It started out as a joke on Facebook. Martin Meißner spotted on the ground the words written as part of an art project at Lene-Voigt-Park, and decided to start a page just with the name: Dunkel. Dreckig. Reudnitz. ("Dark. Dirty. Reudnitz," or "DDR.") His partner had been living in the eastern Leipzig quarter and he moved in with her from elsewhere in town.
He wasn't posting anything on the page at first, but then more and more people started "liking" it, attracted by its name. So he began putting up little bits of Reudnitz culture, like "things Reudnitzers say." That was about four years ago; since then, it has gathered more than 13,000 followers and is one of the most popular Leipzig-based Facebook pages – now close to catching up to Spinnerei's.
"Basically I never changed that recipe for success," Martin says of Dunkel. Dreckig. Reudnitz., which also became a blog. "It's funny. It's less news about Reudnitz and more funny stuff. (…) The trick [is] interaction. And I'm not only posting my stuff but other people's, too."
"If it's about Reudnitz, I post it."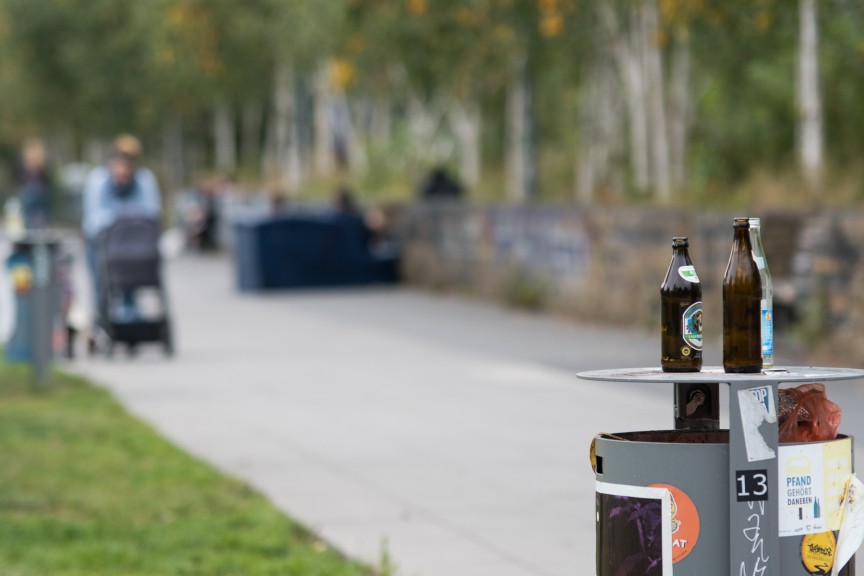 With a simultaneously humorous and socially engaged approach, Martin's page has become a staple of the community on- and offline. Despite getting commercial offers, he keeps it ad-free because he says he's "too lazy" to deal with the financial part and wouldn't want to be limited in what he could write (i.e. regarding certain products). He is a one-man staff.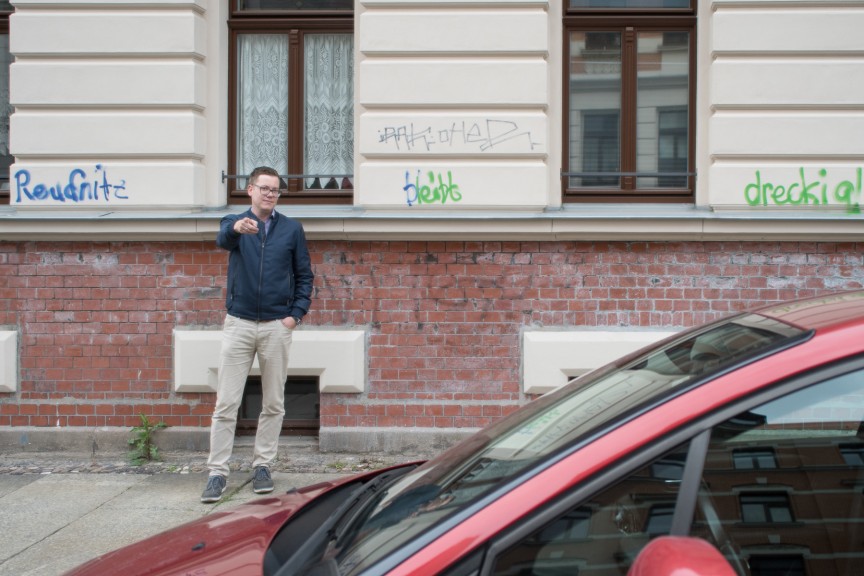 A born Leipziger who previously lived up north in Gohlis, the 30-year-old got increasingly connected to the routine and social and political issues of his new eastern surroundings. Martin now receives inquiries and news tips – including many on stolen bicycles – on a daily basis through his page. And he has even come to represent the Reudnitz constituency in the Stadtbezirksbeirat (city district council).
Martin has seen Reudnitz change over the past several years, becoming more diverse and less of a transient place. People have caught on to its central location, good transport links, and affordable rents (although they are going up).
First, it was the cheap rent that attracted young people, who would later move on to other neighborhoods; now, they "stay here and get kids."
In Reudnitz, he feels a real sense of community, also living close to longtime friends. Although he likes to travel, he has always lived in Leipzig and built his personal and professional life in a way that has enabled him to stay.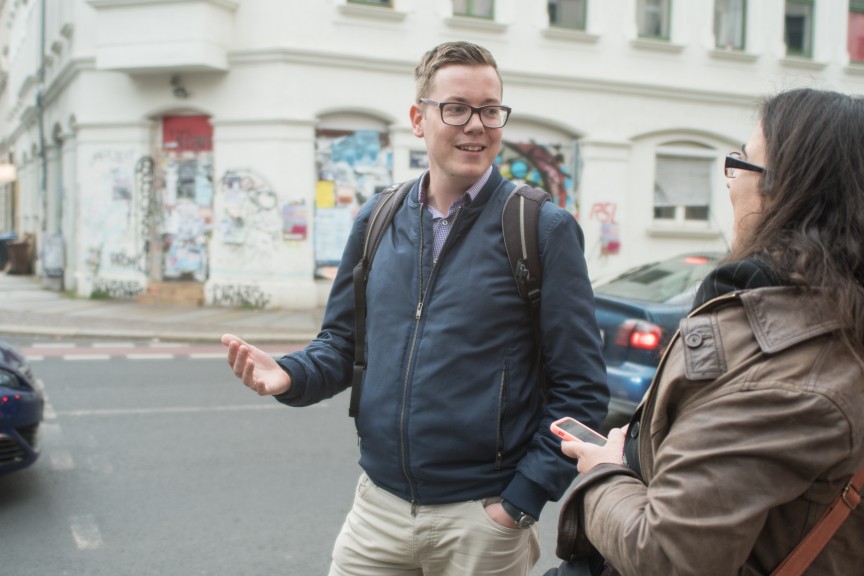 One afternoon this early autumn, Martin took us on a walk to some of his favorite places in Reudnitz, and answered quite a few questions – from one curious blogger to another.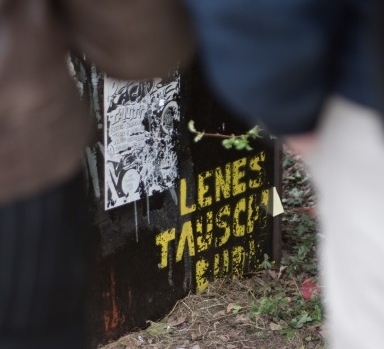 We met at Lene-Voigt-Park, where he immediately pointed to a bookcase-like box a few feet away, closest to the entrance across Espresso Zack Zack. It's Lenes Tauschbude – "Lene's Exchange Booth" – which has nearly 900 followers on its own Facebook page.
Simply put, instead of throwing out stuff they don't want anymore but which can still be used, people can just put it in Lenes Tauschbude for others to take, and take something themselves. Martin says two young guys set it up some months ago and it has since become a go-to point in the community, with folks constantly scouting it for games, for example.
He recalled leaving a life-sized paper Santa Claus ("the Coca Cola one") there and seeing someone carry it off after just 10 minutes.
Then he talked about Lene-Voigt-Park as a whole. He likes that "you can't lose your way" there, and the contrast between the green (one of the few little strips of nature in Reudnitz) and the industrial vibe.
As we walked across the park, he told us that it used to be a train station for industrial cargo, its rails having been turned into bike paths.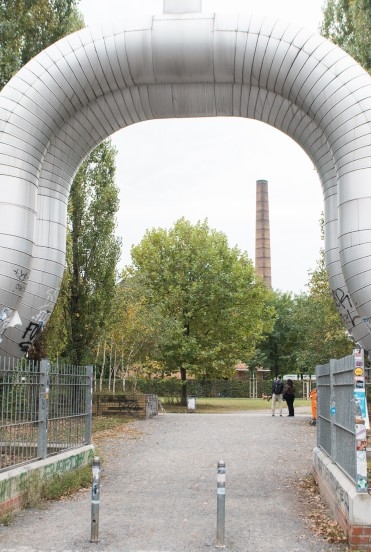 The place's current incarnation is only about a decade old: It physically brought the two parts of the neighborhood together whereas, before, they used to be divided, Martin added.
The next place Martin took us to was the Kaufland supermarket. Along the way, he stopped to talk to several people who knew him. He tells us that sometimes even total strangers recognize him because of his Facebook page and blog.
According to Martin, the most popular posts ever on Dunkel. Dreckig. Reudnitz. dealt with 1. the closing of this Kaufland for two days for renovations; and 2. the closing of a Rewe in the same district for almost a year. He tells us the Penny shop next door ran out of stock in the couple of days Kaufland was unavailable.
Martin described Kaufland more than as a point of reference, as "basically the heart of Reudnitz, or the heart of the east," though for him, "it's a hate-love relationship."
It's too crowded and too big, he almost always forgets things and has to run back through half the store to get them. But it's also nice that you can use it as a shortcut to get to another side of the neighborhood; to him, it serves a connective purpose like the park does.
Martin, who has been passionate about promoting tolerance in the city, also enjoys observing people of different socioeconomic statuses congregating there to shop – and everyone having the same status in line:
"In Kaufland, you can see the changing of the neighborhood," he says. "In line, they are all the same. It's the real melting pot."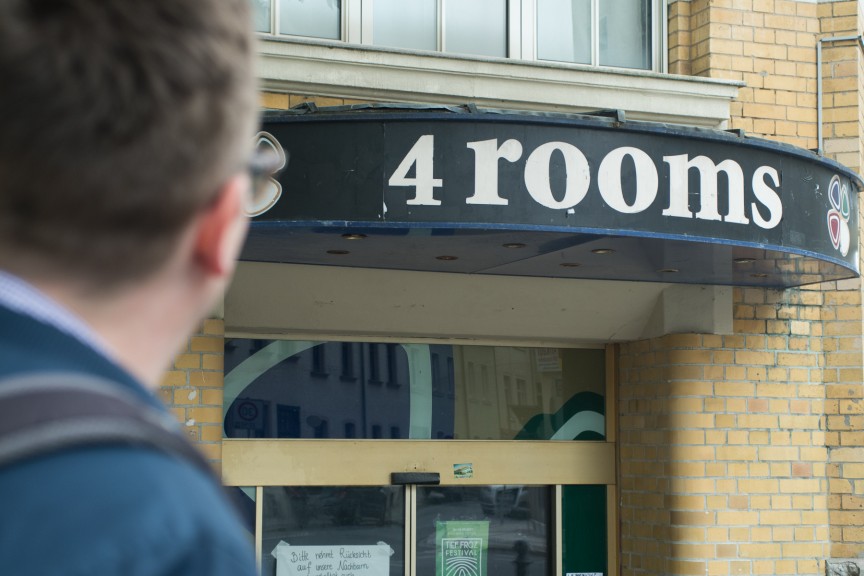 Down the road from Kaufland is one of Martin's favorite hangouts: 4rooms. He says the main secret of the place – a hot spot for up-and-coming bands – is where its fourth room might actually be.
Every second Wednesday he used to play pub quiz there, but sadly, that's now over. He laments that the venue itself is set to close in February 2018 because its landlord sold it to an investor who wants to turn it into apartments.
The people behind 4rooms have been trying to find a new location, but he's afraid this can't really be replaced for Reudnitz. That iconic little corner will fall quiet. (As has been happening with small businesses across Leipzig.)
The last two spots in the community Martin named and brought us by are both food-related. One is Gustav H., which he says has the same owner as Espresso Zack Zack but is not as crowded; it's got ice cream, coffee and waffles. The other is Globus Döner, which he identifies as a sensitive topic in Reudnitz.
He has noticed people get really emotional when discussing the döner shop, which is family-owned and has been around since the mid-90s. Some defend it tooth and nail as the best döner shop in the neighborhood, while others say it isn't. In Martin's opinion, it used to be the best, but now has just too many customers to deal with – which has made its service a bit less nice and personal.
"It's kind of a victim of its own success," he says, as a small mob suddenly lines up behind him. But the food still tastes good, and he takes some home as we part ways.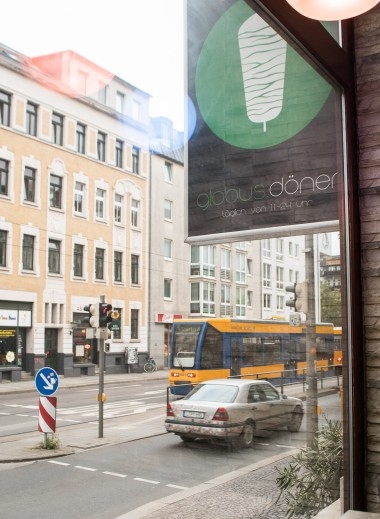 ---