The star of the show was nowhere to be seen during the vernissage on 24 June. But that's not surprising, since lizards love to bask in the midday sunshine, and the show opened in the evening. 
Still, the artist who created the lizard castle is confident that her shy reptile is in residence at Galerie Gänge, an art gallery in Reudnitz run by maeshelle west-davies. Linda Marwan uses her artworks to explore the relationships between people and the natural world. She studied at the Leipzig HGB art school and stayed in the city after receiving her fine art diploma. This piece is called: "Do lizards dream of a higher purpose?" So I asked her what it means:
Where did this inspiration come from?
In Germany an eidechsenburg (lizard castle) is a common term for clearance cairns because lizards like to live in them. So they are actually the perfect environment for local lizards in Germany. I thought that I would just take the plans from NABU, a nature protection charity, and I used them to make the lizard castle and now I call it an artwork. It's a conceptual piece of art. I wondered what can I contribute in a garden that's also useful and also works with my artistic practice. The interesting part is that lizard castles are a reproduction of something that was built in agricultural landscapes. When people were starting with agriculture and ploughing the fields, stones from the Ice Age would come up and people would make huge piles on the edge of their fields in England and other places. 
Is there really a lizard here?
Yes. I didn't know beforehand. But I know they are quite common in Germany and the environment is nice, so I was thinking there might be some here and I would give them a nice place to stay. And we have actually seen some when we were building it. Let's see if they now also want to move in. 
There is a little pile of sand in front where they can lay their eggs. It's on the south side, so there is sun all day and it's a nice interaction between humans and animals. The whole habitat for these lizards is co-evolution because these castles only exist because of agriculture, and now you can help by creating them artificially. Yet still, it's not natural, since it's a by-product of agriculture.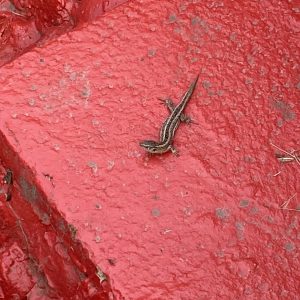 In the description that you published, you got ChatGPT to write about the lizard castle. Why did you do that?
This was more like an experiment. I gave it some terms like: "do it very intellectually," "do it like an art critic would write it" and "give me something in the style of Adorno" and it would write these long texts about non-human/human interpellation. It was on point, actually.
The ChatGPT AI seems to have really taken on board what your intention was in building the lizard castle. So are you happy with it?
Yeah, with some parts of it. At some points, it repeats itself, but the text is nice. It's been fun that I didn't say "tell me something about humans and non-humans caring for each other." It came up with that by itself. It was really a good fit for my original intention.
Obviously, the location of this piece is super important. If you put it in the Museum der Bildenden Künste it would not work. So, tell me about the location.
The Kleingarten in general is a very German thing and especially an Eastern German thing. This (Galerie Gänge) is a very special Kleingarten community because they don't have such strict rules (for the gallery), which is unusual. This is how the garden can exist in the first place because it's quite chill here. 
For me, it was also really cool to be able to do something that's quite specific and useful and different. It's this weird interaction of art and reality and it's functional. Usually, you wouldn't label functional things as art. And I could only do it here. It's also an artwork that you couldn't displace. You couldn't move it.
Does that mean that it is not really art? For example, I once read an interview with the English artist Damien Hirst because he has a lot of conceptual works which ordinary people who are not art critics would say, well that is not art. And Damien Hirst answered, "Here we are—it's in an art gallery. So it must be art."
Yes; and for me this piece is something that you can actually just have from a plan online and build it anywhere in nature. But this is an art gallery. And it is art.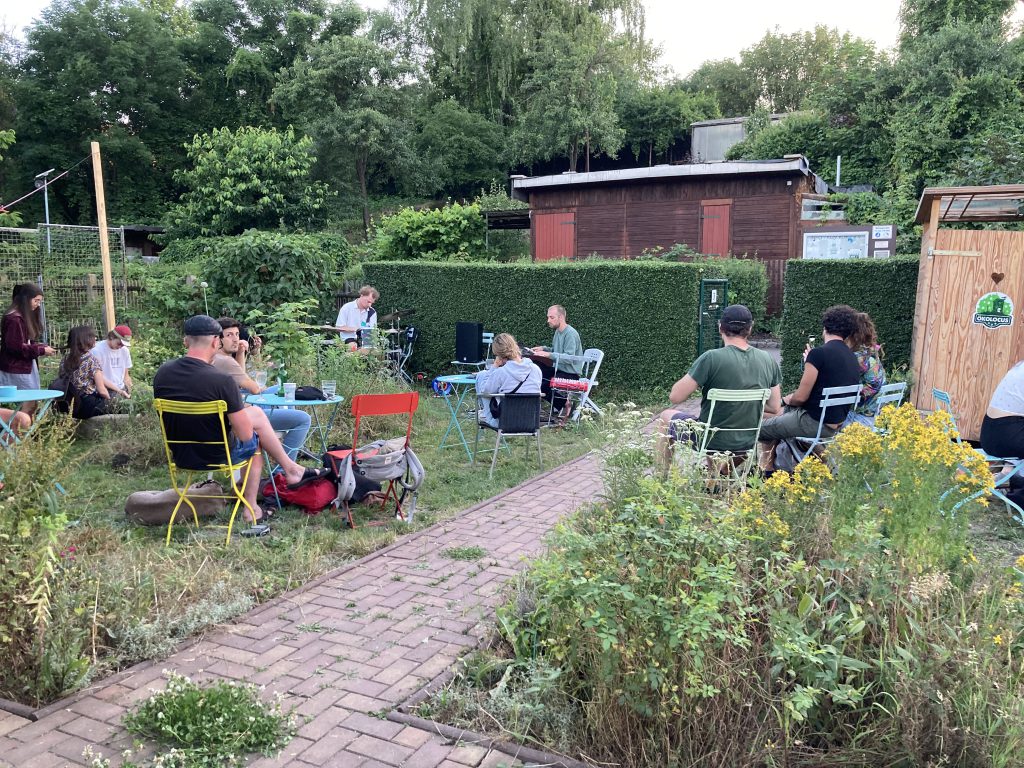 See "Do lizards dream of a higher purpose?" by Linda Marwan
Galerie Gänge, Kultur e.V Kleingartenverein is located at Theodore-Neubauer Str. 43, 04318 Leipzig. A brunch is planned for 11 am to 2 pm on 23 July; you can bring something to add to the buffet. 
Future events at Galerie Gänge
Vernissage, 15 July, 8 pm: Local curator and gallerist maeshelle west-davies teams up with Mexican curator Marco Valtierra to bring you a small one-night-only group show with works from Mexican artists. There will be tequila.
Vernissage, 29 July, 8 pm: Gabriela Kobus with site-specific experimental sound performance by cfm.