Updated: 29 September 2019
In May-June, we are on the edge of northern hemisphere summertime. It's a time of year when travel agents across the globe become Pavlovian dogs, salivating and lubricating their brass wallet clasps as blue-jean dads and soccer moms start requesting travel brochures for expensive all-inclusive trips to Europe.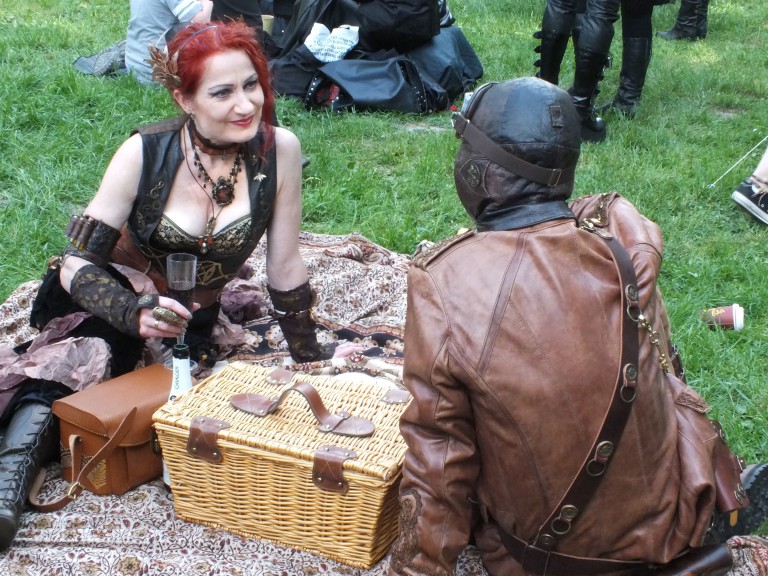 However, it's also the time of year when these same travel agents begin to receive high quantities of puzzling requests from thousands of spooky-looking clients with very pale skin – and for some reason, they all want to travel to Leipzig.
For example, one woman wearing platform boots made from motorcycle parts showed absolutely no interest at the offer of an all-inclusive Premium Coliseum package to Rome. Because it's May, and at this time of year, goths only want to travel to Leipzig.
A backcombed male wrapped inside a trench coat adjusted his nose ring in disgust at one attempt to up-sell a Norwegian fishing holiday. Because this backcombed male is vegan, and anyway, it's May, and at this time of year, goths only want to travel to Leipzig.
Thus, it is damn near guaranteed that, as you are reading these words, a less experienced travel agent somewhere on this earth can be found horizontally reclined and overwhelmed in his or her swivel-chair, audibly scratching their head as all proven and popular sales pitches fall flat, and interrupted by frustrated thumps against their desk from the impatient gauntlet-clad fists of an adjacent gothic client.
Travel agents like these didn't mix with goths in high school, and they sure as hell don't understand what gets into them leading up to the Pentecostal weekend, which falls on the seventh Sunday after Easter.
However, the older and wiser agents among them will have watched this phenomenon play out many times before, and will have learned to bypass the trendy deals and popular generic offers – "Mediterranean Cruises for Mother", "Stags 2 Prague," etc. – and instead retrieve from the dustiest cabinet, a seldom-requested folder called "cheap flights to post-industrial Saxony."
If you are one such goth making the pilgrimage to Leipzig this May, and are consulting this article for logistical purposes, these travel agents have collectively asked this correspondent to relay both the good and bad news specifically for you and for your demographic.
The bad news is that matte-black coffins no longer count as hand luggage on most chartered flights, even if you do intend to remain inside for the duration of the flight. Also, airport security dictates that you must remove all Norse jewellery, obsidian cloaks, veils, and dog collars with platinum spikes longer than the length of the average human fingernail.
However, we also have good news. We can confirm that the 29th annual Wave-Gotik-Treffen is not too far off. As more and more goths begin to descend from the unseasonably darkening skies above Leipzig airport, anticipation in the city rises to a level that may actually be tactile.
The WGT is a big deal. It's the biggest non-sporting event in the city's calendar.
Leipzig gets rocked time and again by alternative music's most famous summer holiday.
The official WGT program runs each year in May or June, depending on when Pentacost is for the year.
Over 200 bands tend to perform. And at least 20,000 fans (dressed on a spectrum from Tim Burton's imagination) will be seen taking over the city's parks, streets, bars, restaurants, venues, public transport, river banks.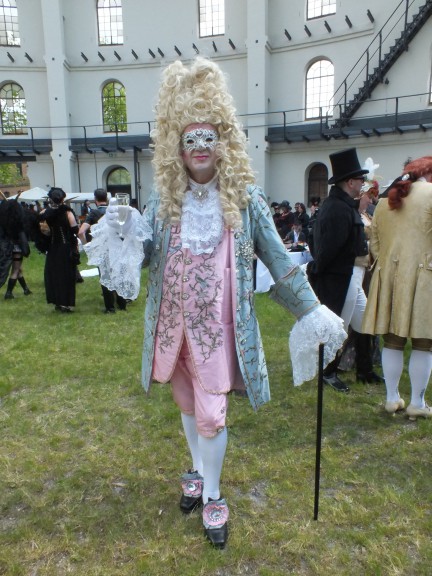 In a city the size of Leipzig, 20,000 is a lot of people, and the WGT is described as "the definitive gathering of the dark family." Admittedly, that is how the WGT refers to itself, but it's a fitting line for arguably the biggest gothic subculture festival in the world.
The main stage has been in the south of the city, around the Agra fairgrounds, where many festival goers will be camping. However, there will be upwards of 50 official venues located all over the city.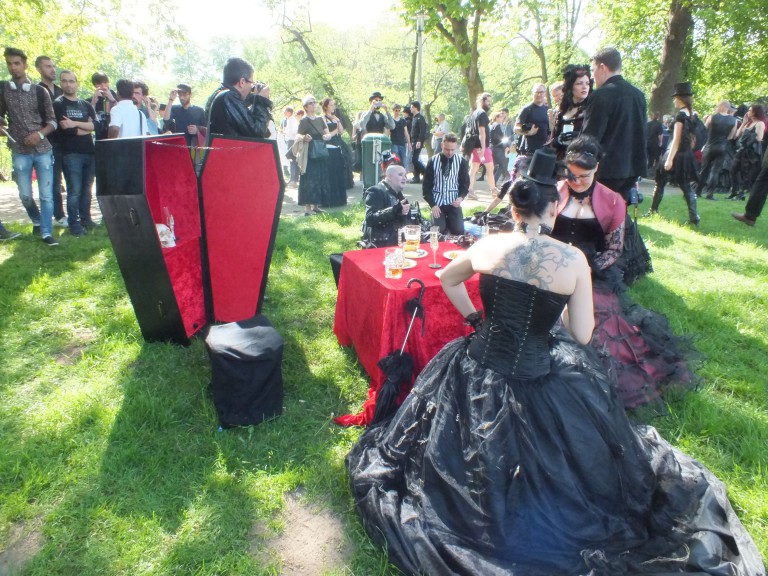 Organising one's schedule around the WGT-Guide mobile app comes as dearly recommended advice from previous WGT attendees. However, the quantity of unofficial gothic events across the city during this weekend will probably mean that you're likely to find yourself in the middle of something, somewhere.
The Victorian picnic at Clara Zetkin Park, and the medieval market at the Pagan village are both on this correspondent's personal shortlist of interests that he intends to check out.
---
Now, let's talk about music.
The Wave-Gotik-Treffen is not a place for big names. There is every chance that you might, as I did, look down the list of confirmed bands and see only a handful of familiar names. The fact that The Jesus and Mary Chain are by some distance the most universally-known band on the bill, goes some way to explaining why.
Although a handful of goth rock bands – such The Cure, Depeche Mode, peers of The Jesus and Mary Chain – did manage to cross over into the mainstream in the late 1980s, pop music (or, more specifically, what is popular) is a fickle measurement of quality music. Since Marilyn Manson drowned in a sea of awful nu-metal (contemporaries in the mid-noughties), gothic music has been confined to indie labels with only local support and distribution.
This doesn't mean that great music is not being made in this genre; it is, but it has been pushed underground.
If you do your homework on the WGT 2018 line-up, for instance, you'll see that the bill was made up of bands of the size and calibre of, say, Seigmen. They're alt-rockers, early contemporaries of 30 Seconds to Mars, and are selling out arenas in Norway yet remain compete unknowns outside of Scandinavia. Alternatively, there are more current bands like Boy Harsher, an American duo, who have had global success with their 2014's club hit "Pain".
Other bands that I'm hearing for the first time, and getting very excited by, include electro popstars Mr Kitty; Dutch synth-rockers Silent Runners; and Drifter, from Sweden. The latter's Soundcloud account left me speechless, with their jaw-dropping and incredible guitar playing.
Bizarrely, it doesn't appear that anyone, with the exception of a few Swedish bloggers, even knows they exist. At a push, I would single Drifter out as my pick for the weekend: as the standout band that I cannot wait to see.
Let the darkness descend.
---
29 May-1 June 2020, Leipzig
Guides:
WGT-Guide – seriously useful app to download at Google Play, iTunes or Amazon
The website of Leipzig Tourismus features a WGT guide in English
Tickets:
4-day tickets for all events tend to be €120 per person in advance. CLICK HERE TO BUY
Tickets include all public transport (trams, city buses, regional trains, suburban trains within the zone 110 of MDV), from 18 May 8:00 a.m. to 22 May 12:00 (noon).
Camping:
For €25, you get an Obsorgekarte that allows you to camp at the official WGT campground on the Agra fairgrounds, from 17-22 May.
Parking:
You will be allowed to park at Agra only with a parking pass for €15 and a 4-day ticket
Note:
There are also loads of things to do without a 4-day ticket! The WGT app above includes a complete schedule of everything that's happening.
Meanwhile, here's a playlist recommended by WGT organisers. Happy Goth Day!
---
Watch this space for continuing coverage of WGT 2018.