I visited Rome for a week and left with the best souvenir possible – a full belly!
No, seriously, my husband and I joked that we both came back with "Italy belly," that extra 10 pounds you gain from blissfully indulging in Roman fare. Don't be ashamed – it's all part of immersing yourself in the culture (at least, that's what Eat Pray Love taught me).
Italy is obviously known for its amazing food, and Rome is no exception.
But what exactly should you eat, and where should you get it… when in Rome??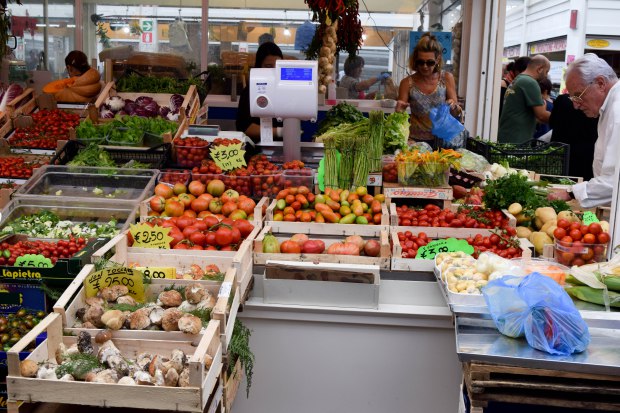 Cappuccino
To start your day the Italian way, you must start with a cappuccino (and a sweet pastry).
Literally every place sells cappuccinos, so I wasn't able to narrow in on "the best" in the time I was there, but my advice is to look for the little cafes that the locals are flocking to where you can sit right up at the bar and chat with the barista.
Note: you may get funny looks if you order cappuccino past 10 am, the unofficial "last call" for cappuccino, but feel free to do it anyway!
Prosciutto (and truffle cheese!)
For the best prosciutto, visit the neighborhood of Testaccio and check out the deli called Volpetti. The shop may be small, but their food is world famous and extremely delicious!
The staff is incredibly friendly, but beware, you will leave having purchased something (they are very good salesmen). While you are there, try the prosciutto, the truffle goat cheese, 10 year old balsamic vinegar, and surprisingly, yes, the anchovies!
Bruschetta
You may think you know bruschetta, but the authentic Italian version is the best! Rub a clove of garlic over toasted bread (the whole clove) and sprinkle it with fresh tomatoes and basil in a drizzle of olive oil. Mmm delizioso! It's pretty hard to mess this up, so it's bound to be delicious at every restaurant you go to in Rome. But, if you are feeling up to it, go to the markets and pick up fresh ingredients to make your own! The locals are always willing to tell you which tomatoes are freshest and most appropriate for whatever dish you are trying to make.
Cacio e pepe
This is a staple Roman dish that is simply pasta, cheese, and black pepper. It sounds boring and easily reproducible, but I assure you it is neither. I tried this dish at 3 different restaurants. The first was gross. The second was gross. The third was AMAZING! When done RIGHT, this dish is not to be missed. If you tried it and didn't like it, you probably didn't get it at the right location. Luckily for you, I know the best place to get it – Roscioli! This interesting restaurant is part deli, part wine cellar, and all delectable!
Carbonara
Carbonara is another staple you must try in Rome. This is slightly different than your Olive Garden variety pasta carbonara and is actually made from eggs rather than cream. Unfortunately, I wasn't able to narrow in on the best place to get it, but definitely taste it while you are there! (If anyone does know the best place to get it, please share in the comments!)
Gnocchi
Thursday night is gnocchi night all over Rome, so make sure you get yourself to a restaurant!
If you'd like my recommendation, make reservations at the delicious (but small) Armando al Pantheon. The Thursday night gnocchi was awesome, and so was the beef dish I ordered. If you go, don't skimp on dessert. I had a caramel-topped cheesecake while I was there, and it was quite literally the best dessert I've ever had (no hyperbole).
Lasagna
I was so busy sampling all of the pastas of Rome that I nearly forgot to enjoy my favorite Italian dish, lasagna! Thankfully, I ordered it on my last day and it did not disappoint! Although I only ordered it in one restaurant, I can say with confidence that this is one of the best because I sampled several that my husband ordered throughout the week. ?
For the best lasagna, go to La Tavernetta 48. The restaurant is tucked away, far from heavy tourist traffic, and everything we sampled there was delicious (but especially the lasagna). It was perfect for a relaxing Roman evening.
Cannoli
I have never had a cannoli quite like what I tasted in Rome. The trick is to make sure that the cannoli is freshly filled and isn't sitting around all day getting soggy. Crispness is key! (And the sugary filling doesn't hurt.)
Gelato
Mmmm, gelato. It makes my mouth water just saying the name. We learned a little something on our trip that there are a couple ways to tell the difference between authentic gelato and the imitation garbage (however, I admit both are still delicious).
If you want the real stuff, look for a gelato stand that doesn't have extremely bright colors. Pay particular attention to the banana and pistachio flavors. The banana should be white (not yellow) and the pistachio should be a greenish-brown (not mint or lime green).
The second indication is to look to see how fluffy the gelato is. At its tallest, real gelato should be even with the edge of the container, not heaping off the top.
As far as my gelato recommendation goes, I have a favorite. Yes, in a week's time I was able to sample enough gelato to land on, and return to, a favorite gelato shop. Visit the Gelateria Vice located near the Largo di Torre Argentina (or as I call it, "the cat park"… it's also a stray cat sanctuary).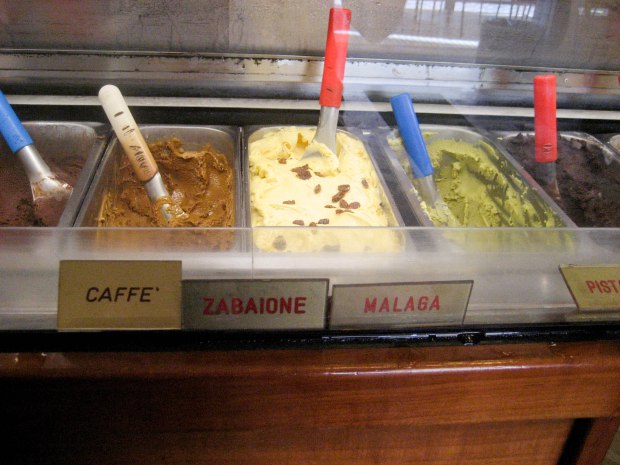 When you go to Gelateria, order the creme vaniglia del Madagascar (vanilla bean) AND pistachio because they are both incredibly delicious, and Italians think Americans are weird for only ordering one flavor.
And there you have it. That is my fool-proof guide to gaining 10 pounds in Rome! (Worth it!) But if you still haven't had your fill, I highly, highly, highly recommend you take the walking food tour through Eating Italy. It was informative, entertaining, and delicious!
This is not a paid endorsement, but just one foodie giving her honest advice to the masses. All of the opinions are my own.
Buon appetito!
(Originally published on 10 December 2015, on Markovitz's blog, live . laugh . leipzig)