I woke up on the other side of the Atlantic at 2 am. My phone was going haywire. Friends, former students, and colleagues all over Ukraine were sending me the same message. The bombs had started to drop. The port was on fire. An airport was on fire.
The futures of Ukrainian women and men, boys and girls, were all on fire. Hopes and dreams disappearing in the smoke or packed into cars heading for the west. Or hiding in the bomb shelter hundreds of miles from their family home.
Russians. God, how that word feels like a snarl in my mouth right now. They've taken Konotop in the north. They've taken Henichesk in the south. That means they have taken the lives of soldiers giving their lives for democracy. What will those murderous barbarians do when they finally reach the capital? Will they put Zelenskiy's head on a stick, and expect the nation to believe that this is justice?
Or maybe that is the goal: they want to take away our ability to believe at all.
But this anger that I feel, is it just sadness pretending to be something potent? It's too soon to give up. It's too soon to mourn the erasure of everything that has been fought for since 2013. We must not give up. For as long as our soldiers are fighting so must we, in our own ways.
They're giving out guns to civilians now. All you need is a passport. Young guys, former English students of mine in their late teens and twenties, are not going to let Kyiv fall – but that terrifies me. I don't want them to be killed. "But how could we live after this?", they say.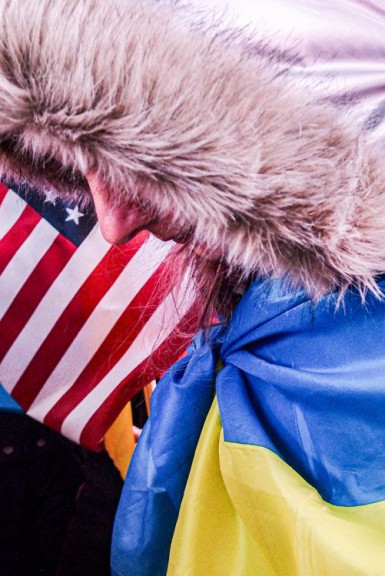 Meanwhile, Renew Democracy Initiative – a human rights non-profit led by Garry Kasparov – published a video I made in collaboration with them before I left Kyiv. That was just 2 weeks ago. I was filming in the central square, in a country that I had called home for 2 years.
I'm just a writer. I am not even a teacher anymore. I'm completely broke and I can't do much, but we all must do what we can. Right now, everything else feels
so unimportant.
Ukrainians deserve the same liberties in life that we enjoy.
There are few practical ways that we, outside of Ukraine, can assist our European friends in their struggle against Putin's closing fist, but they are significant, so I will leave you with them to consider.
Make a donation to Come Back Alive
Come Back Alive (Повернись Живим) is a charity that supports the Ukrainian military. By law, all Ukrainian men must serve in the Ukrainian armed forces. Most of the men and women that you will see in photographs from the frontline have another life. As students or programmers, artists or electricians, sons, and daughters. When you hear about Ukrainian casualties and injured, those are the individuals behind those statistics.
Now that war has broken out, men are forbidden from leaving the country and they are joined by military veterans and teenagers straight out of school. They are joined by Vitali Klitschko, former heavyweight champion of the world and incumbent mayor of Kyiv. Any adult can volunteer. They are the ones with Kalashnikovs guarding the entrances to the bomb shelters, protecting the vulnerable
as they sleep.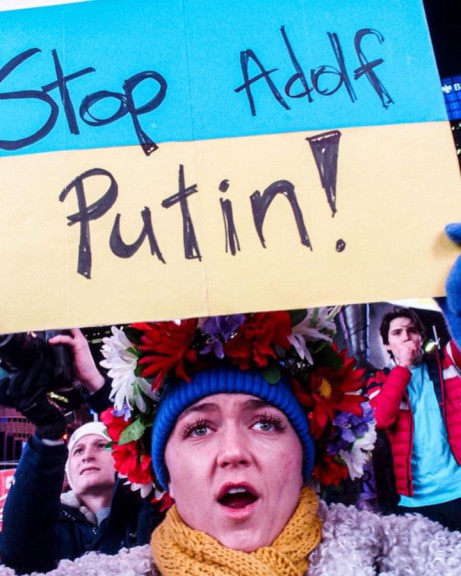 Direct Action
Lend your voice to any one of the protests that are happening all over the world. To find them, simply visit your local Russian embassy and ask them to justify this war. If you want to effect change, simply write to your local representative. Ukraine is calling for three things: military donations, military support, and leverage for peace. The latter requires the international community to stand up and block Russia from the SWIFT banking system. That may be the only economic sanction big enough to bring the juggernaut back to the negotiating table.
---
More ways to support the Ukrainian people:
Donate to the Ukrainian Red Cross.
Support independent journalists in Ukraine. The Kyiv Independent, for example, has a Patreon and a GoFundMe page.
Ukraine World is an independent English platform based on a volunteer initiative that was created during the 2014 Revolution of Dignity.
Nova Ukraine has a number of different initiatives, from donating diapers to medication and household goods.
Unicef has a specific Ukrainian appeal, with the target for donations now reaching over $60million.
Care International provides hygiene products, psychological care and counseling, and access to food and water.
Support for Ukrainian LGTBQ+ people.