You can take the girl out of the mountains, but you can't take the mountains out of the girl.
Marcela Ceballos grew up in the Andes Mountains, and doesn't plan to stay away for much longer. She intends to return to her presently up-and-coming hometown of Medellín next year. All the production for her handmade-wear enterprise, called Selvita ("little jungle"), is located there.
Having studied design at Dessau and been in Leipzig for about two years, the 33-year-old tries to juggle life and work in two continents.
She lugs her wares to exhibit and sell at local fairs like Echt Alt, taking place at Kunstkraftwerk (KKW) this weekend, while keeping up with how her conservation-related textile business is doing back home in Colombia.
"We're trying to get established here so we can really support what's happening there," says Ceballos, adding that, despite interest from German consumers, figuring out how to obtain affordable shipping for her products has been a challenge.
Selvita can, at least, get the cotton and viscose for its T-shirts for cheap or even for free from factories in Medellín – since they were going to throw it away anyway. So the business keeps going, through its very limited production and distribution.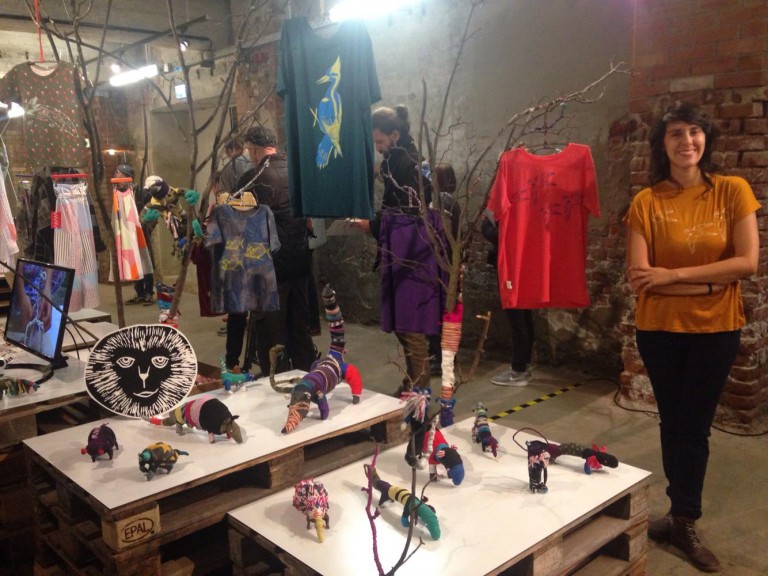 Selvita is not yet financially sustainable or scalable, reveals Ceballos. It has become better known over the years largely from word of mouth and support from friends.
---
---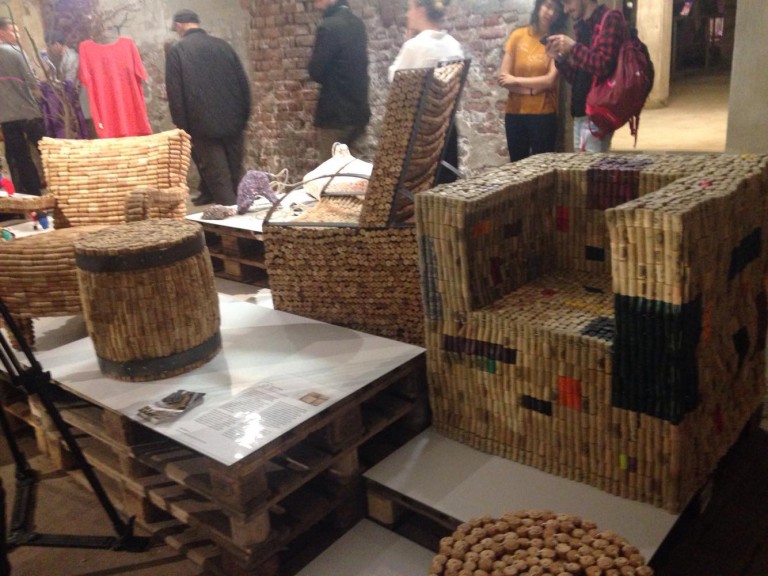 She and the others at Echt Alt sculpted discarded materials into something more beautiful: artsy wear, chic furniture or fixtures, shiny toys or decorations. The contingent from South Korea has brought over many artists and remarkable pieces, in both range and level of creativity. German representation is also strong at the exhibit.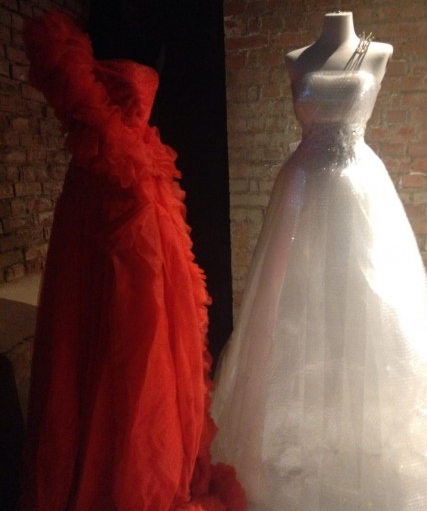 You'll want to sit on korkART (as in art from corks) in your living room, while you wear glowing "circuit accessories" (from computers), and envelop yourself in Hee Suk Park's ballgowns (of bubble wrap and onion nets). You'll want to play with Fori Sim's robots, resurrected from electronic junk "to bring joy to mundane lives."
"A being made up of various matters will eventually be reborn as a different being as time passes," Sim's upcycling display philosophically describes. "This rule also applies to inorganic substances. [So] I disassemble and recreate these 'beings' that can no longer function, and recreate them as robots, as 'new beings.'"
As for Selvita, Ceballos explains that between her, two other co-founders, and two freelancers based in Medellín, the business turns industrial scraps into new T-shirts featuring different silkscreen-printed animals – in friendly, sleek designs. It also gives workshops where children can craft their own animals out of discarded materials, making them into toys and nurturing the idea that nature is not a threat, but something to be cherished.
---
Selvita aims to reduce waste, sell aesthetically pleasing affordable clothes produced under decent conditions, and teach children about endangered species, says its co-founder. You can reach out via Instagram, Facebook or e-mail (selvaselvita@gmail.com).
---
Nature conservation is something many kids and their parents have moved away from with industrialization. In Colombia, people tend to kill forest animals coming into their urban space out of carelessness or fear, Ceballos says. She reflects that she was lucky enough to have attended a primary school habitually engaging its students in conservation projects in the mountains.
That made her grow up wanting to pass her appreciation for nature on to others, using her skills and education to do so.
She thinks the children can educate their own parents once they internalize the idea of environmental protection via fun arts and crafts and, of course, wearing the T-shirts: "It makes a difference, to kids who are not growing up surrounded by nature." Some of the parents even come along to the workshops Selvita organizes.
In Germany, known as a top recycler, upcycling has been underway since at least 2013. Still, as Ceballos points out, the country has retained a throwaway culture surpassing all other EU members.
Meanwhile, in Colombia, proper garbage collection has become a matter of national security. The South American country's 2014-18 development plan set out to dramatically improve waste management nationwide.
According to The Nature Conservancy, "Colombia is the world's second-most biodiverse country." Besides the Andes, it's got part of the Amazon, and straddles the Atlantic and Pacific oceans.
Ceballos indicates that her Selvita, now operating for four years, has been doing its part in waste reduction and environmental education, also encouraging the children to bring their unwanted clothes to transform during the workshops. Medellín's museums and serpentarium have been booking its workshops and ordering its crafts. As the co-founder observes:
"These institutions are putting a lot of effort into bringing children into contact with nature again. It's a better strategy, for the kids to learn in a creative way," rather than being given brochures after lectures, and easily disconnecting from them.
---
Cover shot: Selvita snakes, made of discarded materials. (Photo © Marcela Ceballos)
---