Firmly believing that the so-called dead languages are not dead at all – but that they can actually help people understand the world and society better – Therese Sellers wrote a book for teaching ancient Greek to small children. It is entitled Alpha is for Anthropos (2013), and consists of the 24 letters of the Greek alphabet with corresponding simple texts.
Sellers matched them with nursery rhymes or well-known tunes, which can help the little ones memorize the texts in the book and learn their first words in ancient Greek.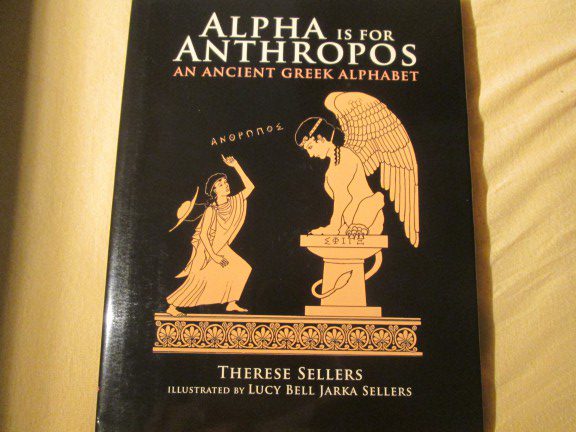 Most European languages use words of Greek origin – not only for mathematics, medicine and other sciences, but also for everyday terms.
This is particularly obvious in German, where most adjectives ending in -isch come from the Greek (e.g. euphonisch, euphorisch, akribisch, sporadisch, komisch, tragisch, dramatisch, akustisch, typisch, archaisch, drastisch). In English, you find nouns such as paradox, oxymoron, plastic, rhinoceros, hippopotamus and many other words whose roots are Greek.
The book by Sellers contains the translation of the short texts into English as well as explanatory notes. I loved the text for the letter M:
Mother, mother, beautiful mother,
Mother, mother, don't say "Don't."
Sellers is an American author who began studying ancient Greek as a teenager and went on to study Classics at Harvard. She specializes in teaching ancient Greek to younger students. Both the texts and the pictures in Alpha is for Anthropos are a result of hard work, inspiration and research.
The book looks more like a work of art than a language textbook.
Alpha is for Anthropos is actually a collaboration between the writer and her sister, Lucy Bell W. Jarka-Sellers. Also a classicist, Jarka-Sellers created the book's beautiful illustrations, in the style of red-figure vase painting.
The most recent work by Jarka-Sellers is called Meet John Dough, Superhero, and is a "political fantasy" about the United States today.
Meanwhile, Therese Sellers continues to broaden the access to Greek culture internationally. She recently translated, from the modern Greek into English, the book Aeolic Land by Elias Venezis. This literary masterpiece evokes the childhood of Venezis as a dream-like landscape that has been abruptly lost forever – together with the innocence of that time, which preceded cruel events.
In the following video, you can watch Therese Sellers explain how she teaches children ancient Greek.