The German phrase "Die Qual der Wahl", meaning "the torture of choice", is suitable whenever we are faced with too many possibilities and we don't know which one to pick. The torture of choice comes to mind as I think of the thousands of new books appearing every year. I know that I would like to read them all, because I am greedy when it comes to reading. But of course it is impossible to read them all, I'm not a human book scanner!
During the Christmas holidays there are many articles and TV programs suggesting new books. So often have I wasted my time with books which had been praised by internet users and book critics alike. Too often have I regretted heeding others and not trusting my own instinct. But under such an avalanche of books, printed or digital, sometimes I feel lost.
What am I supposed to read?
Now, I am not here to insist on anything as tastes are so subjective and you have surely seen many book titles recommended on Instagram or TikTok. However, I can mention a few of the books I read in the past year. All in all, I read 20 books in 2022 and of them I would like to mention the ones I liked the most. This includes "The Berlin Stories", by Christopher Isherwood, which I am sure is a very well-known book-mostly thanks to the musical, "Cabaret", with Lisa Minnelli. Then, two books by Graham Swift: "Mothering Sunday" and "Here we are", both incredibly well written in the characteristic style of the author.
Erika Fatland's "The Border" was particularly interesting; a voyage to all the countries that border with Russia. Her books aren't simple travelogues, they have a political and a social side to them. "Die Heldin Reist", the new book by Doris Dörrie, I read in German. Its title translates as "The Heroine Travels", and recounts how an avid traveler like her had to come to terms with staying at home during Covid. Last, but not least, I recently read "A Long Saturday", in which the late George Steiner talks about his life and his views to journalist Laure Adler. I found it very interesting and was impressed by Steiner's erudition.
There is a kind of FOMO here.
Should I read the most recent best-seller by the author who makes predictions about the future of the Earth? Do we have to be in fashion when it comes to books? Or is it better to follow my heart and my personal taste and turn once again to the trusted classics that have never let me down? There is no right answer, of course. Reading should be a pleasure, but it should take us out of our own comfort zone, too. It should teach us new things, from time to time.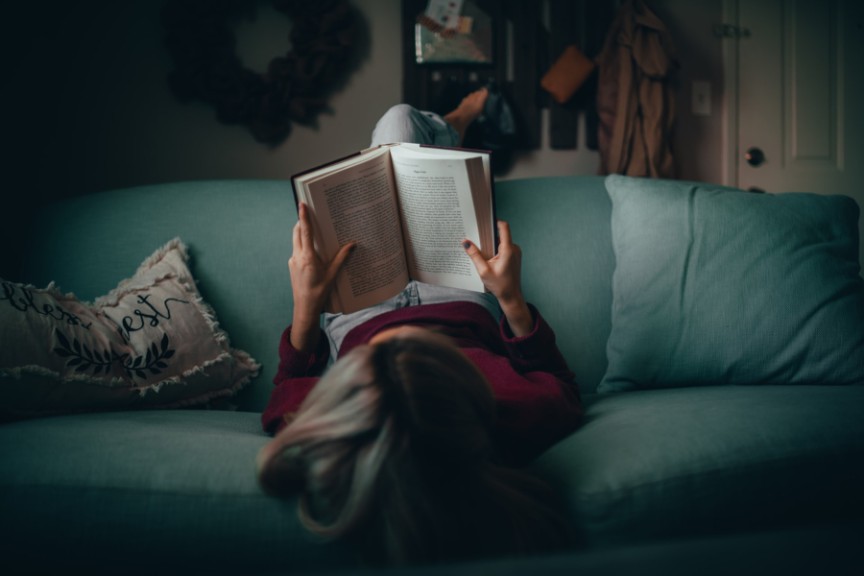 Among reading the posts of our friends on social media, studying for your second Master's or editing your own book (which will probably only be bought by your family members) there is altogether too much reading going on. But is it quality reading, or just binge-reading? How do we filter the content, how do we concentrate on what is good for our minds and our souls? Reading has always been my heaven and my haven, yet recently it has started to feel like torture.
So many books, so little time, and I still haven't read Middlemarch!
Sometimes I wonder if I should go on writing on blogs and websites, if I should bother publishing books anymore. Now that everyone has become a writer and a publisher, maybe I should stop. Who needs my voice and my opinion? Do I have to overburden my fellow humans with more reading content? Should servers store my writings, consuming more energy? Why add to the general plethora of texts, articles, comments? Is my standard answer, "Because I was born to read and write", good enough?
When in doubt about your purpose as a writer, I tell myself, turn to Proust. Or to Dickens. Maybe to Jane Austen. Or to Dostoevsky. You are always safe there and you will find the answer.  And as for what to read, don't worry about that either. You can leave some books unread. Nobody's actually going to judge you for having not started Middlemarch…