HBO's I'll Be Gone in the Dark traces the case of the Golden State Killer along with the involvement of crime writer Michelle McNamara. Her researcher and collaborator Paul Haynes helped finish the book of the same name after her sudden, tragic passing in 2016 and was also involved in the production of the documentary series. We got a chance to interview Paul and he graciously shared his point of view on the case, Michelle, the documentary and his unlikely connection to the Leipzig Glocal.
---
Heiner Uebbing: First of all, congratulations on a fantastic production. I was rapt throughout I'll Be Gone In The Dark and absolutely impressed by this uniquely humane portrayal of a true crime story.
What were your duties and work days like on the production? With the elusive executive producer credit, which parts of the production fell under your purview?
Paul Haynes: I should note that my credit was co-executive producer, so I had no creative input or oversight. Liz Garbus's company, now called Story Syndicate, was contracted by HBO to create the series—I was separately contracted by HBO—and Liz hired her own team, based entirely in New York. I'm in Los Angeles. We had about 20 total days of shooting together, across the two-year production period.
I otherwise worked remotely, and functioned as the bridge between Liz's team and the pieces Michelle left behind, and I was their point person for facilitating contact with investigators, for providing case material, and providing them the elements they would need to shape the story.
You have an unlikely connection to the Leipzig Glocal: Ana, our fearless leader, worked with you while you were a student at FAU in Florida. Can you tell us a bit about these early days and how they informed your future career and involvement in I'll Be Gone In The Dark?
Bright spots like Ana aside, life in Florida was pretty bleak for me. I always wanted out, but my resources were limited.
I grew up in an abusive and uniquely dysfunctional household. My father, already middle-aged when he had me, retired when I was ten, and my parents led small, grey lives without any momentum, devoid of social circles on either side. So I was never handed the tools to properly adult, and had a great deal of trauma instead. After getting my film degree and generally taking the path of least resistance again and again, I found myself unemployed and moving back home again at 28 — back into the same toxic environment responsible for the trauma that had derailed me. It was like pushing RESET.
This is when my growing fascination with the East Area Rapist/Original Night Stalker case took full hold, and I retreated into the safety of my obsession.
I began spending eight, ten, fifteen hour a day trying to identify this offender, using public records aggregators, digitized yearbooks, vital records, alumni lists, etc, in an attempt to identify this offender. It felt like a solvable case, and I believed (correctly) that these were angles investigators weren't thoroughly exploring. This grand puzzle gave me a feeling of purpose, and distracted me from what felt like a hopeless situation.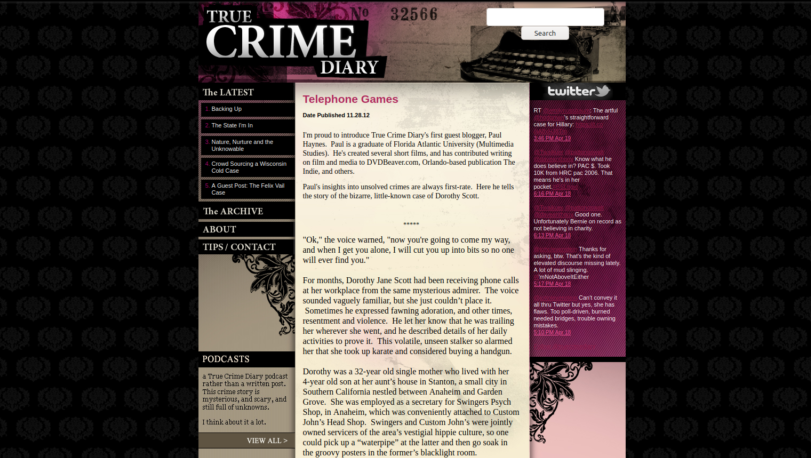 The documentary mentions that you met Michelle on an online forum for true crime sleuths. How did this acquaintanceship develop into a partnership and what was the thought process behind your decision to move to LA to work with Michelle full time?
I had been aware of Michelle and an admirer of TrueCrimeDiary, her blog, for years. I kept wondering when she'd finally write about the East Area Rapist. Once she did, I posted a link to her piece on an online message forum and we connected soon thereafter. It became quickly evident that Michelle and I were kindred spirits, and our work was so similar that we'd discovered some of the same potential suspects.
After two years of our having grown into unofficial investigative partners, Michelle wrote a feature for Los Angeles magazine that led to a book deal with HarperCollins. She invited me to become her research collaborator on the book.
I'd wanted to move to L.A. for years, but I lacked the immediate motivation and certainly the financial resources until that point. So my collaboration with Michelle was the catalyst I'd been waiting for.
How has your relationship with true crime media and the citizen detective work changed over time? You mention that you used to be embarrassed about it and wouldn't bring up your work on dates for that reason. Has this changed by now and if so, how do you respond to criticism of perceived ghoulish aspects within this profession?
On a fundamental level, I remain uneasy talking about the case and my role in it. I've always wanted to be in the public eye — just not for this.
So it's an uneasy push-pull embrace I've found myself engaging in, with the spotlight I've been thrust into. I never wanted to be a "citizen detective" and this is a label I have not self-applied. I think true crime as a genre is inherently exploitative, but there is also value in it and a need for it; it's a matter of finding exactly the right tone, and Michelle had a rare set of sensibilities that struck that tone. She was honest about her motivations, and I think that's ultimately the most important thing, and it's why the homicide investigators she worked with grew to trust her completely.
I'll Be Gone In The Dark features your involvement in the case and Michelle's research. However, it does not go into detail how hard it must have been to finish the work and maintain the voice of someone who has passed. Can you tell us how Patton Oswalt, Billy Jensen and you approached this daunting task?
Completing Michelle's book was a challenge. She didn't live to write about some facets of the series. One of my jobs was filling those blanks in chapters or passages that were presented as "pieced together from Michelle's notes."
Some of those segments were written almost entirely by me, and some were patchworks of Michelle's drafts and my own words; it was hard trying to write in a way that was consistent with her voice without trying to mimic it.
Billy Jensen and I co-wrote the third part of the book, and it was decided that we'd keep our own voices to a minimum, eliminating the first person as much as possible.
Before the many success milestones in the case, what was your relationship with the many law enforcement people featured in the documentary? Did investigators like Paul Holes and Larry Crompton share information early on and if so, what did they make of your work on the case?
Michelle did all the legwork in building her relationships with the investigators. My reputation was built through her championing me and my work, and on the quality of the work she presented. Following her death, I was merely the inheritor of her relationships with those investigators, who had already seen my work and were impressed by it.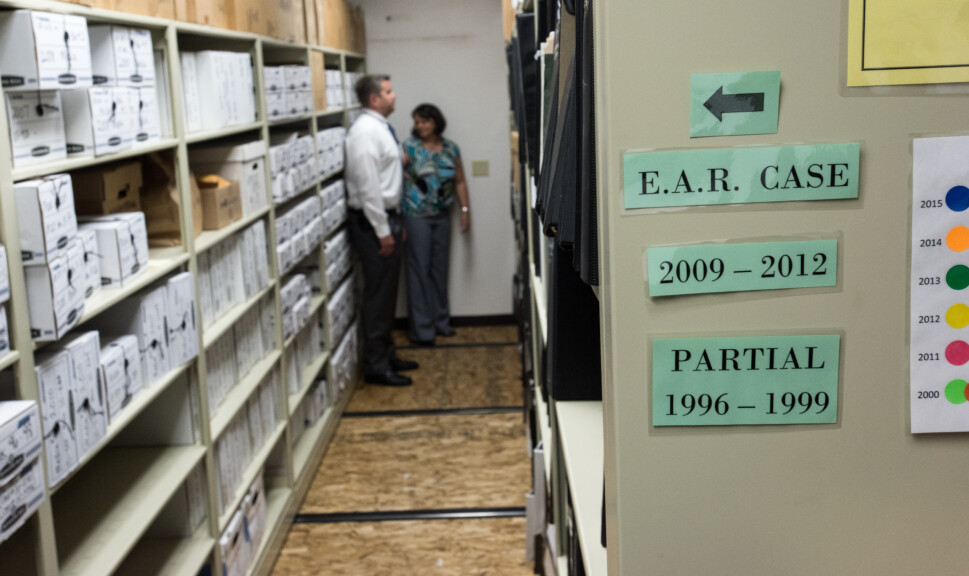 Now that this incredible project is over, what are your plans for the future? With an EP credit under your belt, did this production open new doors for you with HBO or Hollywood at large?
I want to move into writing, producing, and directing—my first and true love. I'd like to slowly transition away from true crime, if not entirely.
And doors are opening, sure, but the pandemic has all but shut down everything, so the momentum for new entrants like me has been significantly slowed by COVID.
I've heard that you have sources telling you that the alleged Golden State Killer, Jospeh James DeAngelo, was terrified of going to prison. Can you share with us any more updates on the case and the people involved, that did not make it into the documentary?
Since shortly after the arrest, the investigating and prosecuting agencies have brought the curtain down, tightly restricting what our contacts can and cannot share, so we've unfortunately been limited. However, I expect that the floodgates will open following DeAngelo's sentencing next week.
---
UPDATE: Since our interview, Joseph DeAngelo has been sentenced to life in prison without the possibility of parole. Ahead of the sentencing, three days in court were given to the survivors and family members of deceased victims of DeAngelo's crimes. Paul Haynes followed up on this development with a new article of his own.