The DOK Leipzig Film Festival completely lived up to its great potential as the biggest documentary film festival in Europe. It boasted 246 films in the program and over 41 000 visitors, either digitally or in person. After a number of smaller DOKs, under more acute pandemic circumstances, DOK 2022 brought back the creatives around the world behind these great films. Once more, it started a dialogue between the audience and the creators. This is what makes DOK so special.
Most festivals will invite directors or producers. Yet they never manage to achieve the balance of intimacy and the sheer volume of creatives willing to brace themselves for awkward questions and comments from the crowds. It adds a unique quality to each of these screenings that infinitely enhances the viewing experience. Arguably, each film is elevated in some way by the insights and the discussion that follow them.
To sum up our stellar impressions of DOK Leipzig 2022, here are three of our favorite films from the festival and what made them stand out.
Lest we forget, DOK is not only a documentary- but also an animation film festival. No other film shows the raw creative force of hand-made animation like My Love Affair with Marriage by Signe Baumane. The film is a very personal exploration of the director's past marriages and life across different countries and eras. This is interlaced with biological explanations of the protagonist's physiological and neural responses to her given circumstances, in Soviet Latvia and Denmark, after the fall of the USSR.
Baumane captures her life in unflinching honesty and detail.
She doesn't shy away from incorporating her own insecurities and shortcomings, as well as the many unfair challenges and hardships from her past. Meanwhile, the scientific interludes that illustrate her body's responses and inner workings serve to contextualize her experiences.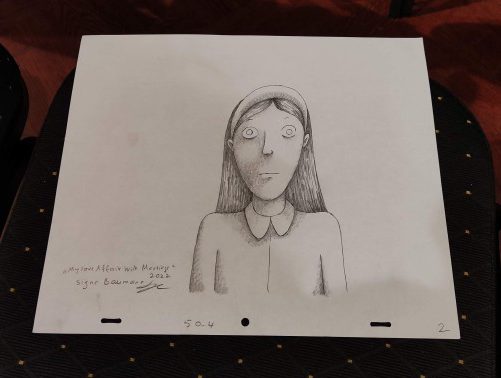 Hand-made animation is an incredibly time- and work-intensive endeavour. Signe was, of course, present at Schaubühne Lindenfels to explain some of the behind-the-scenes processes of the film. She was joined by her creative and romantic partner, Sturgis Warner. He crafted all the backgrounds of the film out of wood, and then covered it in papier maché and paint. Adding to the extremely affable nature of both her film and persona, Signe brought several sketches from the movie to the screening. She quizzed the audience on key parts of the narrative and rewarded them with unique prizes.
---
Wanderjahre is both a classic example of the power of documentary filmmaking and the result of years of filming and editing. It brings together some of the key qualities the format has to offer. We follow Agnes, a young, skilled chef, as she works her way through some of the world's most illustrious restaurants. She staged (chef speak for doing unpaid internships) at Michelin-starred culinary institutions in Bergisch Gladbach, Barcelona, and the Faroe Islands.
From Agnes' point of view, we learn the ins and outs of the hallowed halls of fine dining. The high expectations, the differences in kitchen culture and the incredible creativity at play in creating these artworks of cuisine.
Her journey seemed written in advance, with its ups and downs, as is often the case with greatly filmed and edited documentaries. The sudden appearance of Covid 19 added unexpected hardships on top of the demanding and unprofitable profession. This led Agnes to make new choices and finally to reach new heights of professional satisfaction. Wanderjahre walks along with her through all the good and bad. It manages to find the right degree of intimacy to stand as a great portrayal of both the industry at large and of Agnes as an accomplished chef.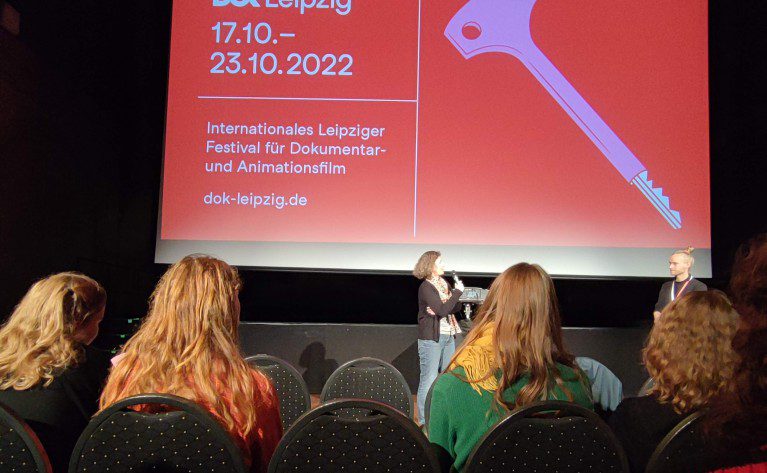 With stellar examples in both feature documentary and feature animation, the final highlight we want to showcase from DOK Leipzig 2022 is a documentary short film. Clocking in at just 20 minutes, Favorite Daughter spans the lives of three generations of women.
The director chronicles the cohabitation of her mother and grandmother during New York's quarantine restrictions during the pandemic.
We get to be the proverbial flies on their New York apartment's wall through all their squabbles and routines. Listening in on their musings on life and their daily annoyances with it. Director Dana Reilly swiftly cuts between deep insights and hilariously ribald asides. Both her mother and grandmother are fascinating subjects. By the end of the twenty minutes of runtime, the viewer wishes this was a long documentary series instead of a short film. However, tragically, 90-year-old grandmother Sylvia passed away shortly after filming wrapped up.
Looking back, DOK Leipzig 2022 has been as diverse and engaging as the best installments of the festival I have attended. It's a welcoming place for both the obscurely specific and the pressingly important. DOK's balanced selection and expert moderation make each screening a unique live event. Be it in the small places, like Passage Kinos' cozy Wintergarten, or the larger venues like Schaubühne Lindenfels or Cinestar's huge screen. DOK Leipzig turned our cinema landscape once more into a truly international film festival.