It was carnaval in Rio de Janeiro, February 2010. I wasn't interested in hooking up. Though this is what you usually expect when you're single and out during the "let it all hang out" week of the year in our largely Catholic and sex conflicted Brazilian society.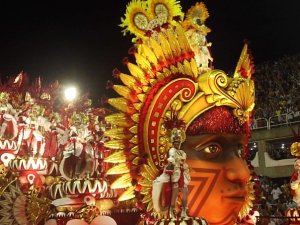 This is also what most of the women around me wanted to do, and I didn't fit in; I simply wanted to see from up close the samba schools I'd grown up watching parade on TV. Although they're from my hometown, I'd never gotten a chance to see them live.
It took moving to the U.S. and a stroke of good luck knowing the right people at the right time for me to land right next to where the samba schools roamed, along the Sambódramo… so close I could almost touch them.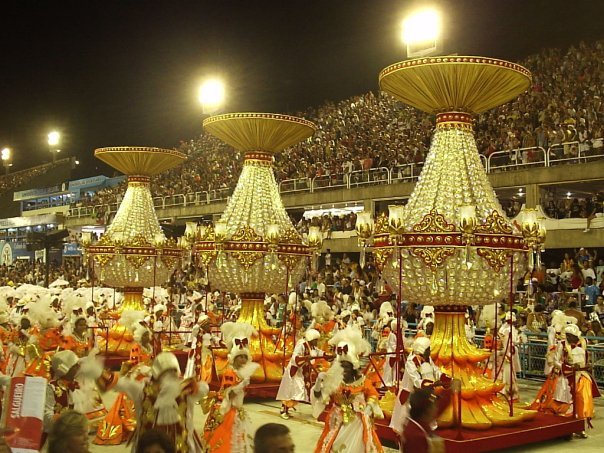 For most of the time, I was mesmerized by their sight. Except for when I spotted this guy.
Not that I'm a fan. It was just so funny and incredible that it was precisely this Hollywood actor passing in front of me. Perhaps he thought it'd be easier to escape the paparazzi in Brazil; but unluckily for him, I had a running infantile gag with a friend involving dating him – for some reason that I can't remember anymore – so it was absolutely essential that I get a photo with him and e-mail it to her, writing, "See, I told you so."
Not my shiniest moment, and one captured on selfie: You can see the look on Gerard Butler's face (cover photo) when Random Chick Me accosted him with inane comments about him as the Phantom of the Opera and something about living in the U.S., too, then asked to take a picture with him.
Needless to say, he didn't grant the retake I asked for after I realized I'd come out looking like I was yelling or about to try to take a bite out of the poor guy, who was apparently just trying to have a good time without being bothered.
It wasn't so hard a feat for me to annoy the shot out of him.
All I had to do was watch his movements for a while around the Camarote da Brahma – the super-coveted VIP lounge of the Brahma Brazilian beer brand at the Sambódramo – and move in on him when he appeared to be alone and distracted. As speedily as he could, Gerard went away to chase some shorter (model) skirts and left me there, hanging, as if we hadn't shared such a special selfie moment.
I drowned my heartbreak over Gerard with mug after mug of dark and light beer flowing out of taps like milk and honey – and all for free for me. To be in that VIP lounge, you're either at least semi famous, rich or you know somebody who is. I fell into the third category.
An incredibly generous and famous friend of the family got me in, along with some of her own relatives and close friends. She owns that carnaval lounge.
They also took me to a carnaval party for the Brazilian beer brand Devassa, marshalled by Paris Hilton, and to a techno party we ran away from when gun shots rang out.
Meters from us, on the dance floor, someone had been murdered in a jealousy-motivated crime. But in the VIP lounge, it was all peace and samba sprinkled with booze and electric hormones.
The highlight on that brief carnaval trip was definitely making a new friend I've managed to keep until today, and my two nights in a row in the Brahma VIP lounge. As Average-Looking Middle-Class Random Chick with Subversive Tendencies, I felt intense satisfaction being there where I didn't belong, properly credentialed, rubbing shoulders with the red-jerseyed bourgeoisie.
We all had to wear the same Brahma shirt in there, though different people cut and decorated theirs in different ways. Madonna and her young then-boyfriend, Brazilian DJ Jesus Luz, were there. Rodrigo Santoro was there. I didn't get a chance to see how they'd cut or decorated their shirts; and if I had, I wouldn't remember.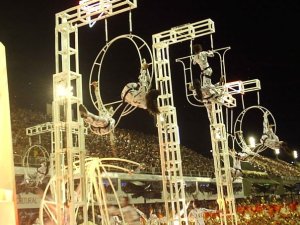 I was a complete outsider to that world. It was nice to be able to saunter in and then leave when the time came. Long ago I had a chance to try to join it via the music scene and connections but decided it wasn't for me.
I'd grown up with well-known parents and been taken in my earlier years to some high-profile meetings and gatherings, but that had been another life, and one where I'd felt more like an appendage than a participant.
Some really nice pics to look at, though, I must say.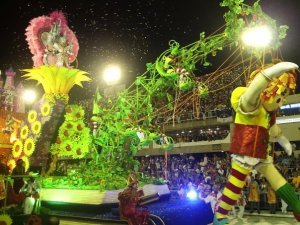 In the morning it was all over, like I'd been in a dream. And I was just fine with that. I caught the plane back into North Carolina winter and routine with a smile on my face, and memories of ephemeral glitter and color to hang on to when the going got tough in my cubicle – such is, anyway, the nature of carnaval for us mere mortals.