When I lived in Wrocław, I went on a day trip with friends that included the Adršpach-Teplice Rocks. They cover 17 square kilometers in the Czech Republic, close to the Polish border. By car, it's less than 2 hours from Wrocław, 2.5 hours from Prague, and 4.5 hours from Leipzig.
It was a splendidly sunny day, which helped imprint the experience in my memory. The landscape was still frozen (and gorgeous), for spring hadn't quite moved in. It was like that bit of warmth breathed life back into me, after a long winter of riding my bike to school and drinking vodka just to stay warm and hydrated. (Poor little me.)
The weather that day made the unusual, fantastic shapes of the sandstone rocks perfectly crisp.
During our hike, we played a fun game of what the rock formations looked like to us. I'm sure a lot of people do that when they're there. I remember many of the rocks as looking like giants – with faces. Or like dinosaurs, or enchanted creatures. Jabba the Hutt may even have made a guest appearance.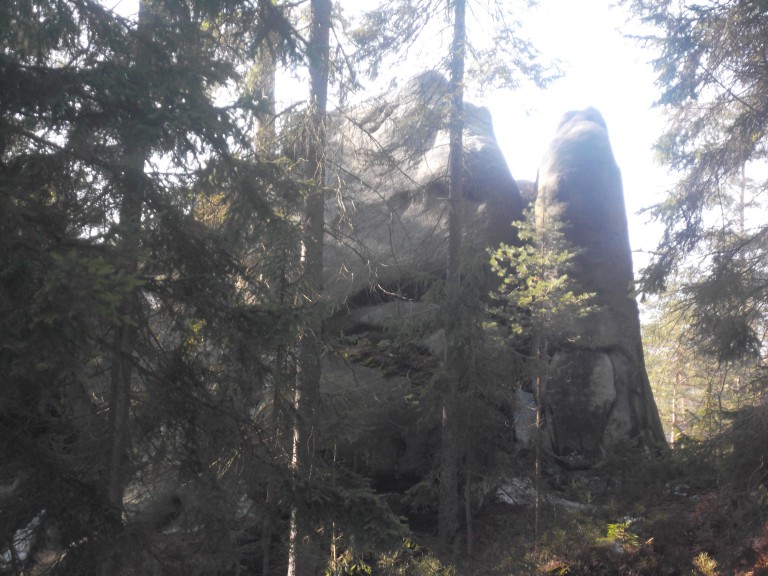 Other parts looked like castles, fortresses or villages – inhabited by the giants – made entirely of rock. And yet others, like floating islands or huge oceanic rock passages, as if in an adventure movie. Yes, imagination tends to run wild there. Apparently, we can thank the Metuje river for sculpting them, and imagine that there were once otherworldly residents around.
"Adršpach and surroundings were [long] known for their mysterious stories full of pixies, robbers and witchcraft," says one website.
Judging by the inscriptions on some rocks, people had been visiting the place for a while and held it as somehow special to them. At least special enough to merit spending some time on the carving process. But I hadn't heard of the place before our little tour, and didn't carve anything. I'd forgotten my perfectly calligraphic pick back in the apartment. On second thought, I wouldn't have done it anyway, because I don't agree with defacing nature. God – or the River – didn't make those rocks for us to write on them. Plus, I don't need the rocks to remember me; it's enough that I remember and cherish them.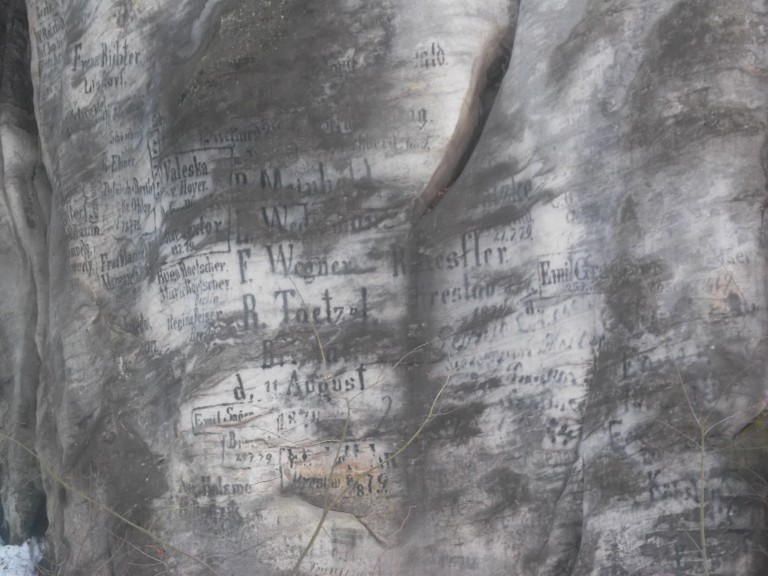 Today you can run into hikers, bike-riders, rock-climbers and even rock-jumpers at the protected nature park, or do those things yourself (though I wouldn't recommend the rock-jumping). I've even heard that peregrine falcons hang out and get busy there.
The site Trip Advisor ranks the Czech rocks Number One out of "50 things to do in the Hradec Kralove Region." Indeed, the Adršpach-Teplice Rocks were my favorite part, the grand finale of a fascinating, diverse excursion.
Earlier in the day, in Poland, we visited an old Nazi underground railroad built by labor camp victims, and which could be hiding sizeable treasures; and one of the two surviving Churches of Peace, the one in Świdnica. After the Peace of Westphalia in 1648, Lutherans "in the Roman Catholic parts of Silesia were allowed to build three churches from wood, loam and straw outside the city walls, without steeples and church bells." They did an incredible job, considering they only had one year to do it.
There seem to be so many precious bits of history and nature within a few hours' drive of Leipzig. While in this part of Europe, I'd take the opportunity to explore as much as possible. I'd grab a car (legally) and hit the open and inviting road with a bunch of overenthusiastic something-or-other buff type friends. If not, trains should work, though in Poland they tend to take their time a little bit more, so you can savor the landscape on the way.