Whenever I start deeply moping over a breakup, I find a way to travel. Even if only to the next town. And sometimes alone, since I do enjoy the freedom.
I somehow never feel lonely when walking the streets of a city I'm just discovering. It's exhilarating to me, even when that familiar dull ache is installed inside like a computer virus. The combination of pain, an exciting new place, nightlife and exciting new people tends to put a further glitch in my system. I feel good, blissfully careless, until the evil twins Hindsight and Hangover come by the next morning. But by afternoon, a fresh round of sightseeing has once again soothed me.
Unhealthy cycle? Likely yes. Fun? For much of the time.
So, in the spirit of clickbait…
These are a few of my favorite European cities for post-breakup escapades:
Tallinn, Estonia
I don't like laborious travel right after a breakup. I like going somewhere that's scenic and easy to walk around, and where I can readily find tasty, affordable food and drinks. The Baltic gem known as Tallinn has it all. In euros.
Take a free walking tour. Try the seafood. People-watch at the many public spots where you can sit and relax. Jump on the free WiFi. Talk to the locals. A lot of people speak English there. And they're so lovely.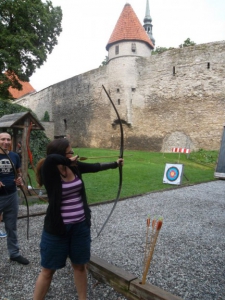 There are so many cool little bars and restaurants, and hostels within walking distance.
I was in such a good mood while in Tallinn that, instead of thinking about my breakup, I thought that it would be a great place for a bachelorette party. Apparently, many others have thought something similar. Which is not always nice, especially for the locals, who have to routinely deal with the rowdy, horny drunks unleashed on their city.
I arrived there on a ferry from Helsinki. My time in Finland, and previously in Denmark, had been filled with crazy romantic ups and downs. But I was ready to meet some more new people, and feeling confident. I spotted a cute guy with a backpack on the ferry and approached him on our way out. He was French and only in Tallinn for a day. We checked into the same hostel and spent the day hanging out together.
The highlights were definitely walking around the city's medieval wall, doing some archery, and bar-hopping in the afternoon. The next day, after he left, I indulged by eating an entire, absolutely scrumptious fish on my own.
If you have some time, hop on over to neighboring Riga. Air Baltic makes it easy to combine them, which I did on my way to visiting a dear friend in Hamburg. Unfortunately, I only had 22 hours in the Latvian capital, but it was enough to meet two people I'm still in contact with. And to go on a pub crawl in which I happened to be one of two women among 25 men, all of them hot (I'm not kidding).
Hamburg, Germany
There are so many highlights from my post-breakup time in Hamburg that I don't even know where to start.
Let's see. The best baked potatoes I've ever had (and I'm not the only one). My first time drinking my absolute favorite shot, the Mexicaner (downed so many of them in St. Pauli). Jumping into a photo booth with my friend and a random guy. Walks down the harbor and across Hamburg's industrial-like beauty. My friend and I winning two bottles of Prosecco for kicking ass at karaoke (also in St. Pauli).
Oh, and pole-dancing lessons.
That's right. My equally party-loving friend, who is in the German Navy, took me to a fellow soldier's bachelorette celebration. The girls were very friendly and generous, and brought me along on all their activities, although they'd never met me before. That included the pole-dancing lessons, which the bachelorette totally mastered, and I totally sucked at. That stuff's really HARD.
We then changed into our nightlife clothes, and the bride-to-be donned a bunny costume. It's German tradition for the bachelorette to sell trinkets on her pre-wedding romp. She started at the Hamburger Dom in the early evening, and ended late at night near the red light district. She was so good at it that she made €25o and bought us all shots all night.
We were nice drunks, though. Still, if I ever were to have a bachelorette party, I'd choose Tallinn over Hamburg, because Hamburg nightlife might be a little too crazy and overwhelming for me then. Or maybe I'd choose Athens.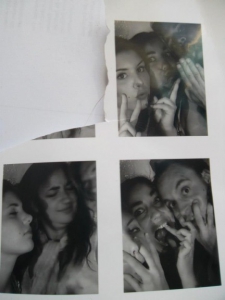 The three nights besides the party, the city carried us in its Bohemian wave to various bars and clubs. We slept all day and played all night. The downside is that when I got back home, I was exhausted, and had to move to another city (Leipzig!) some days later from Wrocław.
Athens, Greece
I didn't go to Athens right after a breakup, and I did have lovely company there (wink wink). But you can go with friends or go alone, too, and it's still pretty much guaranteed to get your mind off your difficult phase.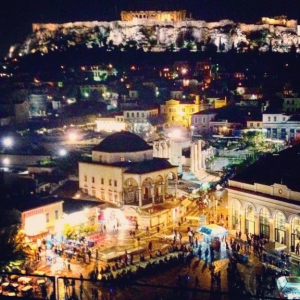 In short: Bakery goods tend to be amazing, especially chocolate balls. Greek salad became an addiction, and we regularly make it at home now. It's normal to get free drinks with your food at restaurants. Some of the metro stops are as beautiful as museums, and needless to say, the city itself is a huge open-air museum. Students get into the Acropolis and other historic attractions COMPLETELY FOR FREE. The city pulsates with bountiful live music and seemingly endless options for delectable food and (very late) nightlife. There's plenty of streetart to gawk at.
The Greeks were some of the nicest people I've ever met on any travels. We managed to have interesting conversations, because we could communicate with everyone we met in English. I usually hate shopping, but spent hours browsing the little shops near the Acropolis. The products were high-quality and the vendors were friendly and attentive, but not pushy. I did my whole Christmas shopping there, and the unique Greek spirits I brought my father were his favorite present.
With that said, tourists do tend to get the better side of things. Life has been difficult for the locals, to say the least, during the Eurozone crisis. There were protests and strikes almost every day we were there, which disrupted the transport system (but that was really a minor issue for us). We had to walk a long way when our bus from the airport had to stop well before it was supposed to, due to the crowds, placards and police. However, as luck would have it, that led us to meet two cool fellow tourists – an Indian and a German – with whom we got to hang out one night, eating gyros and souvlaki and drinking cheap wine from a plastic bottle. After dinner, we went with them to look at Athens from a rooftop bar.
We also lucked out with our Airbnb – a local woman's guest bedroom for €17 each per night. We stayed in Thissio, one of the nicest neighborhoods in Athens, and could not only see but also fairly easily walk to the Acropolis from there. We spotted plenty of places to eat and chill right out the door. Our Airbnb host went out of her way to provide us directions to her place and all kinds of recommendations. We had a long conversation about feminism, prejudice and politics in Greece. She made us tea and offered us drinks from her fridge.
My travel companion and I went on a daytrip from Athens I highly recommend. We took the metro to the port city of Piraeus and then took a short ferry from there to the island of Aegina, where we visited the Temple of Apollo. Gorgeous scenery there, and right at sunset. Back in Piraeus, we had a very tasty wine and seafood dinner in the marina area, where you can find quite a few apparently good restaurants.
On a final encouraging note, if you're still not convinced you should visit soon (whether or not you need a post-breakup antidote): I flew Berlin-Athens-Berlin for €26 with Ryanair. It was in November, when the weather was just perfect (not too warm or cool). Got autumn plans yet…?
Wrocław, Poland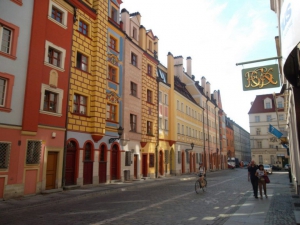 For almost the whole year I lived (and routinely partied) in Wrocław for my Master studies, I didn't have to deal with a breakup. My long-distance relationship came apart the last few weeks I was there. Almost immediately, a switch went off in my brain and told me I must not wallow in misery – although, on top of having let go of someone I loved, I didn't know where I'd go next or what I'd do. My scholarship money and residence permit were both running out, and there had not yet been any concrete job offers on my search.
In the midst of limbo, I kept playing a certain party song on repeat and dancing around my room. It still brings me memories of that time, and the dear friends who helped me climb out of my emotional hole.
Then I took the dancing out on the town. I knew the city like the palm of my hand, but discovered it all over again. The girl I'd met at the hostel and pub crawl in Riga came to visit me with another guy she'd met on her travels, and I showed them around. I made sure to go to all my favorite spots that summer, because I knew I'd have to move from Wrocław soon: Lewitacja and Szajba for dancing. Speakeasy for cocktails. Czeski Film for pierogi and beers. Głuchy Telefon for karaoke. Przedwojenna for cheap 3 am snacks and last drinks.  Mleczarnia for brunch. Green Way for lunch. Hala Stulecia for a high-tech fountain show. The vibrant, bar- and restaurant-lined Rynek for just about anything – including film festival showings on a huge outdoor screen and a fan zone for the European Cup, which was co-hosted by Poland that year.
With that city, it's true love for me. Nothing I ever write about it will fully transmit my feelings, or capture the hundreds of memory bits I still hold and cherish (some of them fuzzy). I keep returning any chance I get – breakup or non-breakup. I want you to know it, and fall for it, too. Poland's European Culture Capital 2016…
You're there for cheap, and within several hours by land, if you catch a Meinfernbus from Leipzig to Berlin ZOB, and then switch to a Polski Bus. There's plenty of affordable accommodation, including very nice apartments overlooking the Rynek.
Got trip suggestions of your own? Please share them with us on Facebook, @leipglo.