I bet you don't sit around on a Sunday and think, "Gee, I really wish I could go and get lost in a corn labyrinth." I don't usually, either, but that's what my boyfriend and I did this past Sunday. Just for the hell of it.
I don't remember how he came across this unique opportunity. He mentions it off and on for a few weeks, until he catches me off-guard. Without wanting to bother looking for a better idea (although we publish a list of them), I agree to go.
Next think I know, we're on an S-Bahn to Frohburg, and I'm asking him repeatedly: "What's the purpose of going in a corn labyrinth?" But I know the question itself is pointless, now that the 45 minutes from Leipzig to Frohburg have almost passed.
When we get off the train, he reveals to me that we have to walk at least 2 kilometers to the corn labyrinth. No buses go to the labyrinth from here on Sundays, he tells me. I can feel a couple of raindrops falling on my skin, and the weight of busy days and nights poorly slept. But the idea of having wasted the trip, or having to wait in the desolate train station for however long, is somehow less attractive.
So off we go across the bucolic landscape.
We walk for some minutes and exit Frohburg. We're on the highway with the cars and what looks like cow dung on the sides for some minutes, until we enter Benndorf. I try to approach some sheep but they're camera-shy (though I manage to sneak a pic). It's ok because there are plenty of scarecrow-type dolls to take pictures of: one is behaving like a tourist, others are handling heavy machinery or just chilling. I walk up to a resident and ask what's going on, and he tells me they're doing this as part of the village's 800th anniversary celebration.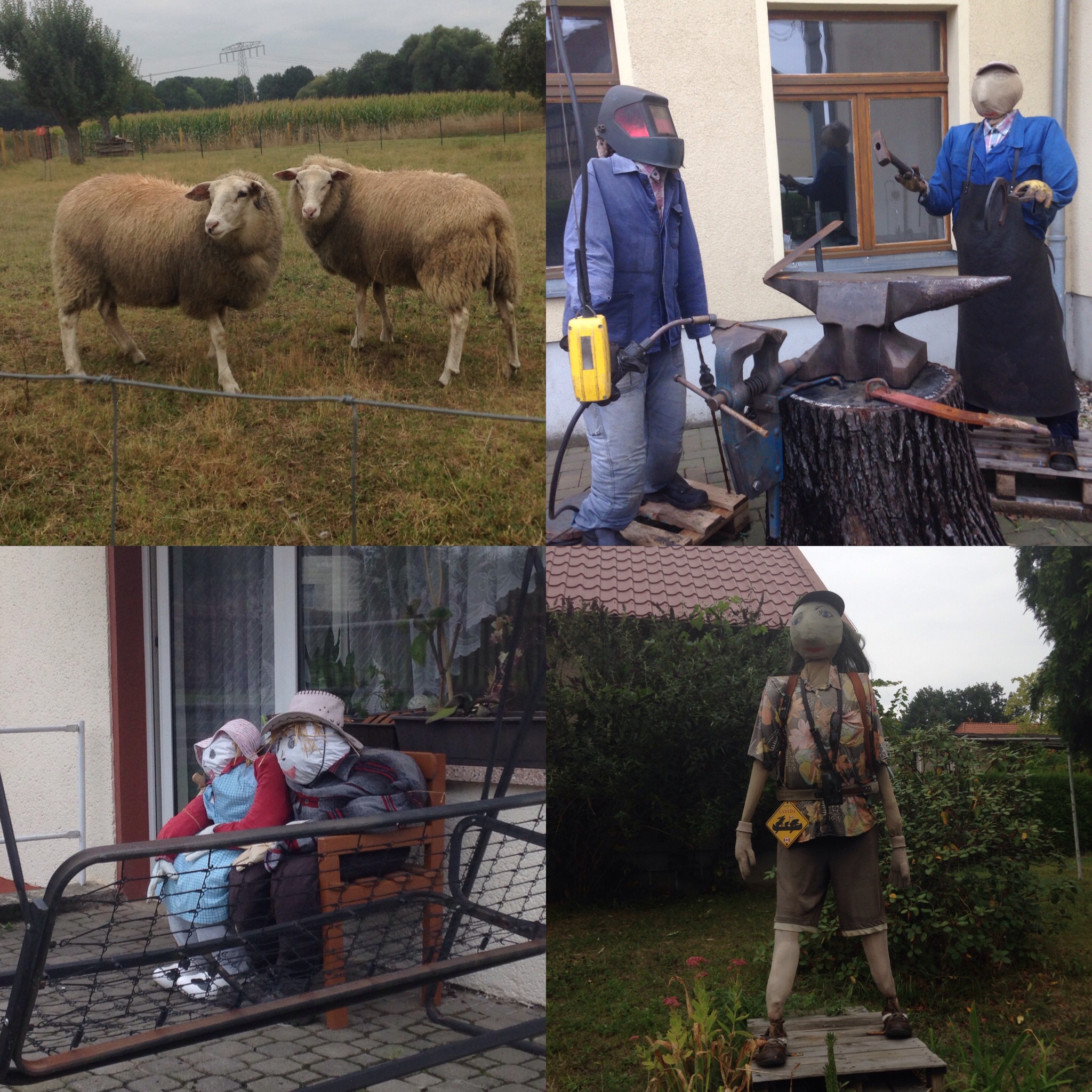 We cross what seems to be all of Benndorf and some more countryside, until we get to the Maisterlabyrinth (pun intended) on a farm. My boyfriend tells me you can pick berries from the surrounding fields in the summer, but right now it seems like the corn labyrinth is it. Plus the little stand that sells sausages, ice-cream, their farm-made mustard and tickets to the maze; a few long wooden tables; and ToiToi toilets. It turns out on Fridays and Saturdays, you can stay in the labyrinth until midnight. Unlucky for us, Sunday would only allow us to stay until 8 pm, so we couldn't possibly get desperately lost in pitch-black.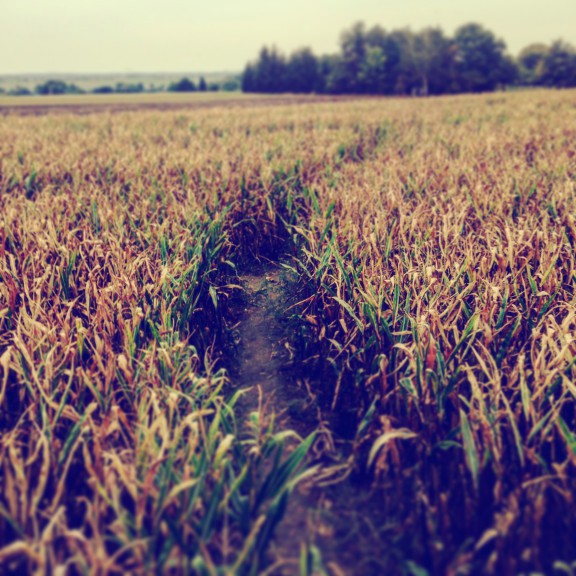 The nice girl who sells us the tickets – €4 apiece for students – gives us each a paper slip with games. The corn maze also features a scavenger hunt. Some of the hunt revolves around their mustard, finding posts with clues to answer the multiple-choice questions about it. There are also posts with stamps, others with smells you have to squirt with a lever and guess: basil, thyme, peppermint. We did ok, although we gave up on finding the last two posts when we started going too much in circles and the raindrops started getting bigger.
We were tired, but in a good mood in the labyrinth.
At first, I felt bored going through the maze. I also thought about the way back – another 2 kilometers on foot, possibly in the rain. But then I realized how much I appreciated being away from my phone (except for taking pictures) and the computer for an entire afternoon. And when there were just a few posts left to find, I really wanted to find them. I can imagine people going in teams and becoming competitive.
I saw a little girl and her dad running through the maze and giggling, and a couple trying to strategize -"I go there, you stay here." Two families had gone there en masse.
The corn field looked forlorn and the corn was no good for bringing home and eating. But the maze was cute and endearing in its simplicity. It had no gimmicks, no rides, no special effects. I'd imagine it's a relatively low-maintenance way to make a little bit of money. So, good for them. And good for us for getting the exercise, and cleansing the mind a little from all the megabytes. It's just us and the corn and the path and a few posts and people.
It's not often you find places like this so close to the city anymore.
The Maisterlabyrinth will remain open until 25 September this season. For more information, visit their site.