If you are hooked on fascinating Venice and its treasures, then you are probably an admirer of such painters as Francesco Guardi, who immortalized the city's great buildings. Or of Pietro Longhi, who brought to life scenes from everyday life and the Venetian Carnival much as Goldoni did with his plays. Or of Canaletto, the quintessential artist of the Most Serene Republic, active in the 18th century.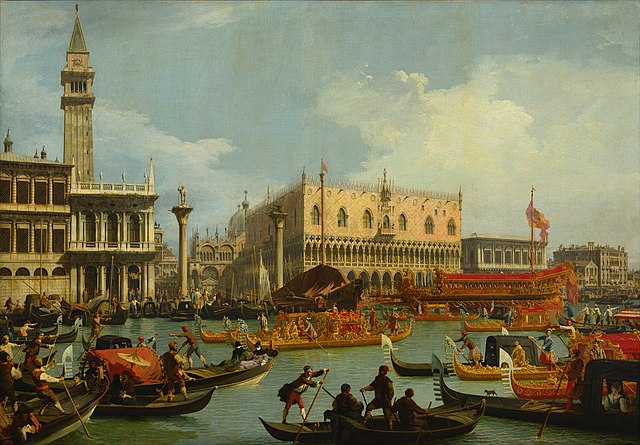 Canaletto's iconic paintings depict the majestic Italian city that was literally planted in the sea, its gondolas and palaces spreading out into glorious panoramas. The emblematic white churches with their domes resembling fluffy wedding cakes and the Bucintoro barge on which the Doge River would wed the sea once a year were his favourite subjects.
But few people know that Canaletto had a nephew called Bernardo Bellotto who worked in what are today Germany and Poland, and that in these countries he used the name Canaletto as well, hoping to cash in on his most famous relative.
Bellotto was an accomplished painter himself, but remained forever lesser known than his uncle, who was also his mentor. According to Wikipedia (with its wealth of knowledge on artists), his "early work bears strong features of his uncle's style, becoming more individual and distinguished in later years with clear inspiration of Dutch landscape painting with massed clouds, cast shadows and rich foliage. His colouring is colder and characterized by a steely grey."
Those poking around the small town of Pirna near Dresden can learn that Bellotto had created a painting of the high house with a characteristic roof, which has since been turned into the Tourist Information Office.
Pirna is worth a visit, also thanks to the very interesting Marienkirche with its original ceiling paintings, an old school for girls and other sites. Its location is also convenient for those wanting to explore the region's alluring hiking scene.
Built on the river Elbe, Pirna can be a cultural stop for visitors to the nearby "Saxon Switzerland" – the latter with various interesting rocky formations and breathtaking views. It can all be done as a day or weekend trip from Leipzig.