Anne-Marie Flammersfeld once met a crazy-sounding guy while traveling in Tierra del Fuego. The Norwegian told her he wanted to run through the Antarctic Desert. All she could imagine at first was pain and frostbite, not knowing the effect his idea would have on her.
Gunnar was the guy's name, and he gave her a parting gift, a note with the words "racing the planet." The words kept echoing in her mind. Soon they set her "on fire," like Gunnar had been. She never forgot that random encounter.
Although having studied sports science, she hadn't been a running enthusiast before then. Yet Flammersfeld decided she not only wanted to do it, but do it all the way, which is unusual. That meant racing not through one, but through four deserts. Within one year. With 10 months to train.
Yes, it's actually an organized thing, and they give you water and tents to share with other racers. But beyond that, you have to fend for yourself, in the Sahara, Atacama, Gobi and the grand finale, Antarctica. Getting nearly scorched, wind-blown or frozen, depending on the desert, her only option was to keep forging ahead: she ran 1,000 km combined, and also managed to beat out all other female racers. On the way, she had mirages of Gunnar.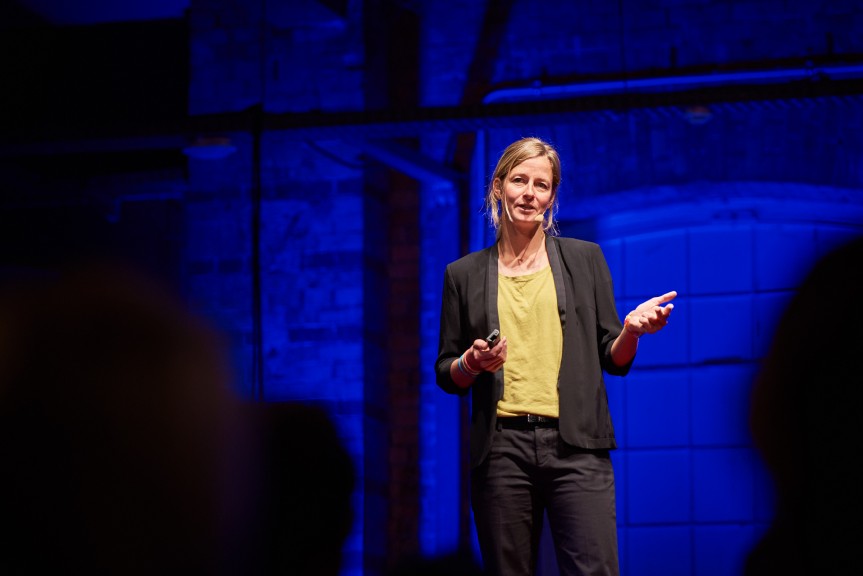 She told the audience at TEDxHHL in Leipzig that Gunnar was her "ripple effect," and encouraged us to find our own Gunnar.
Flammersfeld, a personal fitness coach based in Switzerland, was one of 10 speakers to take the stage at Werk 2 on Thursday, 19 October. "The Ripple Effect" was the umbrella theme for the diverse talks – all of them in English – delivered to the sold-out audience at the intense TED-like event, which must also show TED Talk videos between speakers presenting live. Students from the HHL Graduate School of Management, along with other volunteers from the community, organized the event in Leipzig for the third year, working on it since January.
Dirk Brückner, the event's host for the second year in a row, tells me he has noticed its quality rise as more experience is gained organizing it. He knows very well how to improvise and connect with an audience, and coached some of the speakers himself, closely observing the results afterwards. Brückner passes his techniques on to presenters professionally as co-director of the Leipzig-based company nrich and president of the local German Toastmasters.
TEDxHHL gives students the opportunity to network with the community and get practical experience beyond the campus sphere, says Adrián Fallas, one of the heads of the event this year. Fallas, who is from Costa Rica, is about to graduate with an MBA and pass the baton to a new crop of organizers.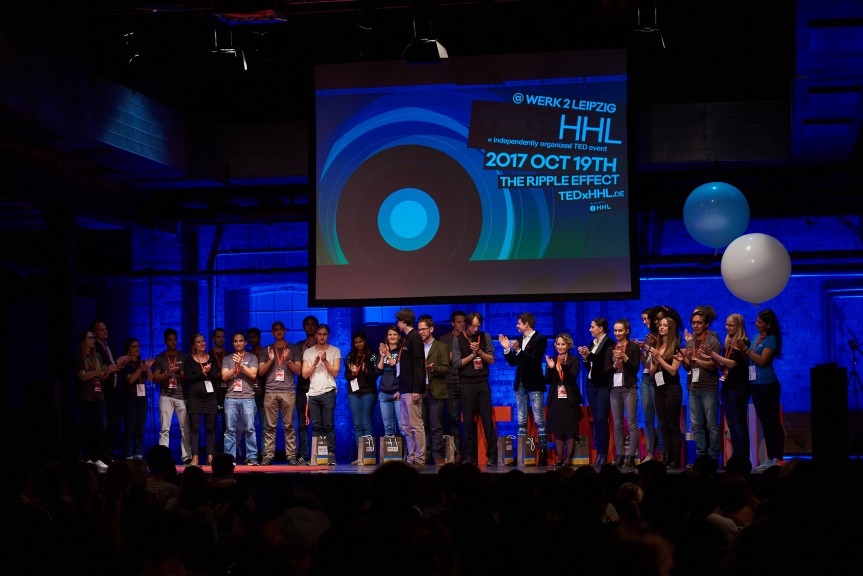 Among those ready to pick up the tasks is Nataliya Demyanenko, a new HHL student who hails from Russia. She moved to Leipzig a little over a month ago and immediately jumped into doing marketing for the event, hoping to become involved from the get-go for the 2018 edition.
The crew splits up into teams, one of them tasked with identifying and selecting potential speakers, who all come and present on a volunteer basis.
Demyanenko says she particularly likes the fact that four of the speakers were women this year, all of them sharing empowering stories involving their own "ripple effect:" Flammersfeld, Giulia Mutnoni, Martina Neef and Anne Kliebisch.
Mutoni shared a very personal, courageous account: turning her battle against breast cancer into an experience of rebirth and the chance to pass on her message – not only of survival but also of transformative personal growth – on a broad scale. Neef (Rock It Biz) talked about teaching schoolchildren to be entrepreneurial and erasing gender-based boundaries from early on. And finally, Kliebisch (Mein Grundeinkommen) told us how she left her stable but potentially dull job for a more fulfilling – and riskier – enterprise involving giving an increasing number of people basic income through crowd-funding to ease their burdens in life.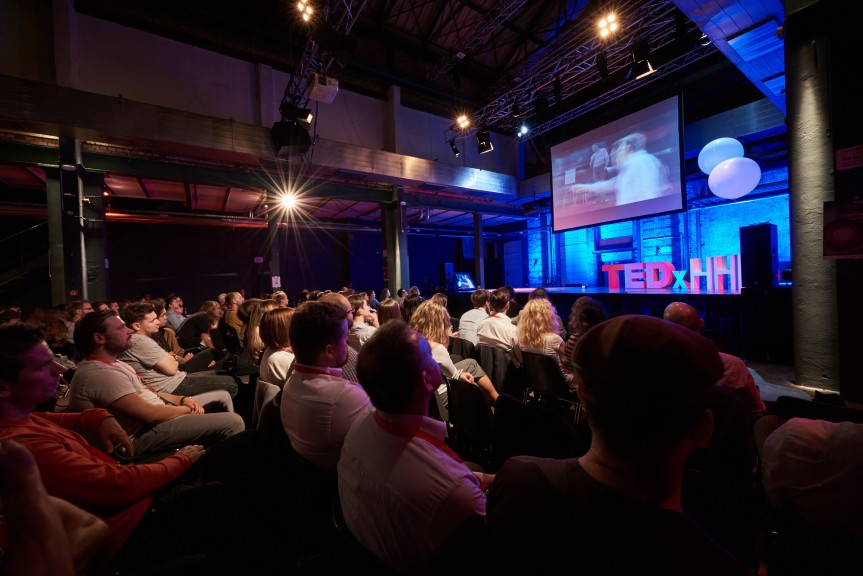 Kliebisch noted how hard it is, at first, for people to accept that the money comes with no strings attached, but how doing so represents a kind of freedom they'd never known before. The stress release has even led to physical illness clearing up for some.
The men also represented an array of backgrounds and perspectives.
As this year's opening speaker, Raphael Fellmer urged the audience to "be the drop that starts the ripple." He has been a "drop" himself, in fighting against food waste. To draw attention to the cause, he practiced "dumpster-diving," traveled long and far without money, and went on a "money strike" for years.
But Fellmer's "dogmatic" lifestyle took a toll on his family, and he emerged from it with his wife's support. So he channeled his activism into founding the startup SirPlus, which sells discarded but edible food at discounted prices in Berlin. He has helped set off the food-saving movement that has gone international.
Not far from the topic of Fellmer's talk, the also Berlin-based Philipp Buddemeier (Accenture) brought us full circle at the end of the program to sustainability ("net positive" vs. "net negative" living based on our choices). He focused on the notion that we can cause a "ripple effect" by realizing our agency as consumers and (potential) entrepreneurs and channeling our skills into preserving resources in the economy.
Earlier in the afternoon, 2b AHEAD researcher Kai Gondlach had taken us through an optimistic view of the future: one in which scenarios of doom and gloom are unlikely and Artificial Intelligence (AI) "is what we make of it." Meanwhile, according to another speaker, Nils Seger (RCKT), German businesses lag behind in terms of digitalization – a trend already of the present, rather, as 6 out of the 10 biggest companies in the world are now digital platforms.
Rounding out the list of presenters were a medical doctor and a macroecologist: Dr. Julius Emmrich and Dr. Marten Winter, respectively.
Emmrich is based in Berlin but left his heart in Madagascar, having founded the non-profit Doctors for Madagascar to help build up healthcare infrastructure there. His dream is that hospitals in the African country, one by one, keep subscribing to a system where money transfers happen via mobile phone – which is more accessible to Madagascans than having a bank account – so that no more patients will die for being denied care.
On another topic entirely, Winter, who leads the sDiv Synthesis Centre locally, shared alarming insights regarding "alien species" on earth. Human beings have interfered with nature and spread animals out of their native habitats, which has ranged from marginally beneficial to causing one trillion euros per year in damage due to interactions with species in their new environment. It's a gigantic "ripple effect" we should be aware of, as we could also be agents by bringing even tiny organisms from the outside in (a shoe caked with mud can host a whooping 10,000 living things).
Music provided a respite from the harsh realities, responsibilities and possibilities of science and modernity. With their ethereal voices and guitars, British singer-songwriters Sobi and Tom James transported the audience to the realm of intimate emotions and connections. Hopefully they'll come around this way again.
---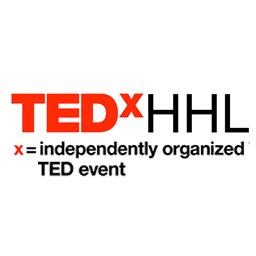 For more information on and visuals from TEDxHHL, visit their website.