Hearing that the Leipzig branch of the iconic Karstadt is in danger of closing saddened me. I thought back on my own history discovering the ins and outs of Leipzig, over a decade ago.
My favorite building in town is the Blechbüchse (lunch box), which now houses part of Höfe am Brühl. It is all things I consider wonderful. It's shiny and magical and very European. Of course I wanted to go inside. I used to do window display in a department store and expected something spectacular.
Sadly, once inside, it was anything but modern. It was shabby. I did, however, manage to find a pair of textured hose on sale. I still have them. It's not because I never wear them. It's because they are good quality.
The store was Karstadt.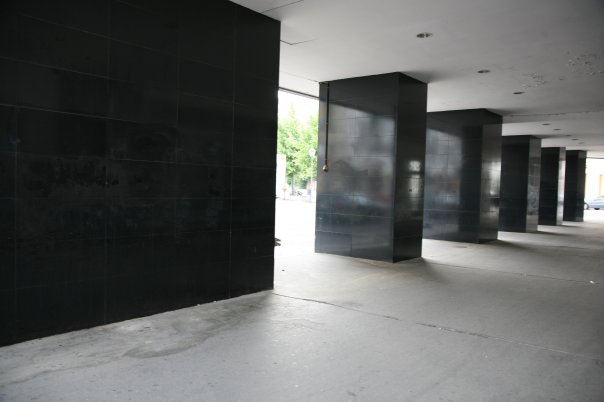 And that is what Karstadt has meant for me. It has been my go-to for things I need and can't find other places. I got my dishwasher there and my refrigerator. I've bought flat sheets there and fabric. I got really nice outdoor folding chairs there. The list goes on and on…
I remember when they opened the new location in the city center, and people's excitement when they saw the 27 meter fountain dance for the first time. Every floor was crowded with faces as they tried to get the best vantage point.
Later, in 2009, I heard Karstadt was filing for bankruptcy. The department store is a bit of a dinosaur in our day and I was worried it would close. I was happy they found a way to remain open then.
The first Karstadt actually opened in 1881, in Wismar. They merged with Althoff's in Leipzig in 1914, at the break of World War I. There had been problems with getting goods, and people had little money.
The Althoff stores became "Karstadt" in 1963, renamed after the brand's founder. During the GDR, the branches in East Germany were expropriated, and returned after the wall came down.
Now the Leipzig branch is in danger. The current landlords have raised the rent 68% starting in April 2019. The store has survived two world wars, socialism and online shopping.
But will gentrification close it?
Will Karstadt be here for future generations?
Well, there's at least one millennial who hopes so. Adelin Streicher, an intern, has started a petition to save the store and the jobs of the 400 people who work there. It had 1000 signatures in the first two days.
She is worried that many of their long-time customers aren't as internet savvy and haven't even seen the petition. She has organized something everyone can see and, hopefully, be a part of.
On Wednesday morning, 9 May, between the hours of 9:00 and 10:00, Leipzigers will form a human chain around Karstadt.
If Karstadt closes, what will happen to the city center?
Will there only be exclusive designer shops and cheap throw-away shops like Primark?
What about those of us who want decent products for middle of the road prices?
---
Cover photo: Karstadt's current Leipzig location. By Martin Geisler – Own work, CC BY-SA 4.0, Link