I am inviting you, the reader, to participate in a "global silent protest" to free Armenian POWs (prisoners of war). It's happening this Tuesday, 6 p.m., at Augustusplatz in Leipzig.
Have no clue what I'm talking about? Unfortunately, you're not alone. Last year, I wrote here on The Leipzig Glocal about my experience being in Leipzig while friends and family in Armenia were threatened with war. Let me update you on what's happened since.
The brutal fighting during the 2020 war between Armenia and Azerbaijan ended, but the conflict goes on. In principle, the war ended with a ceasefire, but in reality, it was a solid defeat for Armenia and a solid victory for Azerbaijan.
Azerbaijan has relished this victory, even creating the Military Trophies Park in Baku, with helmets taken from dead Armenian soldiers, among other prizes. Moreover, Azerbaijan has not fully complied with the ceasefire agreement.
Both countries were obliged to release "prisoners of war, hostages, and other detainees." Unfortunately, that hasn't happened.
Azerbaijan is still holding on to dozens of Armenian POWs six months after the ceasefire.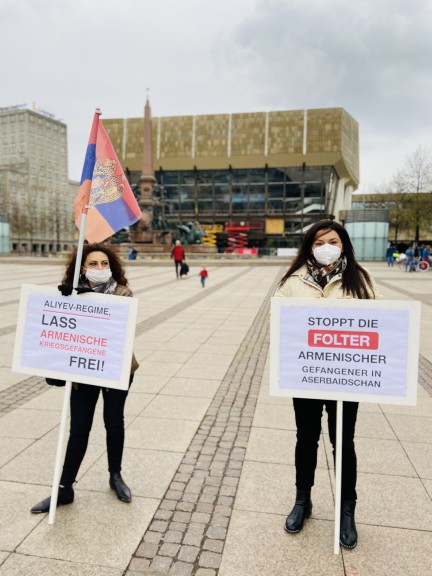 Azerbaijan calls them "detainees," not POWs, and says it has no obligation to give them up. Even the exact number of POWs is uncertain, as Azerbaijan does not allow independent verification. Azerbaijan admits that it is detaining 70 Armenians, while Armenia claims there may be as many as 200.
Even just one POW would be concerning, because of the treatment they receive. Human Rights Watch reports that Azerbaijan has subjected the Armenian POWs to "cruel and degrading treatment and torture." One POW who was released stated that the beatings began as soon as he surrendered to Azerbaijani soldiers and that he was "kicked and punched in the head, and hit with pieces of wood." It's alleged that 19 POWs have died so far in Azerbaijani captivity.
With Armenia having no power to force Azerbaijan to return the POWs, the Armenian community has been raising attention around the world about this wrong. On April 30th, 2021, a "global silent protest" took place in 25 cities, including Leipzig.
On Tuesday the 18th of May, there is another global silent protest on behalf of Armenian POWs. We are again going out to raise awareness and push for change.
So far, parliamentarians in the US, Canada and France, as well as 120 MPs of the Parliamentary Assembly of the Council of Europe, have called on Azerbaijan to release the Armenian POWs. The pressure is growing but is not yet enough to make Azerbaijan change its behavior. Until that happens, these protests will continue. Azerbaijan won't listen to Armenians, but it can't ignore the rest of the world telling it to do the right thing.
If you'd like to add your voice to this cause in Leipzig, join the protest at Augustusplatz, from 6 to 7 p.m. this Tuesday. You can read the event details here. Please wear a mask and ensure you're socially distancing throughout.
P.S. The war displaced over 100,000 people, many of them still without permanent housing. If you're interested in donating to help relieve the humanitarian crisis, please consider donating to the Armenien-Fonds Deutschland.
---
By Gabriel Armas-Cardona
Gabriel is a human-rights lawyer based in Leipzig. He teaches International Human Rights Law at the University of Leipzig and tweets about it @GArmasCardona.