With bike locks around their necks, five teenagers chained themselves to Leipzig's Neues Rathaus on Saturday afternoon. The keys to unlock them were delivered to the local branches of five major parties: Die Linke, SPD, Die Grünen, CDU, and FDP. This was the first demonstration by Extinction Rebellion Youth (XR Youth) in Leipzig and Germany.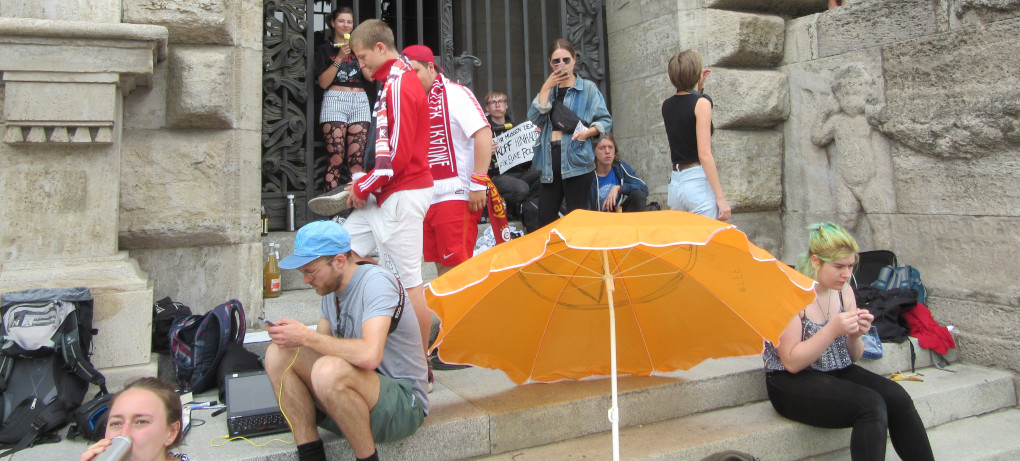 As an offshoot of the larger Extinction Rebellion (XR) activist group, XR Youth's main goal is for politicians to act now to achieve zero net emissions by 2025, in the face of catastrophic climate change.
"We are too young to vote and we want to get the attention of politicians," Freya, 16, told LeipGlo as she stood locked to the city hall gate. "Now everyone is talking about our future, and we are not allowed to decide anything. We think that's pretty unfair."
Within four hours, representatives from all five parties had come over with the keys and unlocked all the teenagers from the gate. City Councilman Christopher Zenker, head of Leipzig's SPD group, went there personally at around 2 p.m. and freed the boy wearing the bike lock that corresponded to the key the party had received.
"I understand what they're doing because I'm also a person who tries to live in an environmentally friendly way," said Zenker, who represents Leipzig's southern district in the city council and is running for reelection. "I can understand that they're fighting for their future. It is important to talk about it, and this is one way to get it to happen."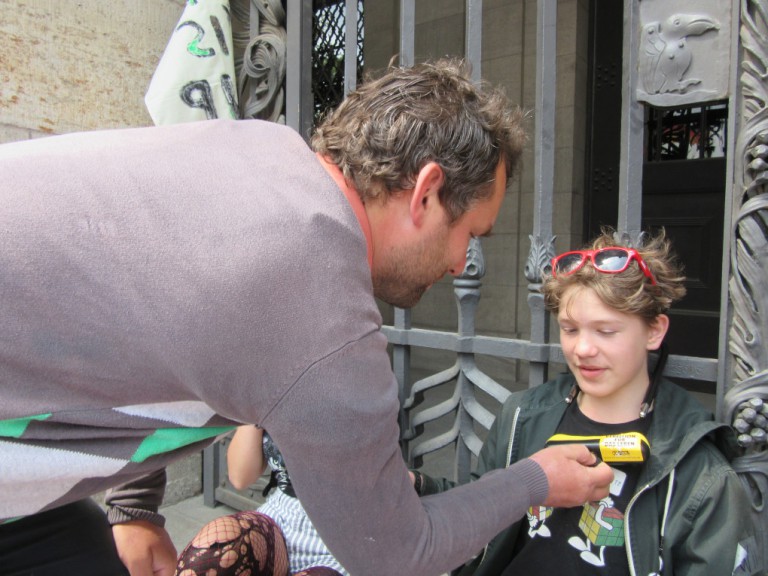 By contrast, the CDU representative argued with the protesters after showing up at 4 p.m. and freeing the fifth and final teenager, according to Extinction Rebellion Leipzig representative Kate Tyndall. The 25-year-old noted that it's not the first time local CDU politicians scold young XR members regarding their activism. Some of this party's members are known to be ambivalent about the issue of climate change.
Freya and the other four teenagers, ages 13 to 16, have been active in the Fridays for Future movement in Leipzig.
She said that's how they met each other and members of Extinction Rebellion Leipzig. The latter group, involving young adults, has been organizing demonstrations locally since January 2019. Freya said they contacted her and other teenagers about joining actions beyond the Friday student strikes, which have quickly spread internationally since Swedish teen Greta Thunberg kicked them off.
"My parents are really supportive, and I'm really lucky and happy about that," Freya said. "Also with Fridays for Future."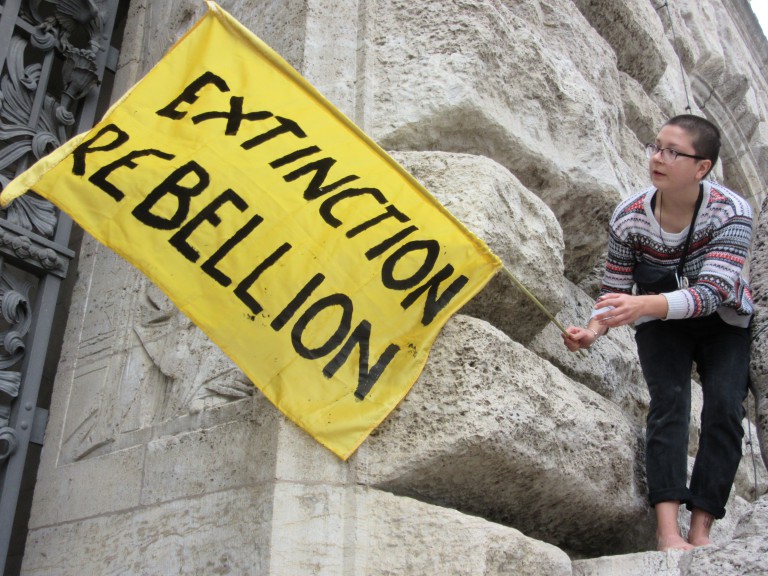 Tyndall told LeipGlo in front of city hall that the teenagers were ready to stay there all day if needed, having been politically active for the past year. Friends were bringing by ice cream as the bike locks remained around the teenagers' necks, and they could only move up and down against the gate. Another activist climbed onto the side of the city hall to show support with a big Extinction Rebellion flag.
While Extinction Rebellion has gotten into trouble with authorities for its disruptive but non-violent demonstrations elsewhere, Tyndall says police officers in Leipzig have been "professional and courteous" to the group.
"The police has so far not been too bothered by us," said Tyndall, who works with the German Centre for Integrative Biodiversity Research (iDiv), besides her climate-related and other political activism. "They're just doing their job, and they're actually interested in knowing why we're doing what we're doing. Officers protected us from cars yesterday as we were on bikes demonstrating, which we're very grateful for."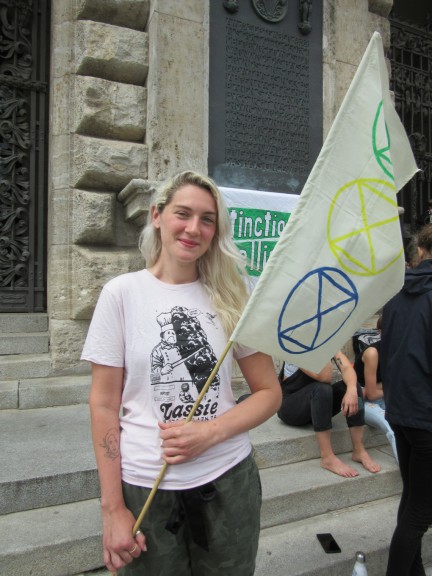 The peaceful demonstration at Leipzig City Hall happened one day before the 26 May elections for both Leipzig City Council and the European Parliament. LeipGlo will continue publishing candidate interviews tonight and tomorrow.