Performers have come to know our Cocktail Open Mic as a stage where they can freely express themselves. Now in its 10th edition, the event attracts multicultural talent and an audience from all walks of Leipzig life. The venue Baileo-Tanzpassion Leipzig and host Peter Seaton-Clark are quite welcoming and excited about what each evening has in store.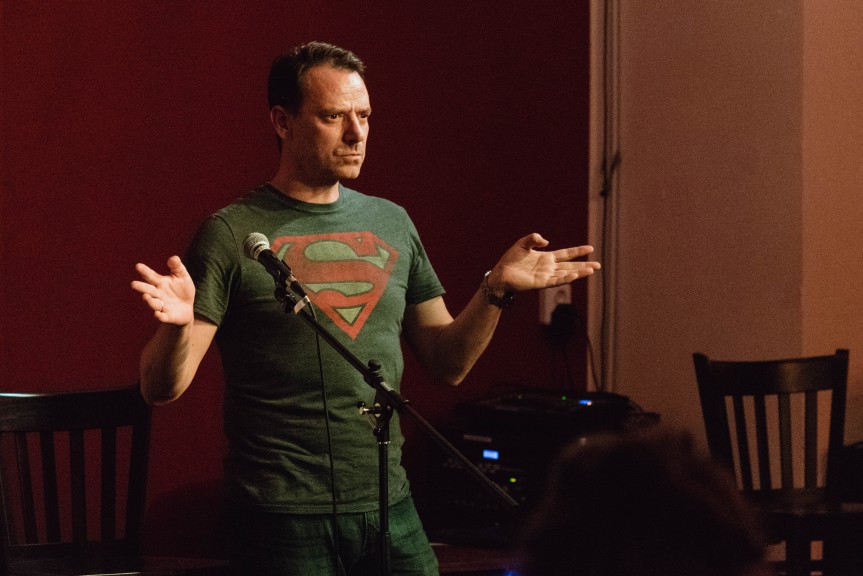 With the event's reputation for openness and friendliness, performers are feeling more and more comfortable sharing bits of themselves and their lives.
At our most recent open mic last September, we heard languages such as English, German, French and Greek. People from several countries – like Sweden, Canada and France – regaled the audience with very personal motivational speeches and tales.
The music part was also strong, as usual. Duo Koshava carted a giant vibraphone in for an impressive duet with a piano. The German-Brazilian-American Basislager Band brought in two songs from outer space, while Italian Vanessa channeled Edith Piaf and Italian-Brazilian Joanna channeled Amy Winehouse. Twins Brandon and Ashley evoked Simon & Garfunkel with their acoustic and harmonic slamdunk.
Continuing a current trend at our Cocktail Open Mic, the September evening's headliner was German burlesque queen Mama Ulita; she enchanted the audience like a snake charmer and will bring reinforcements for the November 8th edition.
Take in this teaser:
For the next Cocktail Open Mic, we have a very special group performance by Mama Ulita's Burly-Sisters. A lively and joyous group of women who found each other in August, guided by Mama Ulita Burlesque Empowerment, a self-empowerment masterclass with the tools of tease. It's their first time ever performing together, and it would be wonderful for them if you came over and cheered them on. If you want to learn more about burlesque classes in Leipzig and the women behind the performance, come and hang out at our next Cocktail Open Mic night!
And if you need a bit more convincing to come over, have a look at this mosaic from our September open mic:
Whether you want to contribute with your talents or your presence to cheer on performers and sip on scrumptious drinks from the Baileo bar, we're looking forward to seeing you this Friday for our very special 10th Cocktail Open Mic!
---
Cocktail Open Mic Vol. 10: Ten Things I Love About You
Friday the 8th of November, 2019
LOCATION: Baileo-Tanzpassion is right upstairs from the club ELSTERARTIG (SECOND FLOOR), at Dittrichring 17, 04109 Leipzig
HOST: Peter Seaton-Clark
Performers sign up at door and get in free, plus one free drink of their choice
—————————
PROGRAM:
8-8:30 PM: Welcome drink & mingling
8:30-9:40 PM: Open stage (anyone can perform)
9:40-10 PM: Break & mingling
10-10:10 PM: Performers from Mama Ulita Burlesque Empowerment
10:10-11:30 PM: Open stage (anyone can perform) & mingling
—————————
BYOM – bring your own music
5€ cover | 3€ reduced
Includes welcome drink until 9 PM