Leipzig and its mass of abandoned buildings is a playground for dreamers. Crumbling walls and forgotten factories ignite dreams of the infinite possibilities that could bring these old buildings back to life. Last year one old post office got lucky.
Hidden behind the back of the a&o hostel building close to the central station, the vast space stood untouched for years. With its large spanning walls and high ceilings, the space was perfect for exhibiting art. The a&o team transformed the building and in November 2018 the Kunsthalle was born.
One year on, Tanja Heuchele (project manager of art&o and managing director of a&o Kunsthalle) and Julien Rathje (art director) share some insights into the process of setting up the project, the space's current structure, and their future ambitions.
At the end of November you celebrated one year of a&o Kunsthalle. Congratulations! How did you celebrate?
Tanja: We celebrated the beginning of a new year with our friends from HGB. For almost ten months now we have been preparing and discussing a joint exhibition with Prof Joachim Blank and Mr Broeckmann. We are even more pleased that it is now our anniversary. It is supposed to be a big celebration, but as we have already done over the past twelve months, the main focus is on art. This time the exhibition "We All Should Be Lichens" deals with man's precarious relationship to nature. The starting point and motivation for this exhibition, conceived jointly by HGB Leipzig students and the German Literature Institute in collaboration with Prof Joachim Blank, is global climate change and the political, ethical, and technological debates it triggers. Based on the concept of the Anthroprocene, the exhibition unites and presents tentacular positions and perspectives that approach a time after "old nature" in a direct, observant, and often poetic manner in a variety of forms, materials, and media.
So, going back to one year ago, what was the catalyst that started the process of converting this beautiful building into an art space?
Tanja: The catalyst for the project was Oliver Winter and Michael Abel, co-founder of a&o and current CEO, as well as co-partners of a&o hostels. Since both are art lovers, the idea was quickly found to promote young art and to provide the display that we have available with the 36 hostels, both spatially and digitally. As the project manager behind the art&o project, I quickly found myself in charge of the sublet space in the former premise and had the artists Patrice Lux and Aurelie Merlot transform it into an art space. Two months later on 30 November 2018 we opened the a&o Kunsthalle. At that time it was not yet clear what strategy this space would pursue, what target group it would address, nor what format the exhibitions would have. The focus on students and newly graduated students was quickly found, as there was a direct connection with the staff of the a&o Kunsthalle, who study at these same universities. The team stood and the applications fluttered into our hands; the need was there, now we had to prove ourselves and keep the high demands on this competitive terrain.
The renovations started with the top level and later in the year you created a second space downstairs. What's the difference between the two programmes?
Tanja: The format will allow the artists to curate their exhibitions themselves, experiment, and try things out themselves. The schedule is limited with eight days in total available for a Flying Exhibition. The exhibition is set up within three days and then presented to the public in a further three days (Thursday to Saturday) according to the artist's ideas. This will be followed by two days of dismantling.
This constant process of construction and deconstruction is intended to encourage experimentation and rethinking of the current exhibition formats.
At the same time, Flying Exhibitions can take place at shorter and regular intervals, which allows us to offer a platform to many artists. Individual and group exhibitions are possible. In a free and informal setting the exhibitors will be given a further opportunity to sound out their position in the contemporary art scene.
The difference between the two programmes is that we are more flexible and faster in the lower part than in the upper part, where we usually work with larger groups of 6 to 30 artists in a group exhibition.
The space is tucked behind the large a&o Hostel building, which supports the project. They have hostels all around Europe, why did they choose to start with Leipzig? And are there plans to create more art spaces elsewhere?
Tanja: Support is actually not the right verb. The front building is rather the donor (symbolic for all houses) and responsible for the fact that there is this space. If there were no hostels, there would be no Kunsthalle.
Everything actually spoke for Leipzig. The space was there and the Leipzig art scene has a very high standard and thus provides the appropriate incentive. Whether there will be more art halls in this style, we cannot say in the current state of affairs. There are numerous ideas, because as already mentioned there are many houses. We are currently working on a redesign of a semi-public building in Warsaw and are trying to transform it into an art space. The possibility of making underground garages available for free design is also being examined.
The art world ecosystem relies on philanthropy and collectors to support galleries and artists. How does the relationship between the company and the Kunsthalle work? And how has this relationship benefited the art space and the exhibiting artists?
Tanja: From the very beginning, the relationship between the company and the Kunsthalle was viewed critically by both sides. Because how does it fit together, a low-budget company and the promotion of young art – with enlightenment, that's probably the key question. The art&o project, in which the a&o Kunsthalle is anchored, has set itself the task of making art accessible, both for our numerous guests from all over the world and for our colleagues.
In our opinion, art is not for the elite, detached class, but can and should be received and felt by everyone. Interpretations and exchanges before and after a work of art stimulate the mind, allow people to communicate with each other and lead to enlightenment. In the hostel it says "everyone can travel". We say "everyone can art". We want to build bridges, promote networks and where better than in a home that offers a&o for one or more nights.
In my circle of colleagues, the art&o project still attracts smiling eyes and critical glances. Because yes, it is difficult to reconcile the KPIs and high goals of the business world with the non-profit, but enlightenment and exchange also help here.
How both areas influence each other is obvious. Everyone has to sleep somewhere. Those who like to travel and are creative at the same time are in the right place when they stay with us. We support our artists with free beds and, depending on the art project, offer materials, expense allowances and, of course, digital visibility in the form of press releases, Instagram contributions, or publications in image brochures. The artist is our top priority.
Julien: It would be a nice thing if the art world would mainly rely on philanthropy. Although our intrinsic idealism sometimes doesn't want to focus on that, and clearly not in every sector, it is also an economic system.
Obviously the a&o Kunsthalle is connected to a company. But beside the structural level is an individual as well, and because there is an interest and passion for art of the management that is not fulfilled with promotion, the Kunsthalle is functioning like an independent exhibition space "by itself". With the big difference of a financial solid base so we don't have to spend too much energy and time on funding applications.
So, within the right setting, such relations can also provide a certain freedom or, pathetically spoken, enables philanthropy again. Of course, it is like it is for almost all galleries or art institutions, always a fight for monetary capacities, but we can give relatively easy access to a good located exhibition space of high quality, and so our artists are benefiting as well.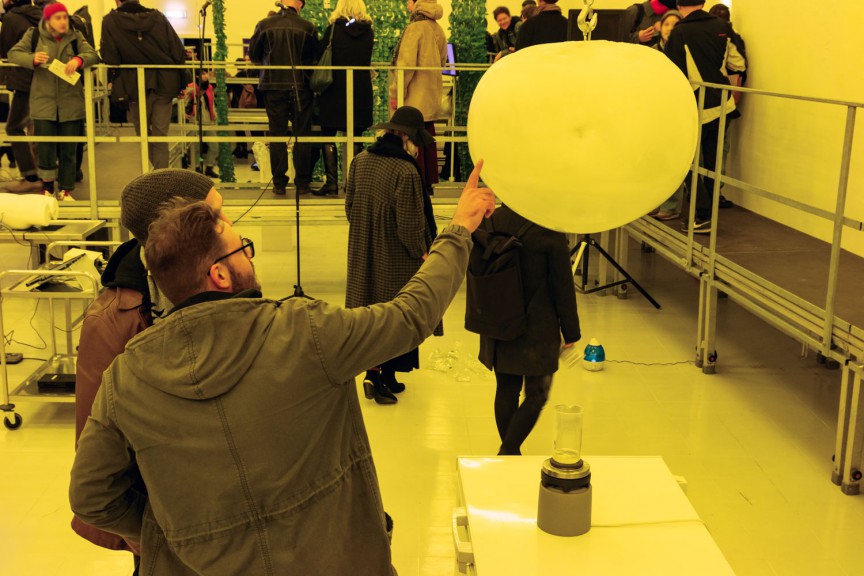 So how does a&o Kunsthalle identify – gallery, non-profit space, project space?
Tanja: Anything at all. We are certainly not a classical gallery and somehow it doesn't fit to us at the moment. So we really see ourselves as an art gallery. We are currently in the founding phase of the foundation behind the project. However, the a&o Kunsthalle can also count as a project space, since we also applied for the Leipzig Book Fair and hope to become part of the exhibition space in 2020. So somehow we are everything and don't want to impose meaningless boundaries on ourselves.
How does this model fit into and/or differ from the other spaces in the Leipzig art scene?
Tanja: Well, in one year we were asked in many places for a clear definition of our concept and somehow we didn't know what to say on it. This usually led to critical glances, but I can only say that we give everything a chance and don't set ourselves apart from what might hinder us in the aftermath. We don't put on a hat, neither as an off-space, a gallery, nor a classical art gallery.
Can you tell me about your first year of exhibitions? What has been a highlight for you?
Tanja: For me as the project manager, the highlight was probably the one-year anniversary and of course the many "firsts" – the first sale (without commission to us), the first accident, and the first theft. But yes, the one-year anniversary has overrun me. We had expected several visitors, but this time we almost burst. Everywhere there were visitors, already familiar faces from previous exhibitions, but also many new ones. It was a great evening for the Kunsthalle and the team.
There has been quite a focus on showing Leipzig-based artists. Is this an intentional niche or do you see this changing in the future?
Tanja: Well, the focus this year on staying local was deliberately chosen. As we have only a very limited budget per exhibition, transfer and transport costs have been kept to a minimum for the time being. For next year, we have participated in many applications for international exhibitions and cooperations. It will be interesting to see which countries we will be able to visit next year as part of the a&o Kunsthalle.
To end, can you tell me more about the future plans and dreams for a&o Kunsthalle moving forward?
Tanja: After the first year, we can say for now that it will continue. This fact alone, with the rapidly changing and fast-moving business world, is proof of the future. We have already mentioned a few goals and wishes, but here is a personal wish for art&o an artist residency in every hostel. Let's see where the journey takes us.