February, February, February. Gone seem the days of knee-high February snow and its dreaded trail of melting remnants across gallery floors. Our shortest month, but by no means lacking in creative excursions. Here's our curated insight into what's happening in Leipzig's art scene this month:
---
Hochschule für Grafik und Buchkunst
Thursday 13 – Sunday 16
Wächterstraße 11
We all remember last year's Rundgang! The empty, artless, furnitureless halls were the students' sacrifice in demand for better financial and structural conditions. Has anything changed one year on? Head down to this year's presentation and ask the students. Perhaps there will be some art as well this time.
For those looking for a dance after the event the official after party will be hosted at Institut für Zukunft from 11pm.
---
Hochschule für Grafik und Buchkunst
Thursday 13 – Sunday 16
Wächterstraße 11
Whilst at the Rundgang make sure to visit the university's gallery and their current exhibition that's been extended until the end of February. Adam Szymczyk, curator of Documenta in 2017, was invited by the HGB to propose a seminar concept which he describes as looking to "bridge the gap between the use of language and images in public space during the Nazi era and current socio-political and aesthetic discourses." The exhibition is one result of the year-long seminar.
---
G2
On until 10 May
Dittrichring 13
Neo Rauch is a Leipzig native and part of the New Leipzig School. You can see hints of having grown up in the GDR in his social realist style, yet many claim his work leans more towards surrealism. The exhibition at G2 is a great opportunity to see his collected works, some of which have been hidden in collections for years.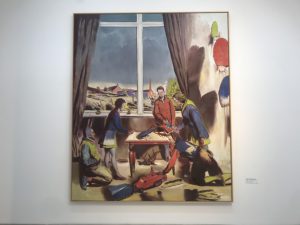 ---
Das Japanische Haus
Thursday 6 from 19:00
Eisenbahnstraße 113b
For those who haven't been to the fantastic KüfA (Kitchen for All) Thursdays and Saturdays at Japanische Haus then it's truly a weekly highlight. The food is often paired with a cultural event, sometimes a talk, film screening or performance. This February their event 'Let us draw' returns bringing some freestyle creation to accompany your dinner.
---
Gfzk
Opening Friday 7, 19:00
Karl-Tauchnitz-Straße 9-11
Has work come to an end? Or is it just invisible because it takes place somewhere else, because it is automated or immaterial? What thought processes are stimulated when we deal with different materials and social contexts? What does artistic work consist of? Is it a multitude of exchange processes, a constant work form, a marketable product or all of these things at the same time? The group exhibition at the museum looks to address these questions. "Some of the most interesting methods to experience art are not in the form of an exhibition. Talks, workshops, screenings and readings often create a more dynamic experience"
---
Carls Laden
Thursday 20, 18:00 – 23:00
Karl-Liebknecht-Straße 83
This unique event, organised by Atelier Form-Zone, looks to return to the origins of photography and (re)introduce us to the original techniques discovered in 1851. A portable darkroom will be set up in Carls Laden cafe and each participant will leave with their own
ambrotype. Make sure to email the organisers to secure your place.
---
Mdbk
On until 15 March
Katharinenstrasse 10
The exhibition, that opened at the end of last year, includes over 50 works illustrating how the production and reception of art are changing in the age of social media. Is social media art a genre to be remembered in art history? Is it a tool that can really democratise the art world? or is the whole idea just instagramable? See what you think or join the curated tour on Wednesday 12 February at 18:00.
---
Kunstraum Ortloff
Opening Thursday 6, 19:00
Jahnalle 73
The exhibition presents the works of Lina Ehrentraut whose practice encompasses comics, zines and painting. Each image appears to tell its own story whilst together forming a narrative flexible to ones own interpretation. Her bright colours and characteristic female cast are sure to create a splendid setting for a love affair.
---
Our top choice beyond Leipzig takes us to Chemnitz.
This may come as a surprise but the city has a real burgeoning art scene with lots of artists attracted by the large spaces not yet been hit by rising rents. As a result, the Kunstsammlungen Chemnitz holds the cities art collection whilst also curating additional exhibitions. Their upcoming show is not one to miss.
Kunstsammlungen Chemnitz
1 February – 3 May
Theaterplatz 1
Paris was the birthing place of surrealism with André Breton's Surrealist Manifesto in 1924. By the 30's the term was well respected. Some of the finest works of the genre are being created, particularly in the field of photography. This exhibition brings together the works of some of the biggest names in the game Man Ray, Brassaï, Florence Henri, André Kertész, Germaine Krull. To get even deeper insights into this period of art history join the curatorial tour on Wednesday 19 February at 18:30.