As an American living abroad, there are a few things I've come to accept: I shouldn't expect to find decent peanut butter; I will always need to explain why my country seems to care more about people having access to guns than to healthcare; and I will never, ever get to vote in person. I was recently shocked to hear that one of those will no longer be true, and what I heard has nothing to do with peanut butter.
Democrats Abroad is the official arm of the Democratic Party for Americans living outside of the United States.
It operates in 55 countries and has a little over 10,000 members here in Germany. And, as of December 2019, there is now a Leipzig-Halle precinct.
I attended their first meeting and was instantly drawn in.
Like many Americans, the 2020 election makes me feel nauseous. It is an ominous, dark cloud slowly creeping over the horizon. My feeling of powerlessness is compounded by being 6,600 miles (10,000 km) from my voting precinct. That meeting was the antidote I needed. It was impossible not to become energized while surrounded by my fellow loud Americans who all want to do something and, most excitedly, learning that we can.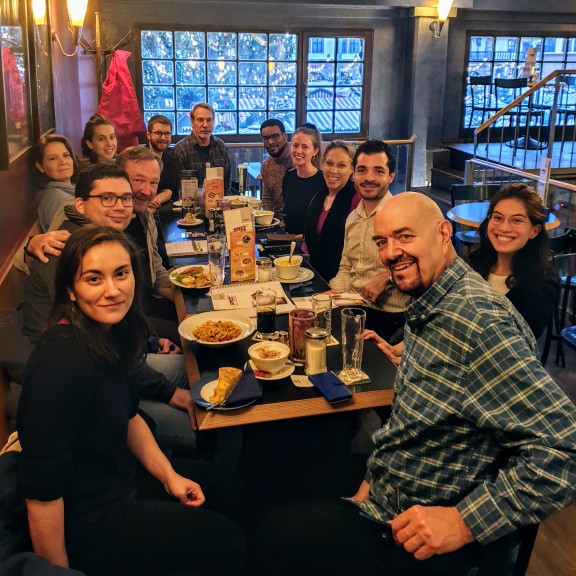 Democrats Abroad is organizing an official voting center here in Leipzig. The Global Presidential Primary takes place on March 3rd and 7th at the Grassi Museum für Völkerkunde. At the Global Primary, Democrats Abroad members can vote for the Democratic presidential nominee. Democrats Abroad will tally the approximately 200,000 votes it expects from all over the world and accordingly apportion its 21 delegates at the Democratic National Convention. After fulfilling their civic duty, American voters may join other Leipzigers in the exciting side events organized on site by the Deutsch-Amerikanisches Institut Sachsen.
OMG, this is amazing! How can I get involved?
There are two important ways any American citizen can get involved: vote and volunteer.
Voting from abroad is surprisingly easy.
Step 1: Request a ballot using VotefromAbroad.org. This is a non-partisan platform to help U.S. citizens living abroad to vote. The website fills out the official form to request your ballot from your local voting registrar. It doesn't matter if you've never registered to vote before.
Step 2: Become a member of Democrats Abroad. You can do that right now at DemocratsAbroad.org or directly at the Global Presidential Primary as there will be same-day registration. Note that you don't need to be registered as a Democrat in your home state to become a member.
Step 3: Go to the Leipzig voting center and vote! Here's the Facebook event to help remind you. (Note that if you vote in the global primary you cannot vote in your state's presidential primary, but you can still vote on any other issue on your state's ballot.)
If you're interested in joining the local chapter or volunteering for the Global Presidential Primary, then come join us! We have a Facebook page, a WhatsApp group, a book club and regular monthly meetings. In the future, we'll phone bank to promote voter turnout and mobilization.
The next monthly meeting of the Leipzig-Halle precinct of Democrats Abroad
Sunday, February 9th at 2pm at Café Grundmann (Mahlmannstraße 16, 04107 Leipzig)
Note that this meeting is open to anyone, not just to U.S. citizens.
The Global Presidential Primary Vote
Tuesday, March 3rd from 4-8pm AND Saturday, March 7th from 10am-1:30pm at Grassi Museum für Völkerkunde zu Leipzig (Johannisplatz 5-11, 04103 Leipzig)
Questions about the Global Presidential Primary, volunteer opportunities, or monthly meetings? Contact berlin@democratsabroad.de.
Gabriel Armas-Cardona is a human rights lawyer. Because of his work, he's traveled a fair bit. Born in Oakland, California, he has lived in New York, New Delhi, Yerevan and now lives in Leipzig. He's passionate about human rights and regularly tweets about it @GArmasCardona.