With the help of online options for the many who couldn't make it to Leipzig, this year's DOK Leipzig festival was able to take place and wrap up just before the most recent safety measures put a halt to cultural events once again. We at LeipGlo took the opportunity to experience in person some of the new virtual reality projects curated under the DOK Neuland section.
The sixth edition of DOK Neuland was curated by Lars Rummel, who has been doing it from the get-go.
Each year the VR exhibition becomes more elaborate and attracts a multiplying number of visitors. COVID-19 restrictions made this year especially challenging not only due to the need for social distancing, but also because Rummel could only choose nine submissions out of the more than 120 that came in from all over the world. To accommodate more people, parts of the exhibition were shown at additional venues besides its MdBK headquarters.
The curator told us that the theme for this edition, Resonating Spaces, emerged after he took a philosophical hike, read a book by sociologist Hartmut Rosa, and put his thoughts on canvas. Submissions that naturally resonated with the theme were given preference. The result was a diverse landscape that somehow made sense together, conveying the message that even though we may feel isolated – be it due to lockdown, different perspectives or backgrounds, technology or urban jungles – we are all connected as human beings and as part of nature.
Among the highlights of this year's DOK Neuland selection was the fully immersive project "The Shape of Us" by Anna Mauersberger and

Niki Smit

.
A Netherlands-Germany co-production, this highly interactive VR journey is the longest among the projects shown at DOK Neuland last month. But while we are only going to discuss this particular installation – our favorite one – it is worth mentioning that all of them deserved their place in the exhibition and evoked some deep emotions and new ways of seeing things.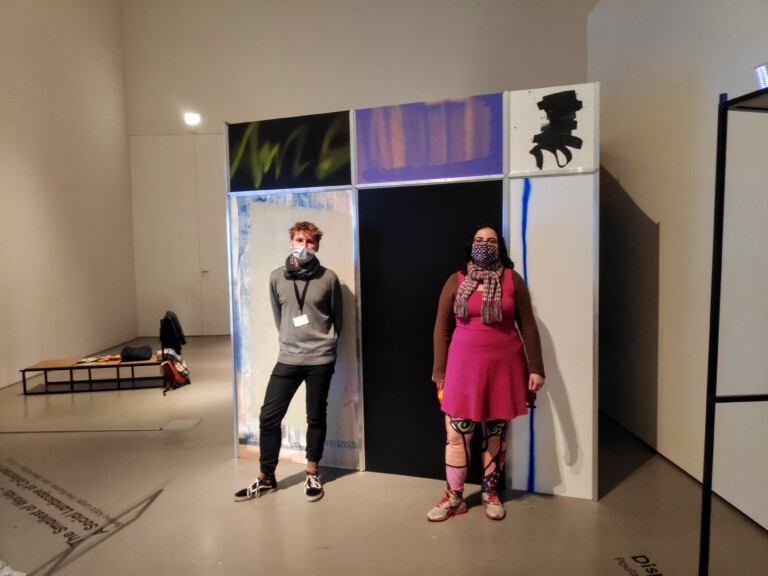 From experiencing life as a mushroom spore to a surreal trip across sights and senses loosely billed as a literary adaptation, from inexorably falling through a void to trying to escape a dystopia, these digital works of art are utterly unique. If you get the chance to experience DOK Neuland next year – do it. We find it a privilege to have something like this come to town every year as part of DOK Leipzig.
---
Review by Heiner Uebbing: On the technology
My experience with "The Shape of Us" started off with a lot of firsts and a general appreciation of technology. I had never used a VR kit before that neither required any controllers nor had any cables, tethering you back to reality. The newfound freedom therein is itself an innovation that impressed me and significantly added to the immersiveness of the experience. Never before could the artist consider and implement concepts like whole body movements in a three-dimensional space or the mapping of hand movement towards any artistic goals they might set themselves.
The technology is truly astonishing and a significant step forward within the VR world.
In utilizing this technology, "The Shape of Us" focuses on colorful yet minimalist visuals and a simple, issue-driven narrative. Participants will walk themselves through a journey inspired by indigenous rituals and barren landscapes and are confronted by the damage and pain caused by humanity's rapid expansion. It's a tried and true formula to confront the individual with the consequences of humanity's actions.
The immersion allows the creators to tackle these age-old themes in new, surprising ways. Therefore, they manage to land the message of organic interconnectedness and a better relationship with nature, concurring with the curation's theme of Resonating Spaces. The experience becomes even more potent by never forgetting to give the player enough breathing room to digest and exhale. Because these VR experiences can quickly become exhausting, especially if you now get to crawl, sit, lie down, stand up, and move your hands around freely.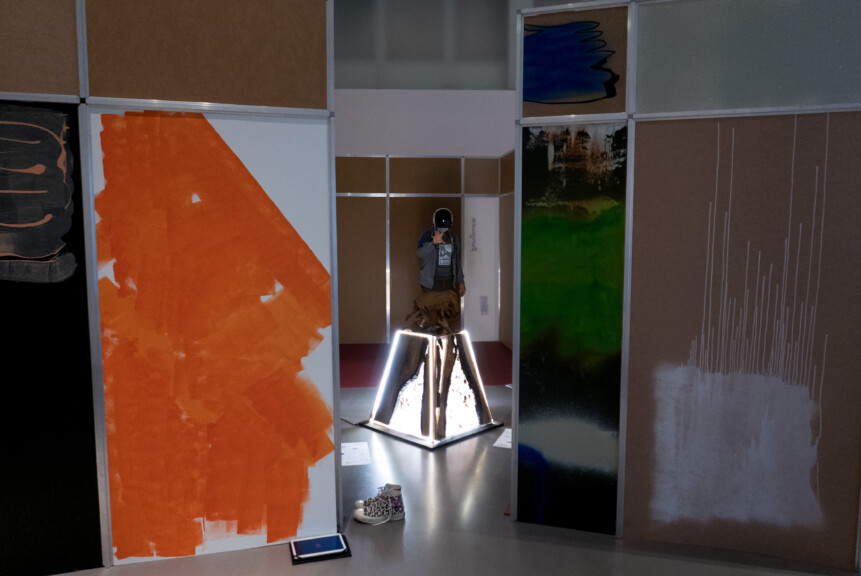 ---
Review by Ana Ribeiro: On the philosophy
The lockdown periods we've had this year led me to reading as much about philosophy as I could muster in between bouts of playing videogames and staring at the ceiling. It's comforting to me that ancient philosophers were grappling with many of the same questions and fears as we do.
Perhaps most fascinating to me are the points where eastern and western philosophies intersect. I've come across a sort of contemporary "Taoist Stoicism" which, put in simple terms, tells us that we shouldn't sweat it so much (things like eventually dying or even worse for some people, not being liked) because we're connected to everything in the whole universe. The more we try to modify the environment, and our own inner self, the worse off we all are. This is precisely what I interpreted "The Shape of Us" as telling me.
The installation is part of a research project by the Robert Bosch Foundation to gauge participants' personal feelings and relationships with the environment.
Once participants have completed the course of metaphorical and real obstacles, like having to be on one's hands and knees towards the end to get to the "other side," they have the option to write down their impressions. They can use a template as a guide for what to write, and also there's plenty of hand-holding, so to speak, when one is going through the VR experience.
We see nature's "before and after" due to the overdevelopment we continue to wreak upon it. Spoiler: It looks pretty and magical, then like a wasteland. Or the other way around, because we are also told that we can get the magic back if only we reinterpret what development means. Real development, rather than industrialization and mass consumption, is supposed to be getting back to our essence and restoring balance in nature. We should step away from excess and into spirituality, the voice of Mother Nature tells us as our ancestors frantically move their arms around us.
It may sound clastrophobic and even a little creepy, but the whole thing was actually pretty fun and I lingered in that scintillating VR bubble for as long as I thought reasonable. There were several more installations left to experience, and I had to get moving before the exhibit closed for the day. I wish I could do most of them again.