Wandering the streets of Plagwitz and Lindenau on the 3rd and 4th of December was like entering a dream world. Shadows danced in windows, films were projected in our favourite cafés and odd-looking lit creatures hung from trees. It was like going to a warmer land – the evening cold momentarily forgotten and left behind.
Since 2017, Lichtspiele has been bringing together artists, residents, and local businesses in a two-day event that lights the streets and windows of the local area. Art installations, projections, dance, and music performances along with spontaneously assembled initiatives are on display along Karl-Heine, Josephstraße, and other adjacent arteries. The non-commercial event intends to carry warmth and excitement to winter. It strives to provide the opportunity to explore the neighborhood and connect the community.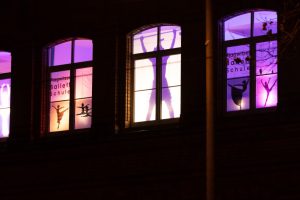 The community has in fact been enthusiastically joining the festival over the years.
Since the first edition we have been asking the neighbors to participate and it has been extremely moving to see how they contribute to the event and build their own decorations.
Says Eucaris Guillen, Lichtspiele des Westens manager. Originally intended to be a one-off event, it rapidly turned into an annual festival. More recently, it has incorporated a contest to reward the best installations with small, symbolic prizes that acknowledge the participants' involvement and originality. 
community participation
Lichtspiele des Westens is the materialization of Eucaris Guillen's vision, initiated with the support of Schaubühne Lindenfels. Born in Panama, Eucaris moved to Leipzig in 1988. Since then, she has been involved in social projects that focus on the surrounding communities and on deepening intercultural dialogues. Over the years, she has witnessed the many changes the city has gone through. The atmosphere has become increasingly international and the creative industry has flourished as more talents have moved here.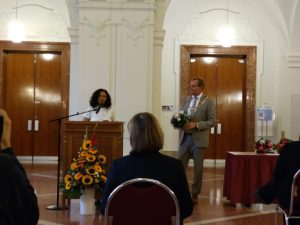 The interaction between artistic presentations and improvised actions undertaken by neighbors is, in Eucaris's opinion, what gives Lichtspiele its special flare.
There are people who play music, others dance, others project videos or make decorations to hang in their windows. Once a neighbor hung his bicycle with a text protesting the lack of safe infrastructures for cyclists. People are so creative!
artists share perspectives
We talked to some of the artists involved in this year's edition to have a sense of their own experience and connection to the festival.
Britta Schulze was born in Leipzig. Her practice gravitates around painting and graphic design and she has been participating in Lichtspiele des Westens from early on. Like Eucaris, Britta describes to us how Leipzig, in particular the West, has undergone many transformations. It was once a much darker, mainly industrial part of the city. Artists and artistic initiatives contributed to its reconfiguration – a surprising and unexpected shift in Leipzig's urban identity. The shift has happened more or less at the same time as other macro-social changes arising in Germany. And if walking around the streets of Leipzig feels different today, it is also, according to Britta, because the country feels different. 
Though exploring the connection between the collective and the individual has been a subject of interest for Britta Schulze for a while, the topic is amplified by the times that we live in. Britta prefers to keep an optimistic approach to it. In this year's edition of Lichtspiele, the windows on the 2nd floor of 42 Karl-Heine were lit up from the inside. In each one, the word "light" was written in a different language. Once in a while, one of the windows would open to reveal a quasi-bizarre character that would address bystanders and dance afterward. 
optimistic outlooks
In an alley nearby, we find two installations by Britta, Entspannt I and Entspannt II. The works play with the double meaning of the words "entspannt" (relaxed) and "spannen" (stretching of fabric like jersey, used for t-shirts). In the sculptures, we perceive the trace of a gesture that should keep on going even when storms come and everything around seems to fail. 
Jos Diegel also talks about what is typically perceived as failure. In Eastern Lights, an analogue experimental film production made in collaboration with other artists, 35mm film was cut, painted over, manipulated, and spliced back together in new configurations. The film was the result of one of the workshops conducted by Jos in the East of Leipzig.
During our conversation, the artist shows us the 35mm gluing and cutting machine he uses to assemble the previously altered individual frames.
The assemblage is then sent to be digitalized and the final file is received roughly two weeks later. Inspired by Lettrism, an avant-garde art movement based in France and popular in the 1950s and 1960s, Jos is interested in exploring the possible outcomes in de-constructing and re-arranging standard structures and parameters of meaning. With that, he hopes to find new approaches to understanding.
Was ist das?
"Was ist das?" Legend has it that this was a common question asked by Napoleon's troops while in German territory. Soldiers asked it when coming across a particular kind of window that was placed on the roof of a building. The expression was used so many times that it eventually evolved into the French word "vasistas". It refers to that same type of architectural structure. In Lichtspiele des Westens, Ulrike Lux is keen to delve into this idiosyncrasy.
Behind the façade of a bakery on Karl-Heine, we see two windows. The vasistas disclose some whimsical figures inside. These figures are made from wire and paper, materials collected by the artist. Ulrike assembles the materials in a particular technique that offers them a flexible appearance. Their faces exhort a realistic feel, achieved by applying small-scale reproductions of real portraits. Looking at this mise-en-scène, one cannot help but wonder if these characters are trapped or just oblivious to their surroundings. 
Trapped or oblivious?
"Strange times we live in," one might say. A time when we glance through a window only to see our own experience echoing back. In her durational performance, not alone 2.0, maeshelle west-davies sits outside, in a staged living room. She has a set consisting of her laptop, a ring light, and a Zoom connection. From there, she manipulates an algorithm to which dancers, Jonathan Kolski and Janne Steinhardt and musician, Kat Embo react from inside the building. Their own windows are equipped as if they were bedrooms. maeshelle adjusts her instructions depending on what she sees in her live stream. Some of the performers' movements are choreographed, but most of their feedback is improvised.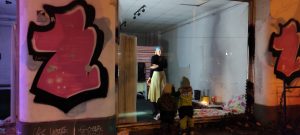 There is a certain familiarity when observing the chained behaviors happening in this piece. We are perhaps reminded of how similarly we coped with our lockdown experience and how we dealt with the news coming from our screens. We tried to make sense of reality, moving on with our routines which sometimes seemed quite absurd. 
polarization through connectivity
While looking at the technological apparatus from which the artist manages what happens indoors, philosopher Franco "Bifo" Berardi comes to mind. In his essay The Second Coming he states, "When the social concatenation is mediated by connective machines, human agency undergoes a process of reformatting." More than a year and a half after the beginning of this pandemic, algorithms and digital media have become even more embedded in our lives. The extent to which it has impacted and polarized the way we perceive the world and act according to it remains to be fully comprehended. 
Along Karl-Heine and Josephstraße, artists from PILOTENKUECHE, the international art program based in Leipzig Lindenau, share their own perceptions. They guide us along subjects connected with identity, memory, consumerism, and the interaction between the analogue and the digital.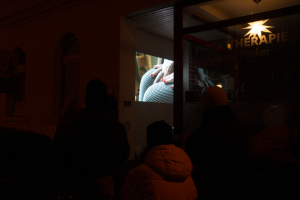 Scattered through the neighborhood, more than two dozen artists participated in this year's festival. Although with some restrictions due to Covid-19 (group performances were avoided and the traditional street parade at Karl-Heine did not happen), the Lichtspiele des Westens turned the West into a constellation of lights.
On a cold winter evening, the streets filled with friends and families reunited, and children were mesmerized at the animated windows.
As we walk home from this enchanted world, we find comfort in knowing we have the next Lichtspiele des Westens to look forward to, even if we are not sure what else the future holds.