"The virus is not the only danger. Our main means of communication with the outside world is controlled by algorithms that reflect our state of mind. Click on one smiling rescued squirrel and get lots of heart warming animal stories in your facebook feed. Get into a death scroll of conspiracy theory and you may find yourself storming the capitol of the United States." In her upcoming performance work, not alone 2.0, interdisciplinary artist maeshelle west-davies becomes the algorithm.
Internet artist
It's west-davies's world, and we're all just living in it. Her work may be summed up with a quick search online. Enter Brad Pitt naked. You'd be amazed at how far we've come. She certainly is. 
Although, trying to summarise west-davies in that manner would mean reducing a multiverse of fragmented bits and bobs of everything into a mere Pinterest page. Situated within the multiplicitous dreamscape of the internet, west-davies's work speaks toward that guilty pleasure part of our internet hobbies none of us wants to admit. However, her work is everything but superficial.
west-davies's body of work not only feels like a personal diary of the artist herself, but somehow it feels like my diary as well.
Perhaps this is the result of transgressing over to the virtual sphere we've now come to call our existence. Everything becomes eerily familiar of everything else. 
Beneath the sheen of swiping left
One such example is written on the wall, one of the works in a series entitled Interchangeability. But don't get too sidetracked by it's glossy and somewhat metallic coating. Beneath the sheen, the artist has managed to eloquently capture the nuances of finding and sustaining love within the digital age. Unsure of who exactly we are looking at, every face we see is distorted just enough to resemble any one of our own left-swiped potential courters. The faces begin to mesh with their surroundings, resulting in a kaleidoscope of missed possibilities.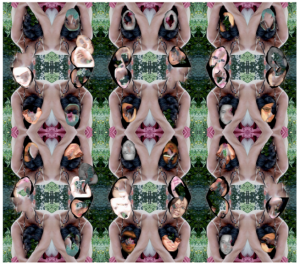 west-davies acts as the mouthpiece to not only our guilty pleasures, but our deepest and most vulnerable underbellies, too. The video performance work not alone follows two dancers in the same frame accompanied by compelling harp music. Mesmerised by the gliding movements, a glitch almost manages to surpass us. We notice that the dancers are digitally overlapping. Consequently, they are not a duet, but rather two solos, reflecting the isolated realities we find ourselves in at present.
Familiarity and empathy in our digital existence
not alone was created in a time when humanity has never been more disconnected. Months-long lockdowns have crippled any shred of human connection to be found. Upon the realisation of the distance of the dancers, an eerie familiarity comes to the fore. After a while, perhaps we also pity the two dancers left to dance alone. And after that, empathy may overtake us as an unavoidable feeling fueled by recognition of where we ourselves have been for too long to really remember otherwise.
not alone 2.0 is a 24 hour durational performance that brings the original players together. Dancers Lou Thabart and Donna-Mae Burrows rejoin harpist Babett Niclas, but this time west-davies is also visible. Trapped in individual cells in a glass box, for the world to see via livestream on twitch and zoom, the four will feed off each other whilst sinking into their own experiences. By choosing to perform in the glass house in the beer garden of Ilses Erika, we are reminded of another layer of communication interrupted.
Again, the artist embeds the hyper metallic with the hyper tender. Our physical realities are increasingly becoming more disparate from any preconceived idea of what we may have expected out of real life. Not that this is necessarily something to be sad about. As with west-davies's work, it exists and demands to exist within a multiverse, expanding with each rendition and playback it may take, through the good and the bad. 
Glass half full
One may liken this expansion to our connections (to humans or otherwise) as well. The artist manages to touch on very real and sometimes sore spots we have. But she pulls us back just as quickly as if to say things aren't as bad as they may seem. You can still google what Brad Pitt looks like naked. You can still indulge in flashing images of potential heartbreaks. And although all of this might cease to be without a touch on the other side of the screen, we are still free to dream.
Written by Monique du Plessis
---
Live-streamed from behind glass windows for the public to safely watch, not alone 2.0 is a 24 hour duration performance in which two dancers and a harpist find themselves isolated and caught in an algorithm controlled by artist maeshelle west-davies.
not alone 2.0
by maeshelle west-davies
featuring:
lou thabart
donna-mae burrows
babett niclas
10AM Fri until 10AM Sat GMT+1
26 & 27 March 2021
Re-Connect Online Performance Festival
24 hour duration performance
streamed live from
ILSES ERIKA glass house
watch performance on livestream:
Re-Connect Online Performance Festival
maeshelle west-davies
watch the livestream in the windows of
Pöge-Haus e.V.
on Hedwigstraße 20
watch the algorithm on zoom:
zoom link