Coming in from the biting cold with fellow Leipglo columnists and other theatre goers, we did not quite know what awaited us at this independent theatre venue in Lindenau slowly making a name for itself.
The troupe, English Theatre Leipzig (ETL), choose to mix it up a bit this time around, changing roles, and bringing in new actors. Nicola Chapman took the director's chair temporarily vacated by Tom Bailey, and combined this with acting. A collaborative process with the crew and fellow director friends, it was a definite win for her and the cast's development.
The small ensemble of actors was chosen during workshops, taking on extra intense rehearsals so she could get a broad overview of how the characters interact and how each one's behavior affects the others.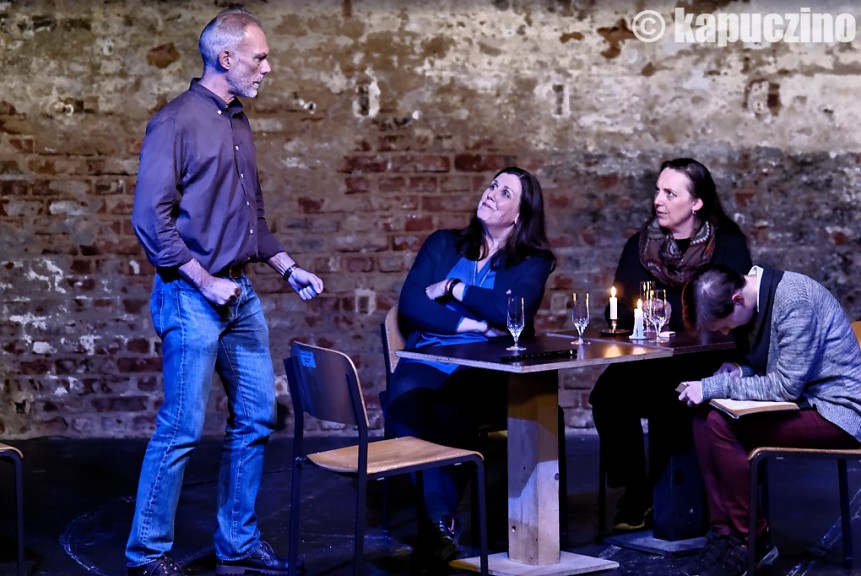 This new production held a heightened expectation for the theatre goers on Thursday evening, as the fledgling cast and crew took on Body Awareness, a contemporary play by Pulitzer Prize winner Annie Baker.
We took our seats and were impressed by the simple set.
It consisted of the interior of a household in a small fictional U.S. town, and to the right, a lectern and screen.
The lights came up and we heard the opening speech by Phyllis (Cynthia Dyre-Moellenhoff), a psychology lecturer, at an on-campus Body Awareness Week. At the start of each day in the play, we hear snippets from her speeches. This interwoven theatrical device breaks up the domestic scenes and frames the themes so the dialogue is not so heavy-laden with them.
This opening scene quickly switched to Joyce (Nicola Chapman), a high school teacher, and her son, Jared (John Moser), having one of those typical awkward mother and son chats about personal habits. The awkward moments, natural dialogue and these discussions between all the characters lead to all types of laughter. They are funny in spite of, and maybe due to, the themes being brought up.
An overarching thread running its way through Body Awareness, and seemingly relevant at the moment, is terminology.
What is and is not politically correct?
The terms are handled with sensitivity and openness, and caused mirth among many of us.
One of the central themes is Asperger's Syndrome, and whether or not Jared has it. A family trying to cope with this also has the added tension of a provocative house guest, Frank (Erik Eek), a renowned nude hobby photographer. Although he reaches out to Jared, some questions still need to be answered. Is he a visual artist or a pervert with unseemly intentions? How will Phyllis react to him?
I won't give away too much, but this interplay and stirring of the plot drive the narrative and your interest as an audience member.
The Body Awareness cast added a depth and distinctiveness to their characters.
They left us at once bemused, amused and empathetic regarding how the story plays out.
Cythia does a good job adding a hint of overbearing and ill-tempered irritability to her Phyllis, someone at odds with her domestic situation. This is mirrored in opposite, suggestively and skillfully, by Nicola (Joyce) as the affable lover-come-facilitator.
John's undertone of simmering frustration and self-absorption as Jared has none of the corny, misleading characterization of mental and behavioural problems we often run into. Erik's laid-back observance of others as Frank has enough creeping interference that we are convinced he could steer this family even more off-course.
There was a lot of bouncing off of each other from the cast, and some craftily and carelessly stirred mini-dramas.
A captivated and entertained audience showed their appreciation at the end with unbridled applause. We were not left disappointed; and as you leave this thought-provoking play, there are many themes you can choose from to discuss over beer and wine at the bar. To name only a few: family tension, sexuality, the male gaze, labelling of mental and behavioural issues, body image, perversion and even how to deal with indecent exposure.
This ETL production was a lot lighter and funnier than previous productions, except for Macbeth. Yet it still manages to put human behaviour under the microscope, to reveal just how flawed individuals and the family unit can be.
Cover photo: Cynthia Dyre-Moellenhoff (Phyllis), Erik Eek (Frank), Julia Kragh (Stage Manager), John Moser (Jared), Nicola Chapman (Joyce). Captured by Kapuczino.
---
Body Awareness by Annie Baker
English Theatre Leipzig
Neue Schauspiel (tickets and info)