It is said that if you can touch the table with one finger between the many dishes at a Georgian supra, there are not enough! Georgian hospitality is the stuff of legend. Traditional home-cooked food and fine wines attracted 1.6 million international tourists to Georgia in 2022 – many on gastronomic and wine-tasting tours. So when Gemrieli opened its doors at the end of the year, it could be expected to draw crowds for Christmas and New Year celebrations. After the COVID-19 pandemic, suddenly we can eat out again but so many old favourite haunts have unfortunately had to close down forever.
One was the Patio del Sol Spanish restaurant, whose owner, Adolfo Rocha, said a fond farewell to his loyal customers in November – both in person and online. He handed over to the new proprietor, Irakli, and his family. They rebranded the former Patio as Gemrieli, at Weissenfelder Strasse 15 in Plagwitz. This address has been offering food and drink to locals and visitors as a pub, bar, or restaurant continuously since 1888. The decor is traditional. It has to stay that way, too, because the building is covered by Denkmalschutz, or historic monument protection in English.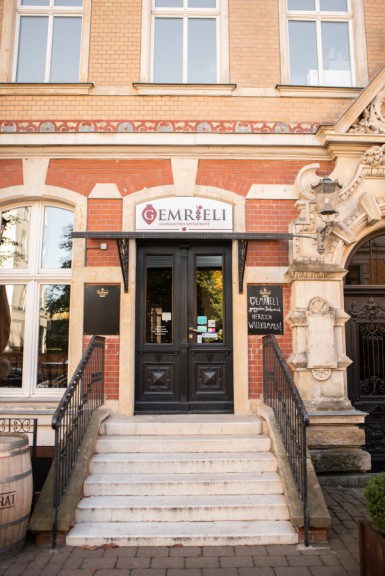 The impressive sandstone arch over the entrance to the front courtyard is in itself an architectural feature of note.
But when you step under the arch, with the Georgian flag waving in the breeze, there is nothing old-fashioned about the bustling restaurant with its well-stocked bar. Two mannequins in traditional costumes add a tongue-in-cheek touch to the decor. However, you will not hear any Georgian folk music. Instead, there is an upbeat playlist of German hit songs, just loud enough to cover a lull in the conversation, but never intrusive.
The dining area was populated with families with small children, groups of young men, couples on romantic dates and business diners. This showed us that Gemrieli caters to a wide range of different ages and tastes.
Of course, not every meal can be a feast.
So my companion and I had to choose individual dishes. For starters, I ordered a beetroot salad which was just enough to whet the appetite. My friend's starter was more hefty and could easily have been a main course. It is called khinkali, a large dumpling stuffed with different meats minced together. It originates from shepherds, who had to make their meals easily portable as they tended their flocks in the mountains. We found it surprisingly juicy inside, and delicately spiced.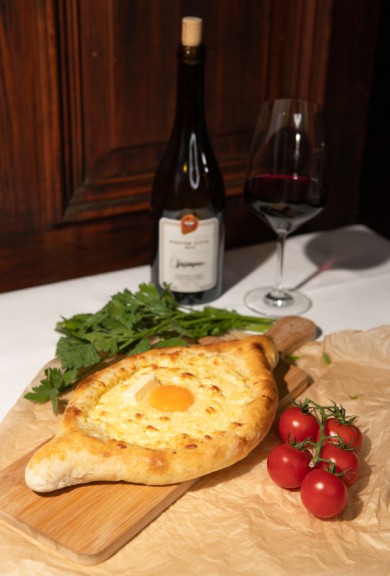 As a vegetarian alternative, I could have chosen the national dish of Georgia, khachapuri. It is a flatbread baked with cheese, and sometimes with an egg added on top of it, too. It is delicious. I know because I tried it at the Kleiner Kaukasus street food stall in Karl Heine Strasse. For me, personally, it would just be too filling for a starter, leaving no room for the main course!
Since I do not eat meat, I picked the trout with a sweet-sour pomegranate sauce. I was glad of it, because the fish itself was rather dry. Flatbread and salad replaced vegetables and there was nothing especially Caucasian about them. My companion chose salmon, which was spectacularly served in a cream sauce spangled with pomegranate seeds.
The restaurant's signature dessert is named after the French leader who was defeated at the Battle of Leipzig.
This historic event is commemorated by the landmark Volkerschlachtdenkmal. Of course, we had to try it. It would be rude not to! So we ordered a Napoleon Kuchen to share. This delicate, cream-filled pastry was beautifully presented. The taste did not disappoint, and although the restaurant's claim on social media that it is not fattening seems far-fetched, we had no regrets.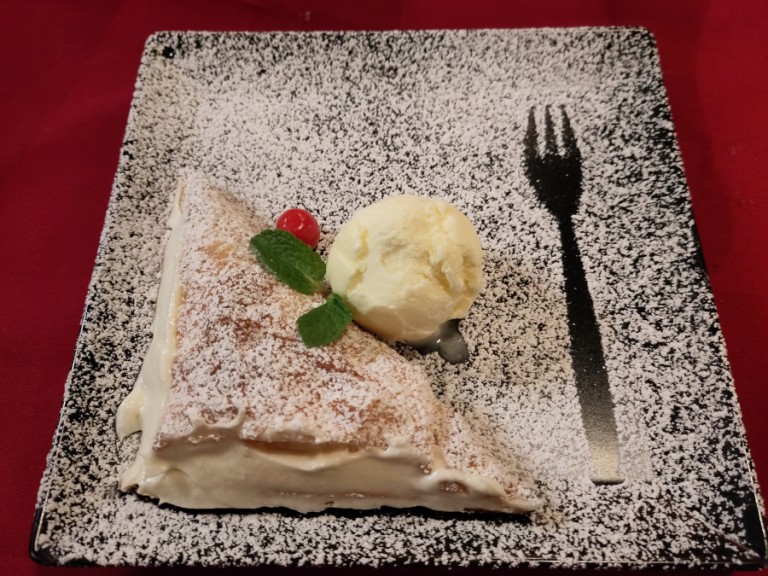 Since the Napoleon cake is freshly made every time, we had to wait around 12 minutes for our dessert. That was just enough time to enjoy another glass of red wine made from the Saperavi grape. And for my friend to sample the Jimsher Georgian whisky, matured in Saperavi wine barrels and extremely potent.
The drinks helped to soften the shock of the bill, which made us wonder what it would cost if we had really had a full feast in the traditional manner! Nevertheless, we enjoyed the evening and the convivial atmosphere. The waiting staff are chatty and charming, if rather forgetful! Next time we have a special occasion to celebrate we plan to return… After saving up for a few months!