If you've been living in Leipzig for a couple of years, you've probably noticed it too: Leipzig is becoming more and more international. From cinemas showing movies in the original language to regular expat meetups, from language groups to international artist exhibitions, even if your German still needs some work, you certainly won't get bored. But apart from the regular OmU screenings, have you ever wondered if there's the chance to attend an all-English theatre production?
If that's the case, you're in luck: Read on to find out about Leipzig's very own English Theatre group.
Born around three years ago and with four plays under their belt, among which The Mysterious Mr. Love and Elsie and Norm's Macbeth, English Theatre Leipzig has quickly become a solid point of reference for anybody looking for productions in English in the city.
Tom Bailey, the director, and Jeremiah Crouch, the business manager, kindly took the time to tell me a bit about the concept and the development of this great project.
Q: So, Tom, tell me a little about you. What's your story? How did you end up in Leipzig?
A: I am a trained director and actor from England and I moved to Leipzig in order to be with my partner. I started teaching English at the International School but I always had in mind to do something theatre-related. Theatre has always been my passion. I was 9 years old when I saw my first play back in England and I got hooked immediately. You know, theatre was booming in England back then. Later I went to drama school, where we mostly learnt by doing, with lots of productions every year. My goal was to direct. I have always had a wishlist of plays I'd like to put up.
Q: What about you, Jeremiah?
A: I have been part of this project since the very beginning. Tom needed someone to play the part of an American in his first production and he asked me if I would like to do it. I didn't really have any previous experience on stage but I thought it would be fun. And in fact, the whole troupe had such a blast that we decided to keep the project going with another production. So far we've brought here four plays and at the moment we're working on our fifth production.
Q: How has the English Theatre troupe grown over the years, Tom?
A: Well, we started off three years ago with 5 people: 3 actors, the director and the assisting director. Now we have 11 members, including off-stage roles, for example our costume designer. The feedback we receive has also grown exponentially, also in terms of the number of Germans who come to our plays and show interest. Leipzig is clearly becoming more multicultural and it's great for us to play an active role in the internationalization of the city.
Q: Especially in view of what's going on in Germany right now in terms of political debate, a lot of artistic groups here in Leipzig seem interested in taking a stance, in expressing their opinion. Is there any particular philosophy behind your theatre? Any direction you'd like to take in the future?
A: We don't follow any specific philosophy or direction, however there are some criteria we take into consideration when it comes to choosing our next play. Being a relatively small troupe, one of the main criteria is choosing productions that don't require a big cast. Apart from that, we are very interested in diversity and we try to always experiment with something new.  If you want to stay relevant, you have to offer a variety of work that appeals to different types of audience. When it comes to the themes in our plays, as for now we try to avoid any overt political message or satire: we want to keep our door open to everyone. As for our future productions, we would like to open up to contemporary plays – Old English may be a little too challenging for non-native speakers.
Q: What about your next production? Is there anything you can reveal?
A: Our next play is going to be almost entirely performed by non-native speakers. It is definitely something different to what we've done before but it is a sort of a natural step for us too, since Leipzig is a very international city and more and more locals are showing attention to our troupe, either by attending our productions or by expressing their interest in collaborating with us.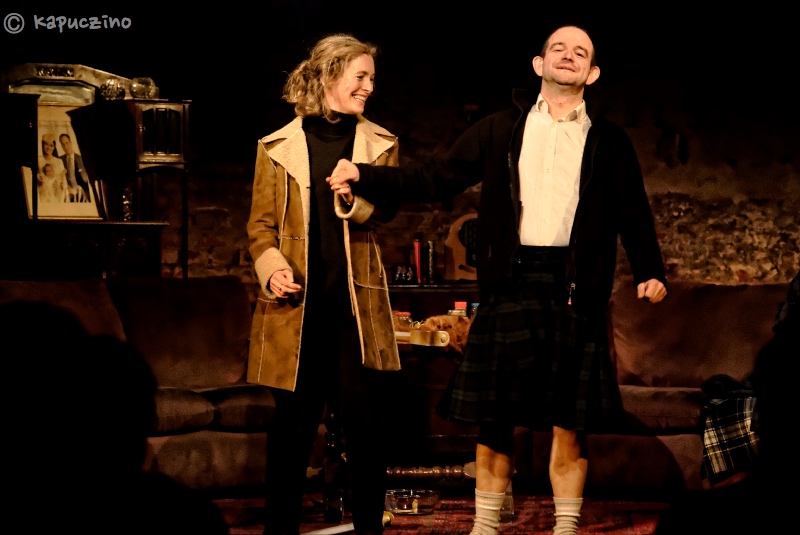 Q: You guys rehearse and play in the Neues Schauspiel. Is there a particular reason behind this choice?
A: We really feel like home here. Neues Schauspiel is becoming very popular and it is no wonder. Performers are treated with great respect, everybody feels valued. We have good relationships with other German companies using this space. They're all very professional and very committed; furthermore there is a deep sense of collaborativeness and democracy, which are also fundamental pillars of our troupe. We want everybody to feel like they have a say. And if people feel like they're included, they will automatically give more. This is our philosophy and we find it mirrored in this location as well.
Q: Can other people join the group?
A: We're always open to new entries and in fact we encourage whoever is interested to come to one of our plays and get to know us. Having said that, we are pretty selective when it comes to letting someone new into the troupe, but not in terms of acting experience or professional background, which doesn't hold any real importance for us. We value the person rather than their CV. We don't really have a fixed role system and we welcome anyone with talent and enthusiasm as long as they fit in the group.
Q: What would you recommend to someone interested in becoming part of English Theatre?
A: First of all, come and see the show. Secondly, get personal, talk with us. We always hang out after the show, so take advantage of that moment! It doesn't matter if you're a professional actor or not, what matters the most is professionalism and that you care for quality. Professionalism and quality are definitely our ground rules. By the way, we are not only looking for performers: any other figures are welcome, show us what you can bring to the table.
Q: You mentioned that your next play involves non-native speakers of English. So should everyone feel welcome to join?
A: Yes, absolutely! Our doors are open to everyone, any kind of English variety and any kind of nationality. The English in our name stands for the language, not for the country of origin. It is our way to bring people together, not to create a divide. We're not an elite club!
So if you're interested in joining the English Theatre troupe or just attending their next performance, stay tuned. The title of their next production will come out soon.
By Julia Arena