When thinking of old German cities, the first thing that pops in one's head is "architecture". The built environment, if unharmed, is one of the best ways to be nostalgic of the past and adapt to the present.
As a persistently curious Ausländer, I find myself aimlessly wandering the Altstadt of the cities I visit because not only does it cost nothing – but also because I have no time restrictions. I usually buy a cup of coffee, sit somewhere and either sketch minor details or just watch people pass by.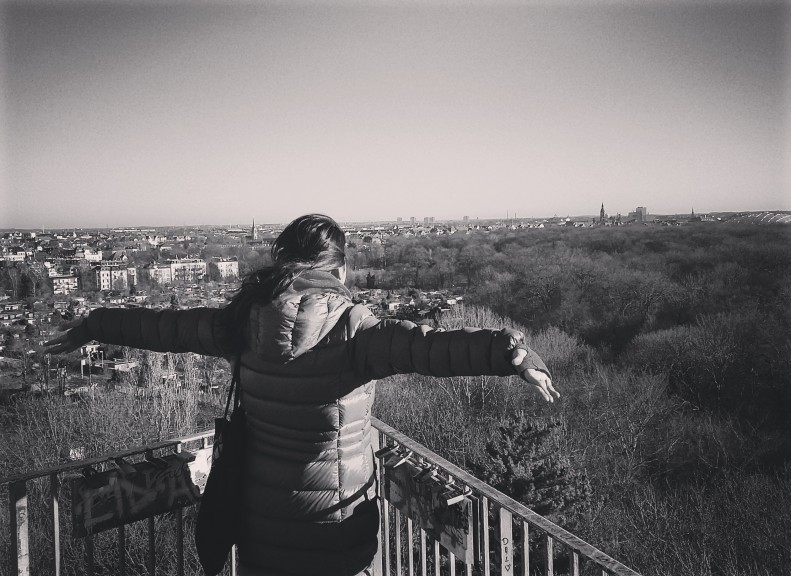 It is the best way to absorb the historical vibes, but is that all?
I moved to Leipzig exactly one year ago, while all my Ausländer friends flocked south for winter! (South = Berlin; winter = post uni life). I had visited Leipzig several times before I decided to move, and it resonated with me deeply because of its complexity and rebellious nature.
Being an architect, I'm always critical of the built environment, but Leipzig somehow managed to calm my demons.
That, and the fact that it is one of greenest cities in East Germany, was enough to convince me.
This small city (yes, it is small, compared to my hometown of Karachi with 22 million people) has much to offer to a curious wanderer. The Altstadt no doubt offers a generous glimpse into the past, but its newly developed residential areas are what fascinate me.
From the hip and upcoming Plagwitz area that transformed old factories into modern studios and apartments to Lindenau and its bustling market areas in the west to the super cool "south front city" (Südvorstadt) – Leipzig offers a little bit of its heart to anyone who wants to be here.
Strolling aimlessly on the streets with my camera in hand, I admire the juxtaposition of the continuous Plattenbau next to the towering churches. The old factories now refurbished standing tall next to a quiet Friedhof. And let's not forget, of course, the sprawling windowless shopping malls going head to head with the nostalgic abandoned hotel.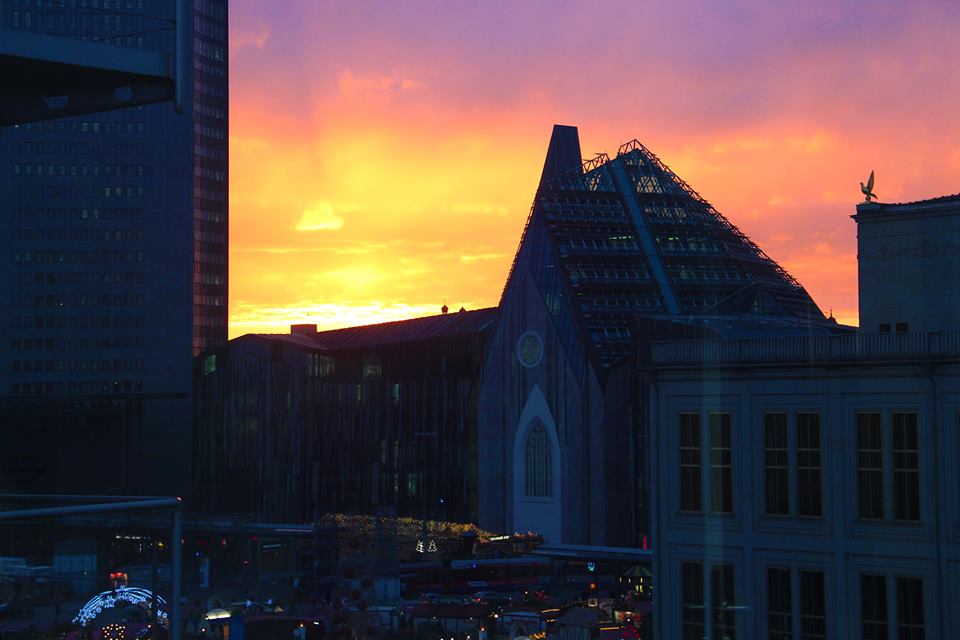 I always wonder how the architects who designed these buildings with a specific purpose in mind would react if they saw the way their buildings are used today.
There is a friseur on the corner of Hoefe am Brühl near the Hbf. Yes, it's called just FRISEUR.. anyway, I found a website online that showed how that area transformed over the years, and I could barely recognize it.
As much as I love a little window shopping now and then, I feel that whole road front from Goerdelerring to the Hbf has no soul – it just sits there, a box full of people and things without any response to the city.
As of lately, a lot of young people are buying dilapidated buildings near the Eisenbahnstrasse as a group and then renovating them from scratch and living as a "commune". It is their way of rebelling against capitalism, because a lot of real estate companies have exorbitantly priced apartments and this is resulting in a lot of old residents moving out of the city towards the outskirts. I like this kind of rebellion.
Also, I didn't know the realities of gentrification till my rent increased overnight and my deposit doubled. Looks like I will have to cut down on my coffee walks.
Two years ago, I was gifted a book titled "Highlights of Leipzig" on my first Easter visit to my guest family. But it was only recently, during the Museumsnacht, that I managed to see all the attractions. I guess when one lives in a city, we prefer NOT to see the touristy attractions but rather get the true feel of the place.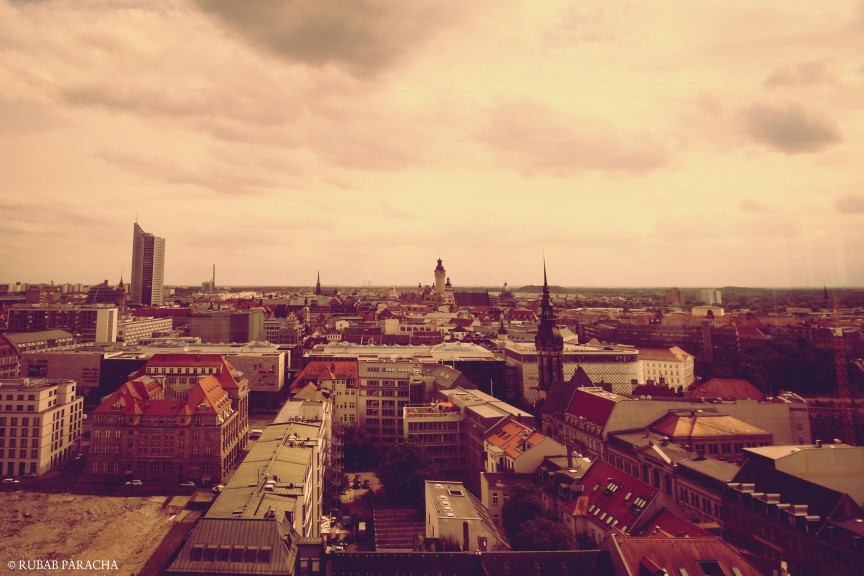 I have managed to to get a great feel of east Leipzig thanks to my dead phone battery and just casually walking along the tram lines, poking around the corners and peeping into windows, naturally amongst the stares and "who are you" looks from passers by.
But the most dramatic perspective of the city can only be experienced when you happen to go by paddle boat.
I did a day trip once starting in Plagwitz and crossing all the canals here and there and then re-routing and heading all the way down to the Cospudener See.  It was one of the best experiences I have had in Leipzig, my first paddle boat trip and a chance to see the city from a new angle – it was best of both worlds, the built and the unbuilt.
By Rubab Paracha
Rubab Paracha is a Pakistani architect & artist by profession.  She is an avid tea-drinker, story-teller and wanderer.  She used to write for the DAAD Study in Germany blog. You can read more of her stories on Tea with Giggles.
---
Panorama cover photo of Leipzig: Rubab Paracha