Happy in Hong Kong is the passing tourist and the discerning shopper.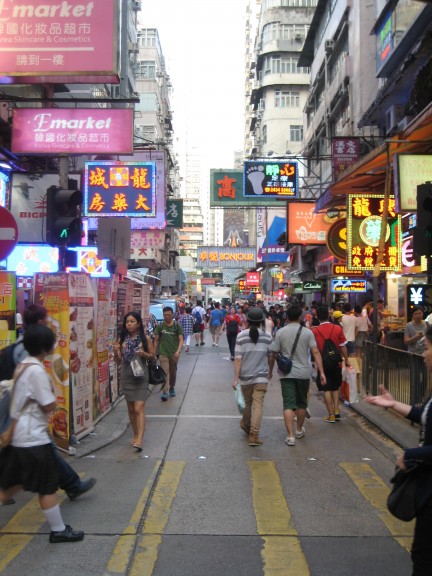 The first time I visited Hong Kong was on the way to a conference in Brisbane, Australia. We briefly touched the ground to cut down on the number of hours spent fastened to our airplane seats.
I kept going back for more. Here is why:
The colours
Hong Kong was simply amazing. So much light, so many happy people, a hotel just next to densely squeezed, Michelin-starred hot food stalls on the nearest street corner, and a burgundy shoe box shop offering all sorts of strange liquids and jellies.
Nearby is the Kowloon Park, its entrance marked by a white mosque.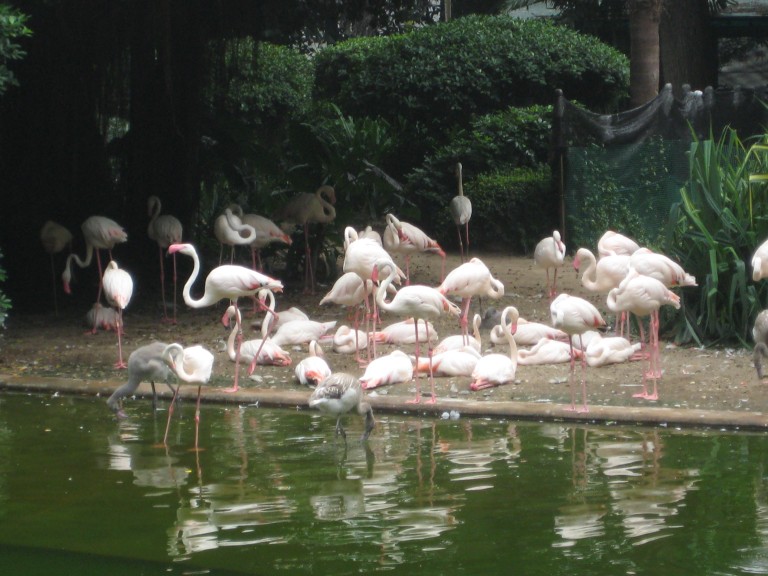 Inside, colorful domestic workers cover the ground like long flowerbeds, exchanging and selling their lunches, closely followed by lush greenery and also a flock of flegmatic flamingos in a nearby pond.
A few more impatient steps passing by a luxury shopping mall and an elegant hotel and one is at the waterfront,  the bay and the skyline on the opposite island coming into full view.
Perhaps, as we did, you would become curious about the world's longest escalator and take the MTR (metro) across the water to the opposite island to ride up the City's Mid-Levels Escalator, looking left and right into the crowded streets. And you would abandon it to go see the Man Mo Temple and its hypnotic, bell shaped, hanging giant incense coils – their burning red points moving slowly while the sunlight cuts through the smoke lazily whirling in the air.
There are about 600 temples in Hong Kong.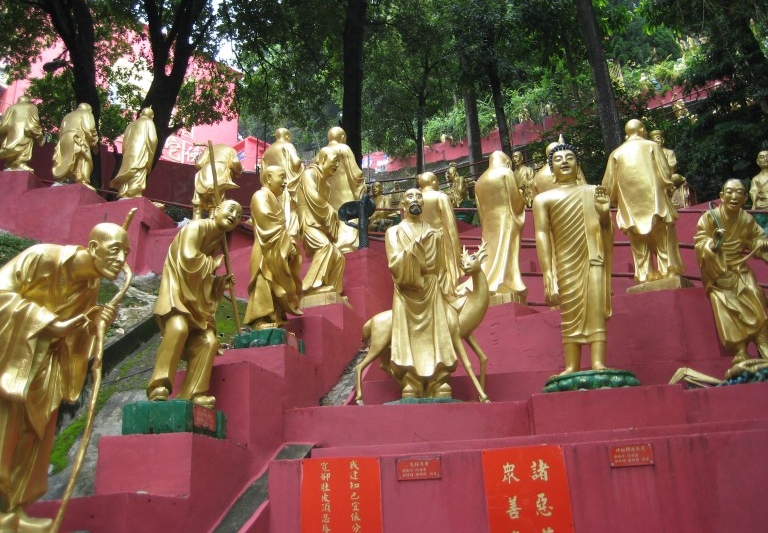 My other favorite is Lin Fa Temple: not only are its rotund shape and outside fruit and animal relief sculptures charming, it was built to bring peace to the resident population agitated by the arrival of a group of refugees. We should have more such temples!
Also not to be missed, and a stone's throw away from it, is the Tin Hau Temple, surrounded by skyscrapers. The contrast between the bustling Wong Tai Sin Temple and the serene Chi Lin Nunnery (with their marvelous adjacent parks) could not be greater.
Taking a street car to the Peak, walking energetically around it, you will be thankful for the shade-spending trees, while admiring the view.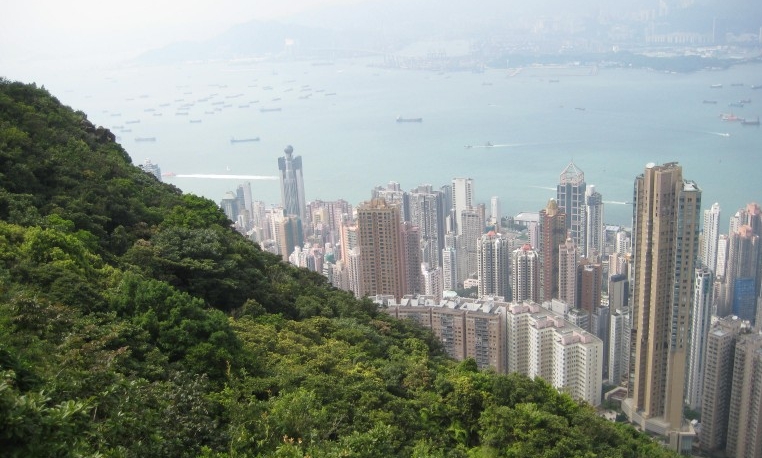 Equally thrilling is to take the MTR a bit further to wait for your turn to board a cable car. Suspended in the air, it brings you, minute by minute of a breathtaking panorama, closer and closer to a giant sitting Buddha.
Back to Kowloon: Walking through the jade, and fish (hanging on doors in plastic bags!), cat and dog or the Temple Street Night Market, you do not dare or care to stop, because who knows what wonders await you around the corner. The gentrified Flower Market might disappoint you, yet features such a variety of flowers that you might slow down for the chance that you might spot some you have never seen before.
But first is the Bird Market, where older men and their birds come to socialize; you for sure will slow down so you will not miss any detail of this true Hong Kong wonder.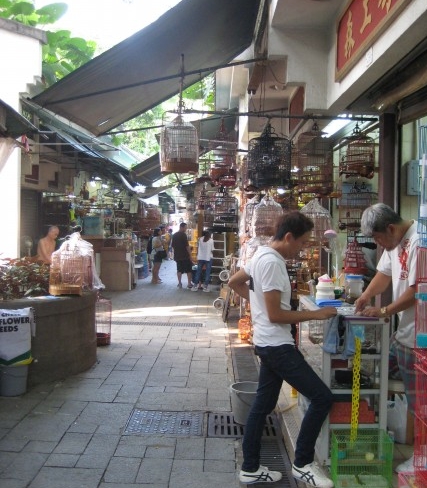 Elevated
Also for the affluent, Hong Kong is a dream come true.  One street alone houses the creme de la creme in clothing and accessories: This time I actually saw, to my great astonishment, a line waiting to enter Hermes!!! Through its giant windows, the shop appeared completely empty. I suppose that was the entire point of keeping others in line (the pun is fully intended). When their turn came, they could have the shop entirely to themselves.
If you are at least a tiny bit curious about the (luxury) shopping mall architecture, Hong Kong is it!
It does not matter whether in the City, Kowloon, Causeway Bay or distant MTR destinations  – you can find much to admire and ponder. It could be the wavy lines or delicate colours or spaceship-like translucent green interiors (Langham Place, Mong Kok).
But it could also be the sky-high terrace of the IfC (International Finance Center), which is beautiful in its own right and overlooks Hong Kong. Crowded on weekends by locals and tourists alike for its floating oasis effect, it strangely does not manage to lure crowds at night, although it has double skylights on offer – this of the immediately adjacent City and that of a Kowloon a short ferry ride away.
I read recently that Hong Kong has the loveliest skyline of them all. But perhaps it is too eager yet too blinded by all its lights to see its true reflection?
One thing I have learned upon my third, two-month-long visit to Hong Kong is that the secret of preserving the sense of perfection, happiness and beauty is very simple: Never touch the ground!
If you manage to stay forever on Hong Kong's elevated walkways – especially the elegant ones built from marble or granite – you will never see the downtrodden of this earth.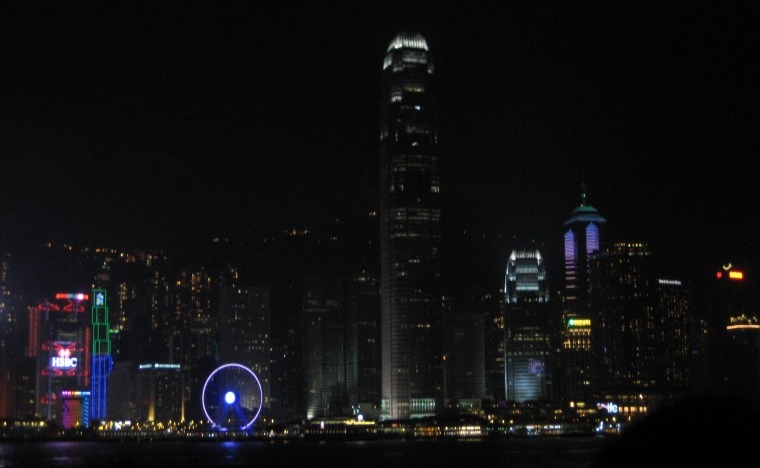 These walkways connect skyscrapers in which the affluent work, eat and shop. Perhaps some of their residences as well, although I understand that truly luxurious residences are further away. You need your three to four Porsches to reach them!
A metropolis is usually divided into different zones. It either locks the poor in specific areas or pushes them out to its periphery. In Hong Kong, were it not for the imported domestic workers who do not care to know any better and on their free days occupy (oh, what a sweet irony), even a good share of the IfC terrace, the escapist dream would take you up, up, up.
Hong Kong's elevated walkways create an impression of a spotless life. They suspend one in the air. That is why I would rather call them skyways: for those who never care to look or go down, they lift and are uplifting.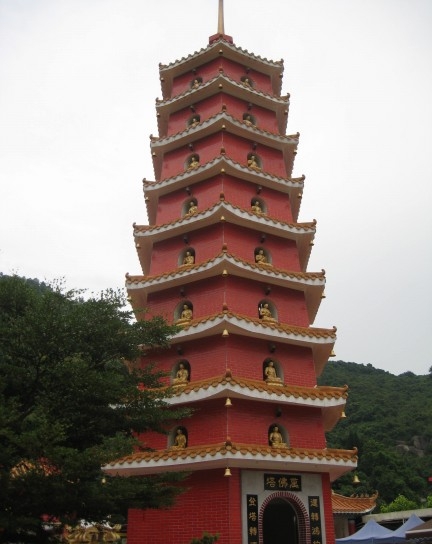 The Hong Kong Dream
The Hong Kong Dream emerged in the 1970s. It was that if you worked hard, put in excruciatingly long hours and tolerated truly de-humanizing housing conditions, either you or at the latest your children would make it big. They would live lavishly, marry and have children. In family happiness, united.
The "Dream" was embodied by Hong Kong's film and music industry, not to mention the finances. In film, Hong Kong was the world's third largest. In music, it was an Asian leader – its cantopop both mesmerizing and titillating. Artistic freedom also brought along racial and sexual emancipation.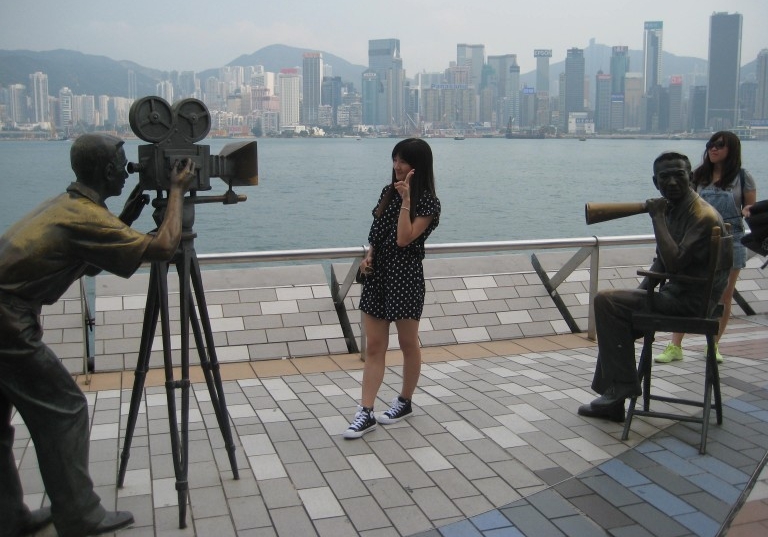 Bruce Lee, the Kung Fu legend who died in 1973, apparently moved back to Hong Kong because in Hollywood he had not been offered any lead roles. Here he moved beyond acting as a film director and producer.
In one movie, he kicks the sign "No dogs and Chinese allowed" off the wall and high into the air. He shatters it with one elegant kick. This was a breathtaking moment of liberation for many Chinese.
In "off" film after film and, later, in cantopop, there was much erotic, gender and trans experimentation.
I wish I had known that male actors whom I came to know first through US movies (for example, Chow Yun-Fat, the Thai King in Anna and the King, 1999, 20th Century Fox)  had this wonderful past in which they played humorous, effeminate or Dandy roles.
https://www.youtube.com/watch?v=9n0q0Wf7ncM
Also Jackie Chan, whose antics millions of fans adore, is a Hong Konger.
Hong Kong cantopop had many brilliant stars. Leslie Cheung transgressed gender roles many times. He bought white Manolo (Blahnik) high heels and had them sequined red to perform an erotic, cruel tango onstage! Like many other Hong Kong performers, he remained a regional specialty.
Globalization has been and is – still – much of a one-way process. Jean Paul Gaultier designed costumes for Leslie Cheung, but this did not propel Leslie Cheung's fame into Europe.
To come back to the main point: Hong Kong filmed and cantopoped, not just dreaming but realizing the Hong Kong Dream. Today, it still does dream in many ways. Why would the Heritage Museum convert itself into Louvre?
https://www.pinterest.com/buyerIn/leslie-in-jean-paul-gaultier/
---
This was the first contribution in what promises to be a series written by our inexhaustible, but (in her own words) very cantankerous, travel & society reporter – directly from Hong Kong.
---
Cover shot: Detail from Ten Thousand Buddhas Monastery, Hong Kong. (Photo: Ana Ribeiro)