The magic thing about home is that it feels good to leave, and it feels even better to come back.
I put this quote, by author Wendy Wunder, to the test when I returned "home" two months ago, after almost ten years of being away. It was just a brief visit, 5 rainy days in England, in a small suburb in South London.
Ten years is a pretty significant amount of time. Such long absences can play havoc with a person's sense of identity. But, after living in England for a quarter of a century, there was no real reason for me to go back – I was settled in Germany and had made a life here. However, it had been a pretty hellish year and I felt an ever-growing sense of disconnection and restlessness. So I packed a bag (and an extra one for teabags) and began my journey.
We expect to come home to the country we left, but we tend to forget two things: it has changed, and we have changed.
Being back after so long was a surreal experience. The German cultural norms and etiquette that had by now become second nature to me were met with suspicion and confusion. I reached out to shake someone's hand (not such a done thing in England) and was immediately met with a baffled, awkward British response. I was overwhelmed by politeness – albeit somewhat unauthentic. That's something I find very refreshing in Germany – there's no wishy-washy, you know where you stand with people.
It was a bit like being a tourist in my own country. Struggling with the tube map, marveling at the view from The Shard, buying an overpriced "I love London" t-shirt from Camden Market. I spent time in supermarkets – waves of nostalgia hitting me for the sweets of my childhood. I visited the district of London I lived in before I moved to Germany, scoured the vintage shops in Shoreditch, and ate builder's breakfasts at grubby little café's. Everything felt so familiar, yet it no longer felt like home. Nothing and everything changes, somehow at the same time.
I felt like I didn't fit in. And that's odd – because I feel the same where I live now.
Maybe I've been away from England for too long, and not in Germany long enough. I find that being an expat is almost like being two people at the same time. Each life feels comfortable and familiar when you're in it, but there's always a little something missing, too. Fellow expat, Justin Land, says he feels at home in both Germany and America but that, "Home is more a feeling in the heart and not a location in the world for me."
An unexpected side-effect to having lived in Germany for so long was my very questionable English language skills. Even after working for many years as an English teacher, my "Denglish" was in full-throttle. "Naja's" and "Ach so's" were slipping into my sentences, and my verbs wouldn't make their appearance until way at the end.
But the ease of conversation was wonderful. I speak German, but it's not something I find particularly easy. During the conversation, I'm never really fully present. Listening maybe too intently to the speakers' words, making sure I understand everything. Already formulating a grammatically correct sentence in response. I always leave the conversation feeling exhausted. I over-analyse my use of grammar and exasperate at my word order. The freedom and the flow just aren't there.
I moved to Germany in 2012. The culture-shock was real. I moved from a tiny flat in South-East London to a huge old decrepit house in a small village near Leipzig. The house had no running water or electricity and there was no central heating – I was met by these ghastly wood burners. Which I actually grew to love. It was winter when I first arrived. So my first experience of being in Germany was fetching water from the well, then popping to the local internet café to check my emails and charge my phone. And chopping wood. And it was on these wood-chopping days that I began to talk with some of my neighbours. I say talk – it was pretty one-sided. I just stood there open-mouthed, wondering what on earth they were saying.
This wasn't German like we'd learned at school – this was something different. This was Sächsisch.
At this point, with a dodgy stomach from well-water, 80s hair from lack of electricity for my hair-straighteners, and chapped nails from woodchopping, I missed home. Home seemed so easy, so familiar. So far away. There was a physical distance from my old home, and an emotional one from my new one.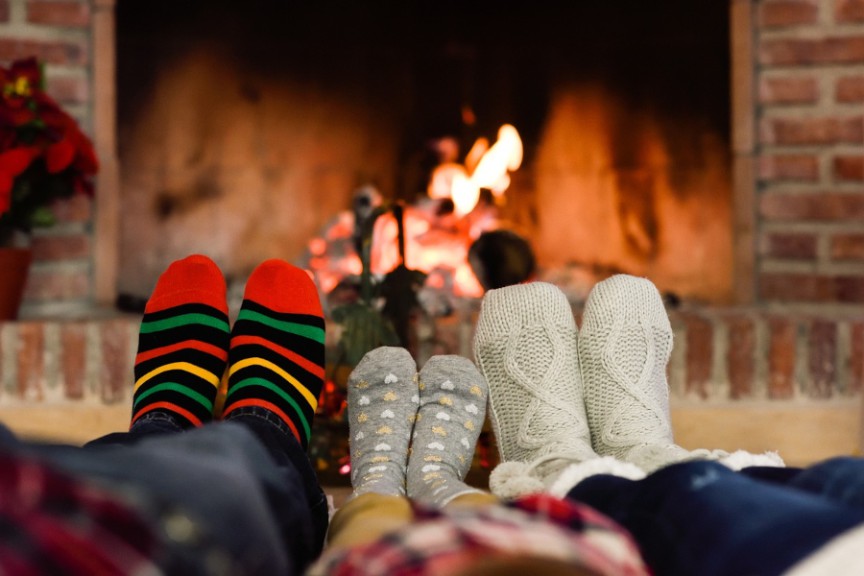 But Marilyn Gardner, a writer on such topics as communicating cross-culturally, summed it up best. "Our homes are not defined by geography, or one particular location, but by memories, events, people and places that span the globe."
Still, as Dorothy says, "There's no place like home." Being back in England gave me all the things a home should give you – comfort, welcome, respite. But you can find these things in many places. Home isn't the roots, or even the foundation – but the branches that grow from it. Henning Markell, the Swedish author, wrote, "You can have more than one home. You can carry your roots with you, and decide where they grow."
I had an amazing stay in England, and shed a little tear as the plane took off. But I was happy to be back in Germany. Where my children are, where I work, where I play. Maybe home isn't a physical place. The people and experiences that nourish your life build your feeling of home. And you can cultivate and seek out that feeling wherever you go.