Leipzig's Wave-Gotik-Treffen (WGT) is the world's biggest "gothic" festival. It turned 25 last year.
This year, it happens in June – and with some preparation, you can have a fabulous weekend whether or not you're into the culture. There are lots of extra attractions to what we're used to in town. Some extra crazy parties, too.
The best part of Wave-Gotik-Treffen to me is simply people-watching, though.
The city comes so alive as it goes back to black. About 20,000 people visit Leipzig every year for WGT, dressed in multiple variations of "gothic" attire.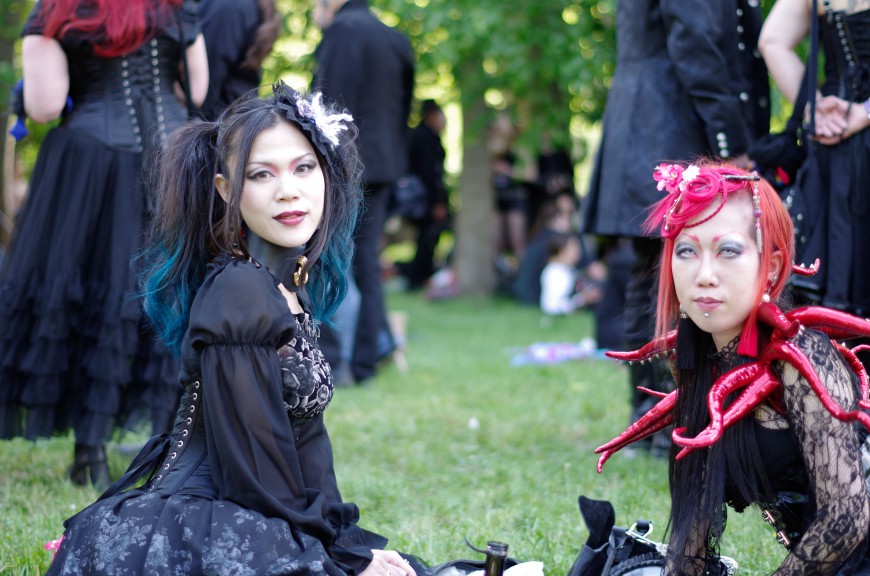 Their looks range from Victorian to punk to comics inspired. There's a lot of black, but there's also a lot of color.
They are of all ages and professional backgrounds – singles, couples, groups of friends, sometimes entire families.
They take over the city: tram and bus stops, the parks, venues all over, and especially the city center. It's a packed weekend for these costumed people, who hail from different parts of Germany and the world.
There's so much to do and see, so many like-minded folks to meet. It turns out to be quite memorable, even life-changing, for them.
Wave-Gotik-Treffen will run 2-5 June 2017; here are some tips to join in the vibrant darkness.
They're courtesy of Leipzig Tourismus and Susi, the German blogger behind Black Dots White Spots, who put together a comprehensive guide both in English and German for the Wave-Gotik-Treffen. Most of the events we're listing here do not require a festival ticket to get in.
Tickets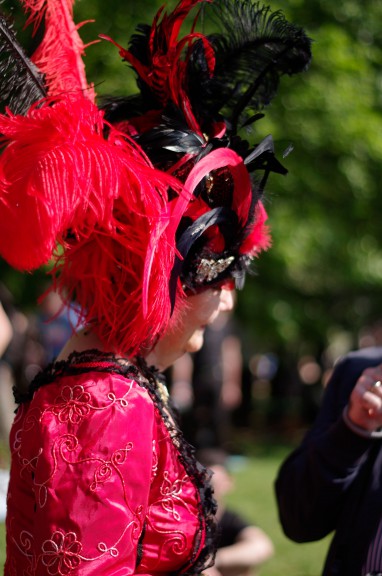 "Tickets are 120,- Euros per person for the full festival. They are valid for all events and include public transport in the city of Leipzig. Camping on the festival site is not included – you will need an additional Obsorge ticket for 25,- Euros for that. If you wish to park on the agra festival grounds, you can buy a parking ticket for 15,- Euros. If you're from abroad and shipping is difficult: You can still get tickets in Leipzig during the festival! Get your tickets here!"
Music
There are more than 200 confirmed bands, according to the Official Wave-Gotik-Treffen website, which will make more info on the program and venues available as it gets closer to the fest.
For now, the Leipzig Tourismus guide offers you a taste of the musical diversity on offer via the WGT 2017 YouTube playlist.
"The medieval markets at Moritzbastei and Torhaus Dölitz are definitely among the highlights of WGT each year. Soak in the atmosphere at Torhaus Dölitz, where lots of stalls sell clothing, accessories, hearty food and drink among shady trees or demonstrate traditional arts and crafts. Sit on the grass, sip mead beer and listen to medieval/folk/classical live music all day before catching a fire show at night." Open for everyone (no ticket needed).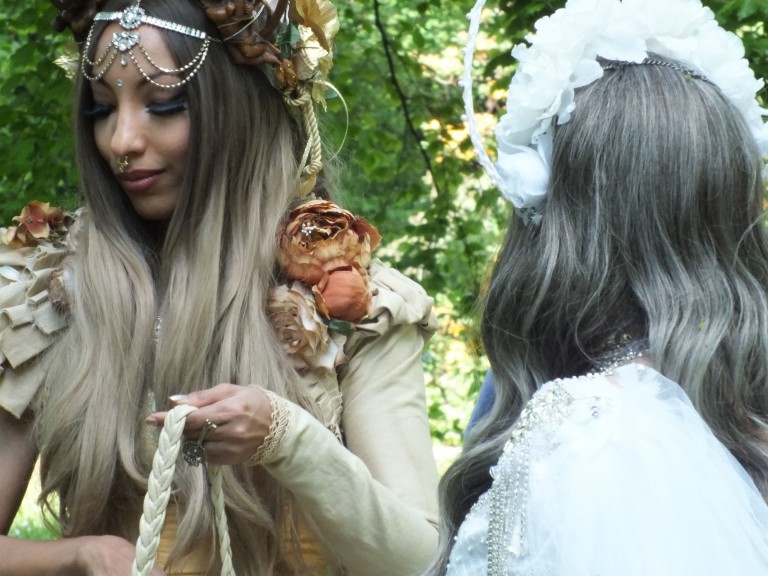 "'Indie boys, gothic girls and sissy punks' can dance the night away to old school wave, post punk, synth pop and Indietronics tunes at the 'Queer Wave Party.'" Saturday, 3 June, from 9 pm, Westwerk.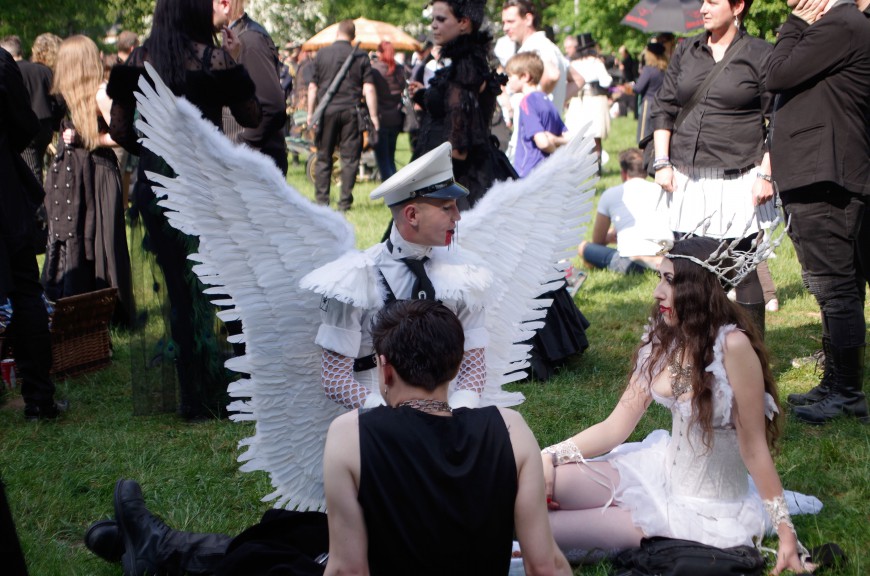 "The Victorian Picnic on Friday afternoon in the park is an iconic event during WGT, especially for those who like to dress up in Victorian, steampunk, baroque or all kinds of neo/dark romantic styles. Hundreds of elegantly costumed people meet up in style for a dazzling picnic or stroll in the park!" It takes place Friday, 2 June 2, 2-5 pm, Clara-Zetkin-Park, free admission. Those without tickets can also hang out. Note: The alternative Victorian Village event is not taking place this year.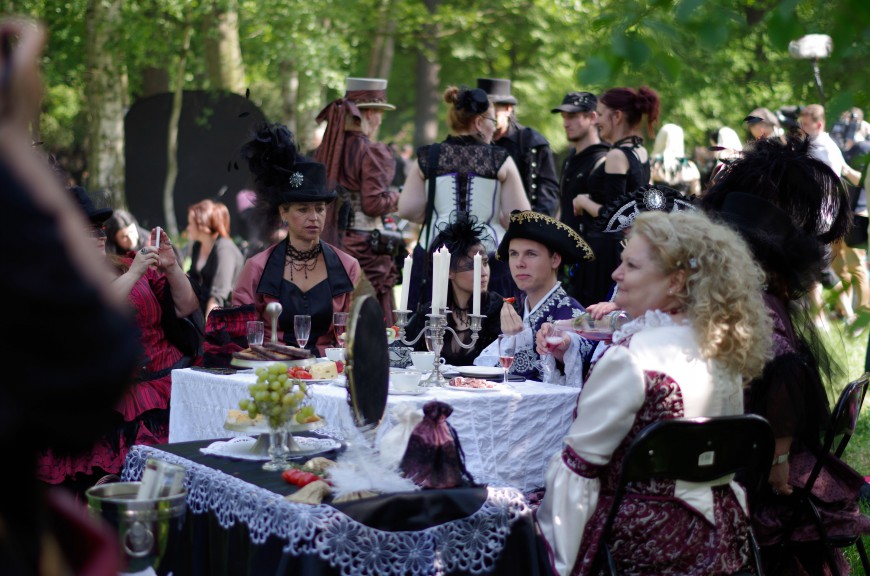 To whet your appetite, check out out photo gallery from last year.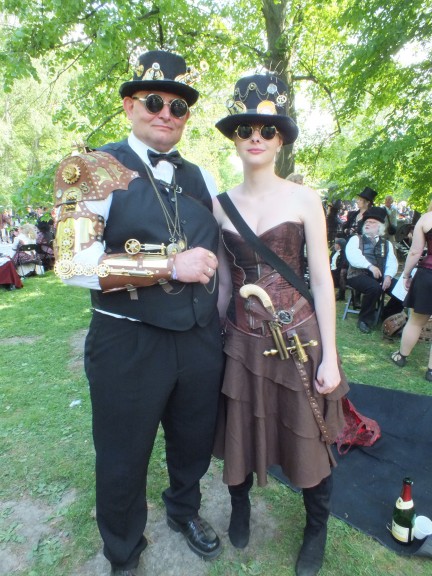 "Fans of retro-futurism will meet on Saturday afternoon for a picnic in dazzling costumes." Saturday, 3 June, 2-5 pm, Deutsches Kleingärtnermuseum, free entry. No ticket needed here, either.
"Originally from Mexico City, this project hosts regular parties in Berlin – and one in Leipzig during WGT. Several DJs present old and new Gothic Rock, Post Punk, Death Rock, Cold Wave, Obscure 80's, Dark Synth on two dance floors." Friday, 2 June, 11 pm, Elipamanoke, free admission with WGT wristband or cover charge without.
#BlackLeipzig photo competition
For those who like to people-watch, like me… here's what Leipzig Tourism says on the competition, which has been running since at least 2015 during WGT.

"Share your most stunning, most funny or most quirky shots of black Leipzig during WGT with us on Instagram using the hashtag #BlackLeipzig or send them to Leipzig Travel on Facebook (or post them to our wall), and win great WGT & Leipzig prices!"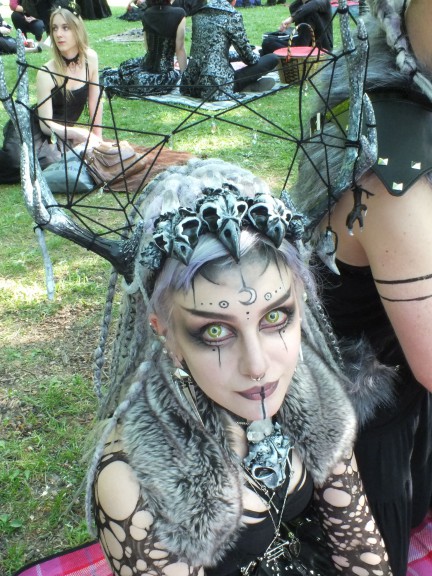 The prizes:
"1st Place: Accomodation for two people in Leipzig for WGT 2018 and two tickets for WGT 2018!
2nd Place: A spooky guided tour or a cemetery tour for 2 by Gruseltour Leipzig.
3rd Place: Picnic for two persons from Picknick-Leipzig.de – for a stylish and yummy Victorian Picnic in the park (or elsewhere)!
We are looking forward to your photos! We will also feature the best photos during WGT on our Instagram and Facebook Page so follow us and have a look!"
Check out the full Leipzig Tourismus guide in English, which has a lot more other highlights and useful info to share.
And if you'd like to share some photos with The Leipzig Glocal, please send them to us at contact@leipglo.com, with the caption and credit as you'd like it to appear on our site or Facebook page.