Maybe you wouldn't automatically think of the old bastion at Leipzig city center, Moritzbastei, as a lunch place. But LeipGlo contributors and friends have been to lunch many times at the iconic venue, down in its medieval vaults or out in one of its rustic courtyards. We like to be surrounded by its extensive history and authentic feel etched into its stones.
We find the service there to be efficient and the dishes to be very affordable, with most staying below €10 and providing good variety and flavor. We have been served multiple times by Ina, aka "Wonderwoman," and she has been exceptionally nice and attentive. She even remembers that we like to order beer every time we come in, even if it's been months since the last visit.
So we thought they deserved recognition and decided to publish this article spontaneously.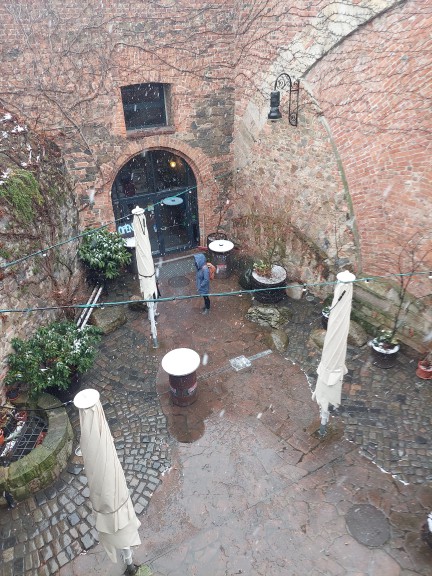 Moritzbastei is hard to miss – it's a huge building located in the city center, right next to the main Leipzig University campus. If you live or have been to Leipzig, you've probably at least walked by it. It's a popular tourist attraction and cultural center, hosting concerts, plays, and other events, besides serving yummy food and drinks.
But how much do you know about its long trajectory and incarnations?
Moritzbastei is a prime example of Leipzig's old-world charm and has been at the center of local culture for centuries.
The structure was initially a military stronghold, used to protect the city from invaders. According to Stadt Leipzig, construction of the "Moritz Bastion" dates back to the early 1550s. It was named in honor of Moritz, Elector of Saxony. It's one of the oldest buildings in the city and the only surviving part of its medieval fortification.

By C.B. Schwarz – unknown, Bild-PD-alt, Link
The bastion was designed in the shape of a horseshoe and made from red sandstone. It had four towers, a gatehouse, and a moat (now filled in), and it was surrounded by a thick wall. Much of it was repurposed and then destroyed during World War II, although its underground medieval vaults, and parts of its courtyards and towers, have remained at the present-day Moritzbastei.
As the years and centuries passed, Moritzbastei changed hands several times and was used for a variety of purposes: a barracks, a prison, a warehouse, the first non-denominational citizens' school (1796-1834), government offices, and a bomb shelter, for instance. Besides the little labyrinth of stone in its belly, you may notice metal doors and cells – now turned into concert and bar areas – on your way to your table.
Moritzbastei has also witnessed plenty of protests and demonstrations, most notably during the 1989 Peaceful Revolution that led to the reunification of Germany. Today, it's a symbol of Leipzig's past and a reminder of its long and diverse history. It's a popular destination for tourists and locals alike, and it's a great place to experience the city's unique culture.
There's a weekly tour where you can find out more about the remarkable history and architecture of the old city bastion.

By Schwartze – Stadtgeschichtliches Museum Leipzig, Inv.Nr. Mü.XIV/43, Public Domain, Link
Another interesting tidbit about this local medieval fortress is its modern student connection, which has remained strong. In 1974, its ownership was transferred to university students, who removed over 40,000 cubic meters of debris and turned the place into a student club eight years later. Former German Chancellor Angela Merkel was famously involved in this process while she studied at Leipzig University.
Today's Moritzbastei is known as a hotspot for concerts, student parties, and the annual gothic festival alike.
The Moritzbastei Betriebs GmbH has been managing the venue since 1993, as an eclectic cultural center and eatery. The offers at its café and restaurant range from traditional German cuisine to international favorites. The massive building also houses a number of bars, which feature a wide selection of drinks at reasonable prices, as well as separate (and sometimes simultaneous) chillout and dance environments.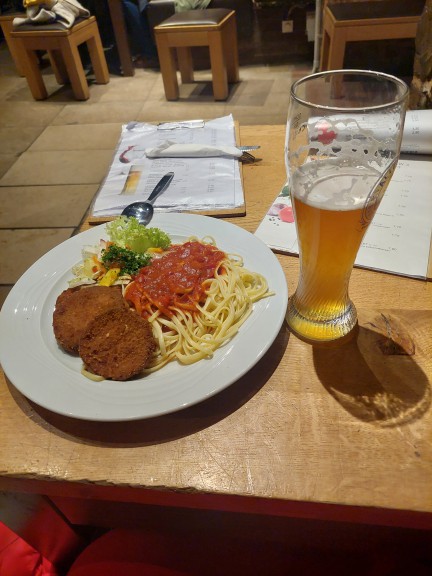 We find this place to be truly a gem in Leipzig. Maybe we'll run into you there at some point! Either way, say hi to Ina the wonder server from us if you remember it.
If you're interested in lunch, staff recommends that you arrive between 11am and 3pm for the best deals. You can have a look at the Moritzbastei menu here.